Background story: MDNA Blow by blow
I know you guys have been waiting for this but syempre dapat i should make it full experience for you guys. Walang labis walang kulang. So Baka madamihan ng parts toh.
Please bear in mind na para full experience nga kayo, some photos and videos are not from me.
The MDNA ganap was held in Paris. Technically, 2x na akong nag attempt manood ng Madonna before, parehong fail dahil una nagkasakit ako, 2nd wala akong nakuhang tickets 🙁 So when Madonna announced na may world tour sya, daily habit ko magcheck and talagang nakaabang ako to buy tickets. Naiyak ako ng slight when hindi ako nakapasok sa internet site nung for ABU DHABI concert nya. Believe it or not lahat ng windows ng browser ko nakapila, biglang sold out. 1 hour ako naghihintay. So sadness na talaga. 
Guys, months months ago toh. Ganun ang pagkasold out ng Lola Madonna. So when they opened Europe, 2 lang choice ko. London and Paris, since Kermit Tesoro nga will be studying there, needsung kong gumora at maghanap kung saan sya makikitira. So dun may chance ako. Sakto din since JULY sya sa PARIS and LONDON, and pasukan ni Kermit AUGUST. Pwede ko isingit ng bongga si LOLA MADGE.
First of all, i need to explain… OBSESSED AKO. FANATIC ako ni Madonna. The time i was supposed to see her and I got hospitalized, i really tried to drink hindi prescribed na herbal medicine para gumaling kagad at parang na overdose ko ata ang sarili ko sa herbal dun dahil inisip ko masbibilis akong gagaling levels. FAIL. EPIC FAIL. Sumobra at lalo pa akong tumagal sa hospital because nag ka tummy problema pa ako sa mga ginawa ko. I had nightmares na umiiyak ako paggising kasi hindi ko nakita si Lola Madge. Yes, ganun ako ka OA. Only fanatics would understand.
Lahat ng kanta nya feeling ko relate sa buhay ko. LAHAT as in lahat. At my happiest si Madonna ang tugtog ko, at my pinakacrayola momemnts si Madonna parin. I have the complete DISCOGRAPHY of Madonna. Walang labis, walang kulang. Siguro kung alam ko lang anaong kinakanta nya sa shower, for sure meron din ako. Pati personal graduation song ko (I went from Grade 11 to 1st year college so never ako na ka graduate na may rampa sa stage involved) ay THIS USED TO BE MY PLAYGROUND na magisa akong gumawa ng graduation with my manangs sa gilid ng balur namin. Para lang ma-feel ko.
Eto pa masmalala, KINDERGARTEN ako at naka-MADONNA ang costume ko for United Nations. Walang connect but pinilit ko talaga. Sabi nila nagiiyak daw ako ng bongga so pinagbigyan ako. While everyone was doing the UNITED NATIONS dance, magisa akong nagmamadonna sa stage. Hindi charot toh. May prueba akong photos…
Ayan, pati yung look ni Madonna prinapractice ko.
I know may betamax ako nang ganap na toh. Kasi umiiyak ako bakit hindi magaya yung hair ni Madonna. So siguro para mauto ako, tinaas nalang ni yayey.
You can see sa reflection na ang mga yayey ko ang biggest fans ko.
While busy Ms. India and Mr. Usa, si Divine Madonna may sariling Madonna steps.
Halata naman may sarili akong dance number d ba? haha!
I really hope hindi sya na shock sa mga tuwad tuwad dance ko. At sana hindi na-office ang mudak ko.
Eto ang riot, tapos na performance… d pa tapos ang steps ko. haha!
So siguro get nyo na kahit slight ang pagkafanatic ko. Numerous times pa akong naging Madonna for halloween. Kahit nung kuma-kanebo white pa ang funda ng lola madge, ginaya ko din yun.
Check nyo dito: http://divinemlee.com/post/2936087923/process-of-elimination
So technically, intro palang ang rapunzel na sa haba. Don't worry. I will break it up into parts.
So part 1 palang toh (obvious ba? haha!)
Check The outfits of Madonna for MDNA. Mix of old and new ang ganap. Yan ang masisight nyo sa mga sunod na photos and videos.
We arrived on the 12th and her concert was on the 14th. I just wanted to be extra extra safe. Kaya may buffer akong one day.
In Paris palang, you would feel na the MDNA fever…
This is the STADE DE FRANCE Stadium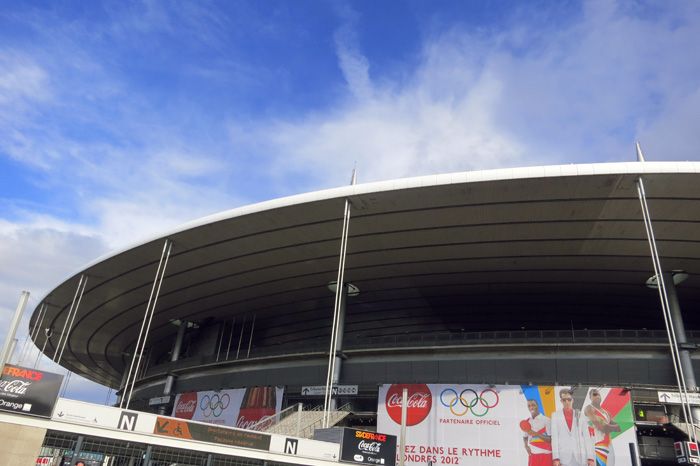 Here's Milan nagpapaphoto while nandun ako sa gera sa likod. Kasi yung mga bilin ng beckies na merchandise needsung ko ma-avail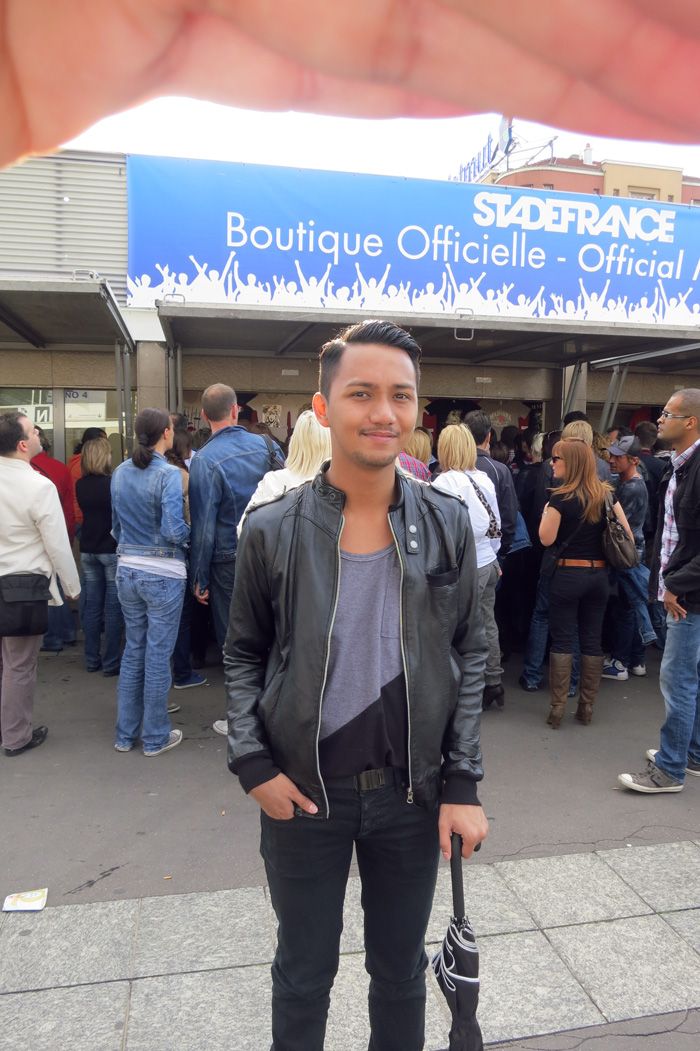 Pinagtyagaan ko ang kanyang mga music fest… my turn! :p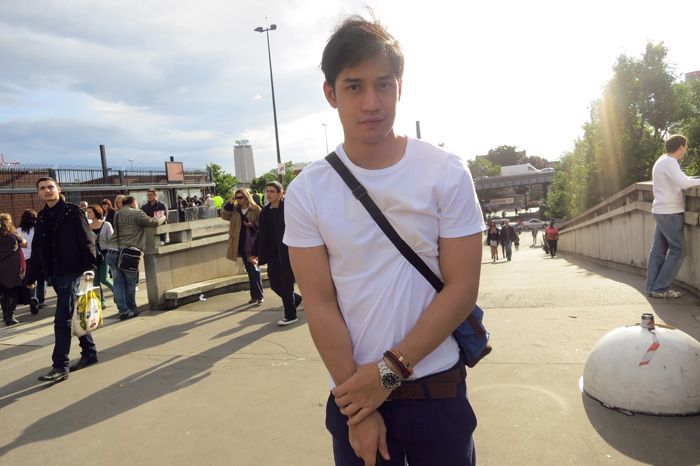 We came early!
Iba ibang interpretation ng Madonna!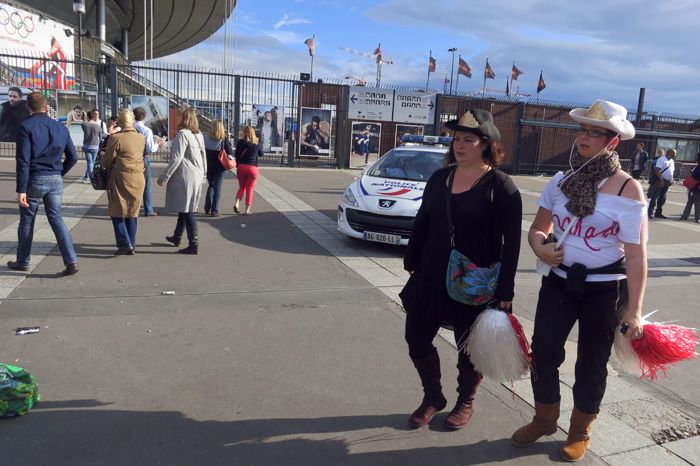 6pm palang yan ha!
The stage was like this:
Nasa may leftside kami if you're facing the stage.
(photo from MADONNA NATION)
May mga chismiz daw na flopey at d puno… hilo ba sila? Parang langgam ang tao sa dami!
Photo from patanouille
We also came early when gates opened at 6pm. 8pm yung starting act and 12 midnight nagend. In short… 6 hours akong nakatayo…. but for Lola Madge, kahit matulog pako dun. Keri ko.
Photo from uneamericaine
So technically, dahil maaga kami we got a good spot! 🙂
Plus i have this big LED screen na para bongga ang videos na mashoot ko for you guys.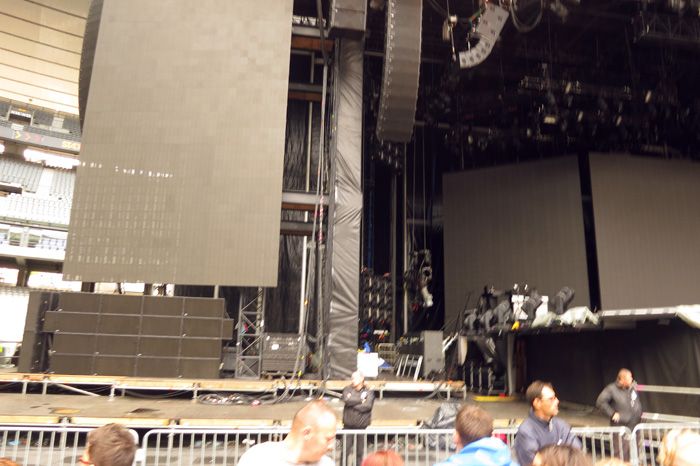 I was thinking, if mahimatay ba ako, dadalhin ako kay Lola Madge ng mga security? D ata epek. Mukhang brusco eh.
Lola Madge's front act was DJ MARTIN SOLVEIG, bongga sya kasi naging fave ko sya sa coachella!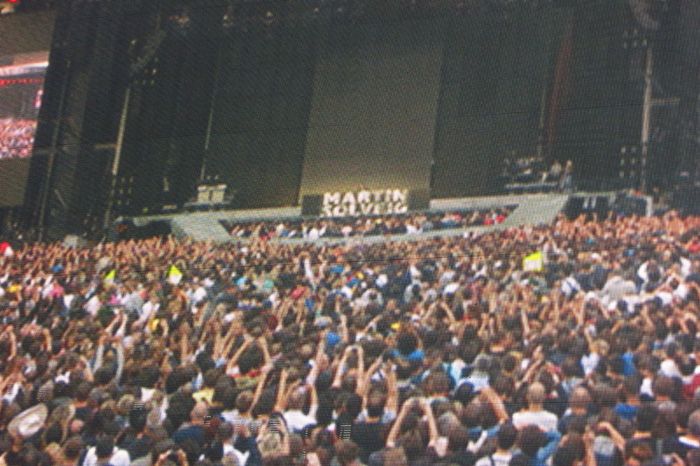 May araw pa, pero parang wala ng bukas ang lahat!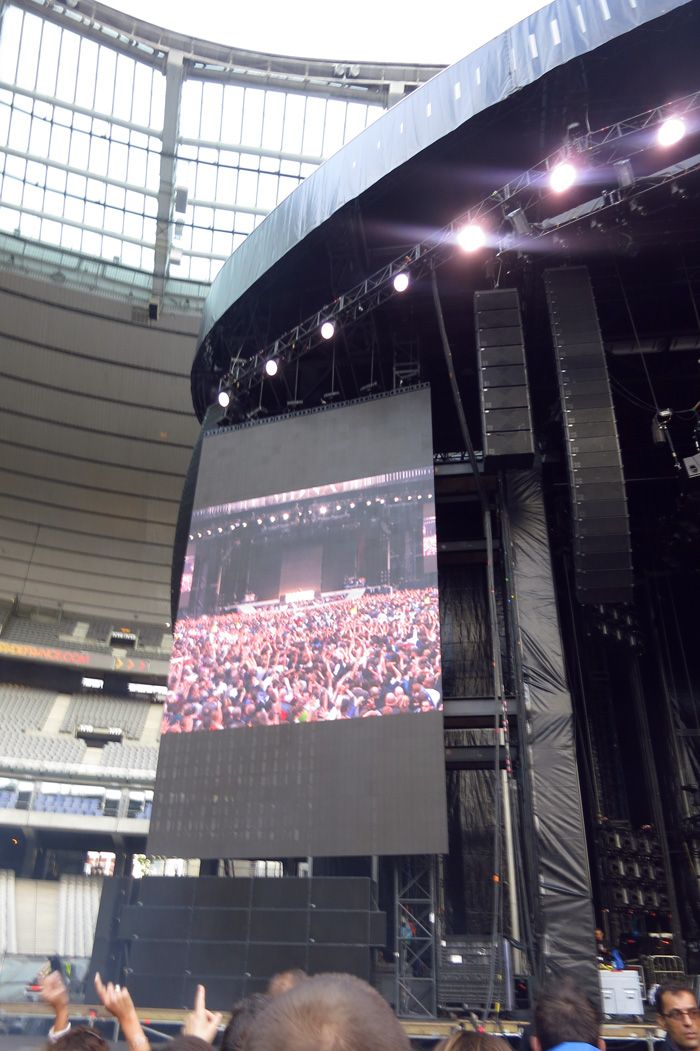 This is DJ MARTIN SOLVEIG!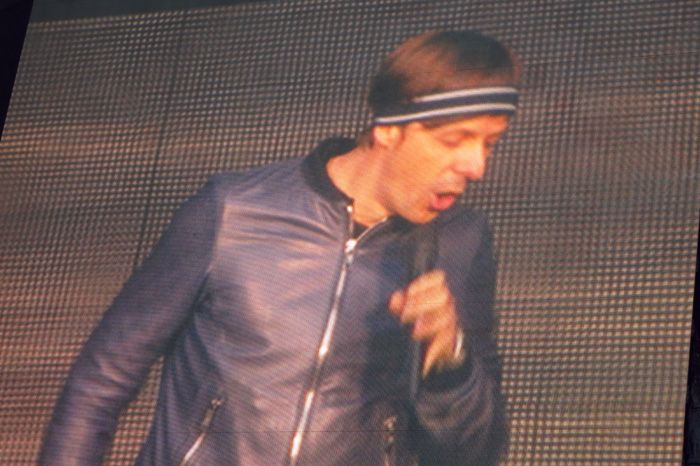 Kumakanta din ang lolo nyo. SO bonggels sya.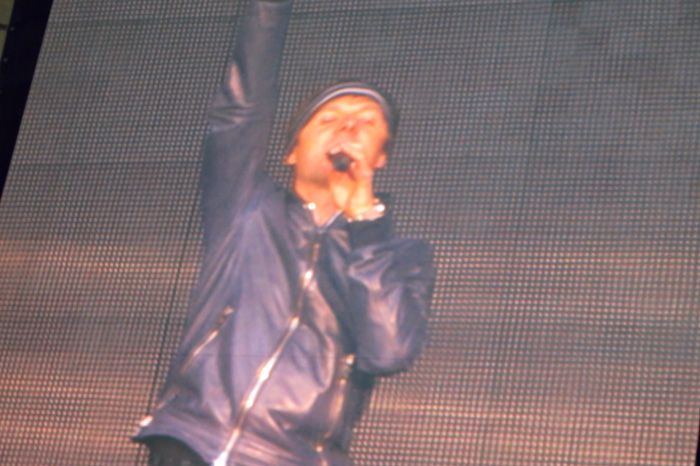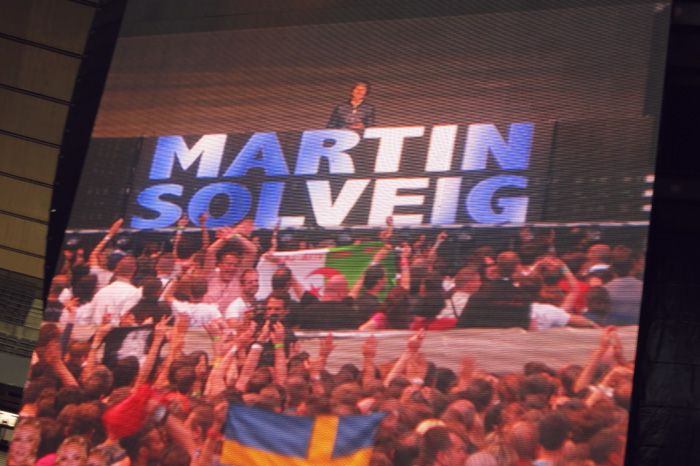 Ganyan ka riot ang utash!
While busy sila… may na spottan kami ni MIlan near the stage… JEAN PAUL GAULTIER! He made some of Lola Madge's costume!
Another shot!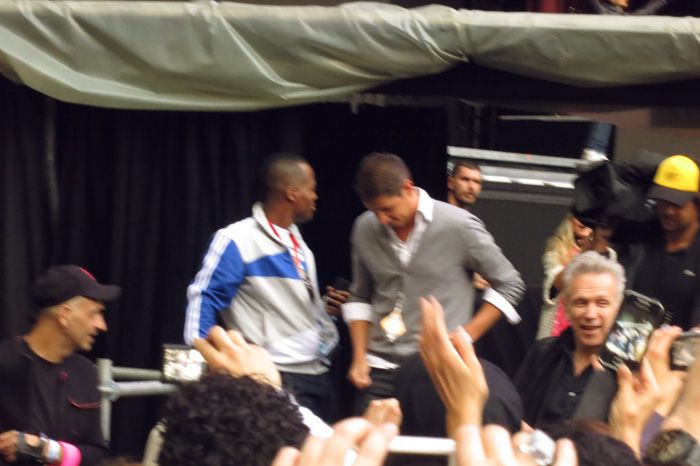 Then may surprise guest pa! WILL I AM! Daming pasabowg ni MADGE!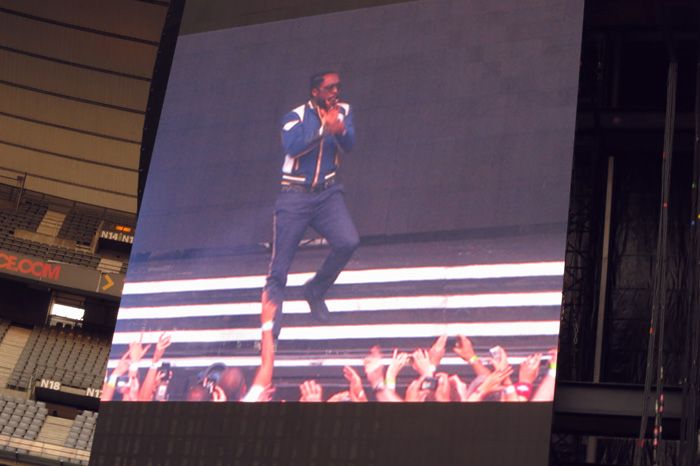 He sang a couple of songs, syempre todo dance lahat!
There he is!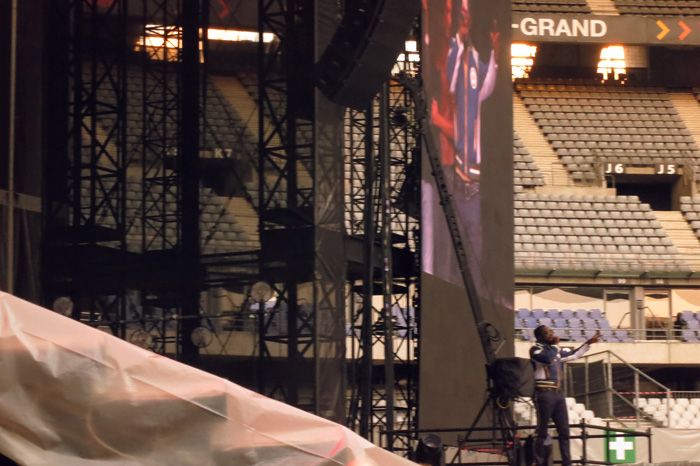 SIGE LANG!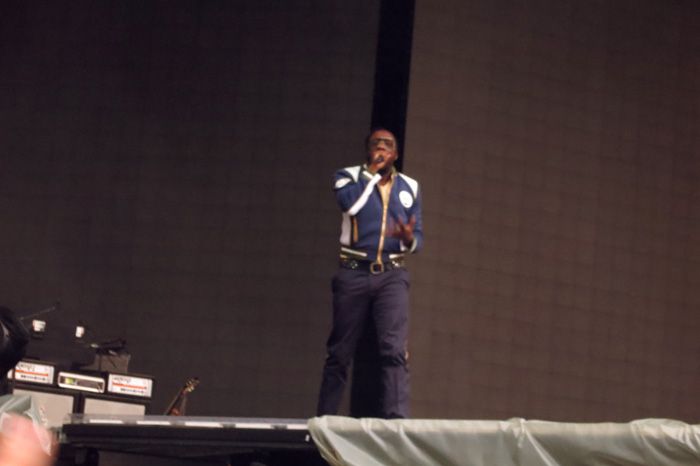 BONGGA NI WILL I AM!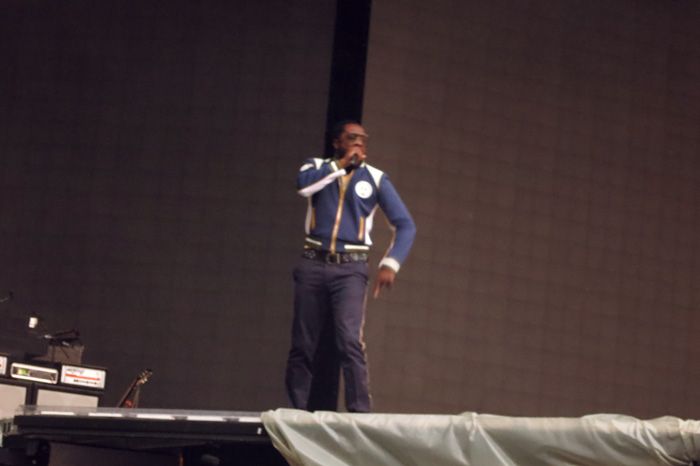 Then right after they had about an hour again na pang light test and all.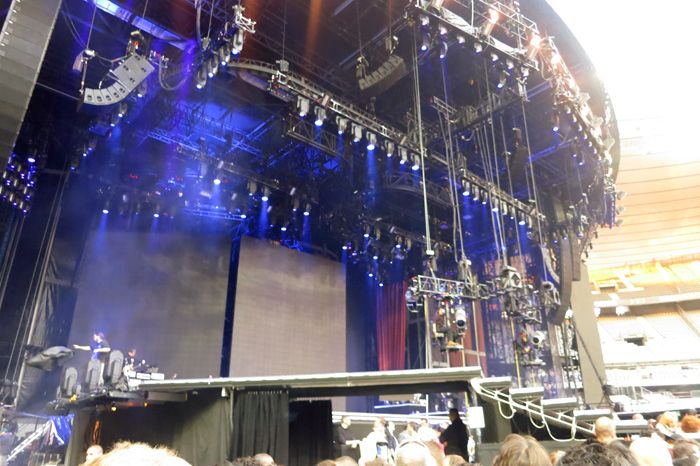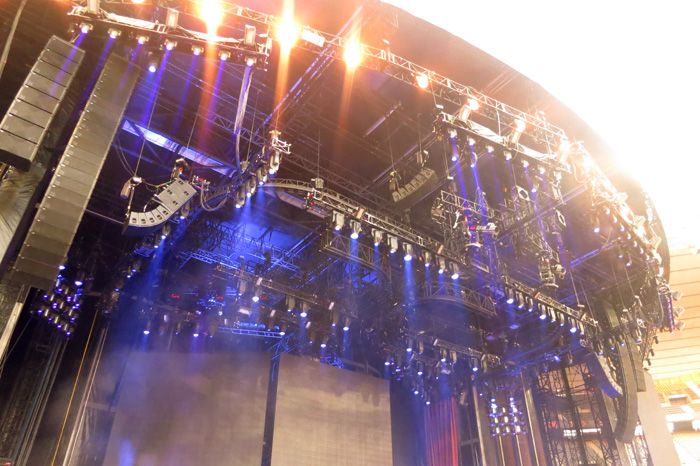 Sunset in the stadium. Addik talaga ako sa sunsets.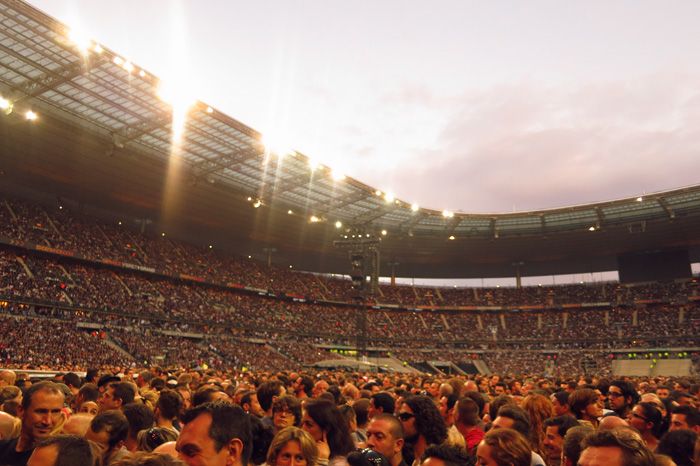 Dapat padalan ng hair grower si Kuya JPG! Pero added charm!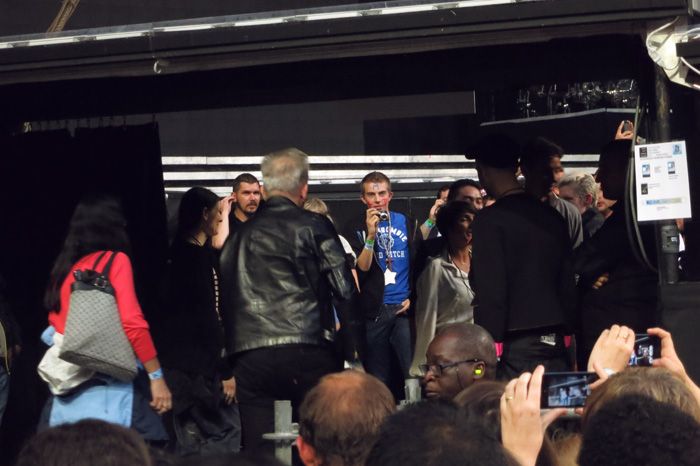 Ok, so our photos and videos coming sa next post. Backgrounder lang toh para mafeel nyo ang in the zone for MDNA.
Tidbit… This was shot in PARIS! Same time ata if I'm not mistaken! So MADONNA FEVER TALAGA!

Madonna Turn Up The Radio (Official Video) by madonnaofficial
So abangan ang next post 🙂
Much love,
D