Lunch and event with Philippe Charriol
I think if you were born during the 80s and 90s to early 2000s ka teenager, you would surely know this brand. Alam ko lahat ata ng magjowa, eto ang regalo sa bawat isa. And i remember realyy saving up for a bracelet way back in highschool. Best in tom jones ako pagrecess para makasave sa ganap! haha!
D + V during the private lunch
Read for more ganap!
With Malu Francisco of SSI, who distributes Charriol in the Philippines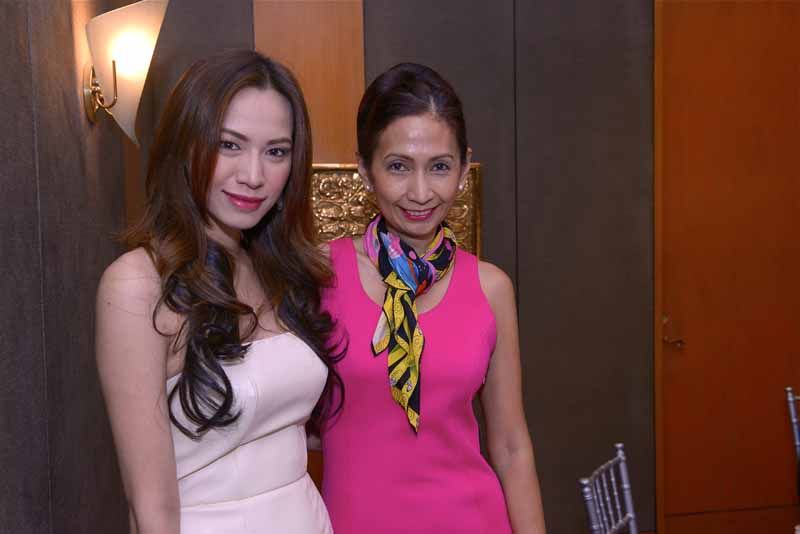 The brand is back, hipper and newer. We met the main man himself, the founder and i must say aliw si Loley! Ang chikador nya lang. During the private lunch, they made me sit beside him, alam siguro nila best in chikadees ako kaya ako ang pinaupo and he gave me a glimpse of the history of Charriol.
This is my kuya Alex introducing me to Philippe Charriol. Kamusta naman yung inavail ni Alex ang color ng Charriol. Ikaw na ang prepared! haha!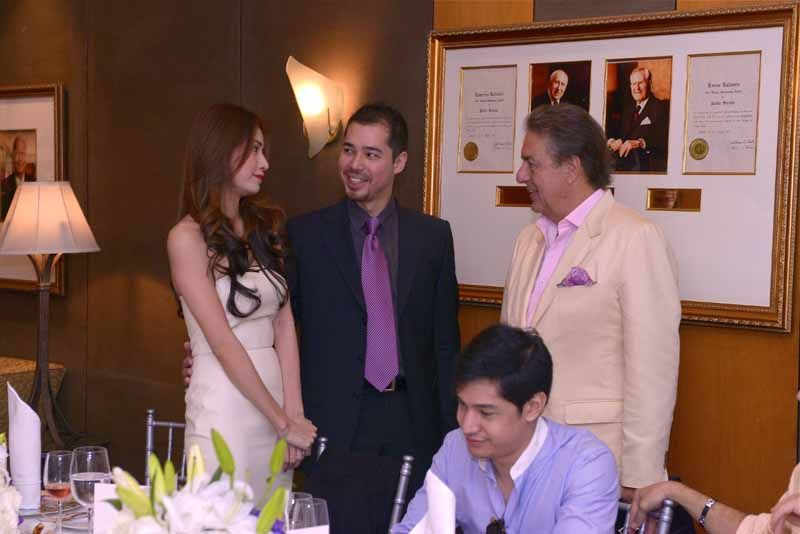 The whole steel/wire ganap happened because he wanted something distinct without screaming branding. Bet nya yung malayo palang, knows nyo na what time of brand sya. While in a museum, he saw some celtic art using bended wires and ayun, na inspire sya ng bongga. Also he started his expertise in watches because even before he started his own brand, he used to be part of Cartier. Now, Charriol has expanded to accessories, eyewear, scents and I'm sure madami pang ganap.
But more than the expansion, ang pagbabalik levels nito is coz he infused younger blood and younger gen by bringing in his 2 kids. Alexandre and Coralie! So ayun, bumagets ang pegaloo!
D + V with Alex and Coralie.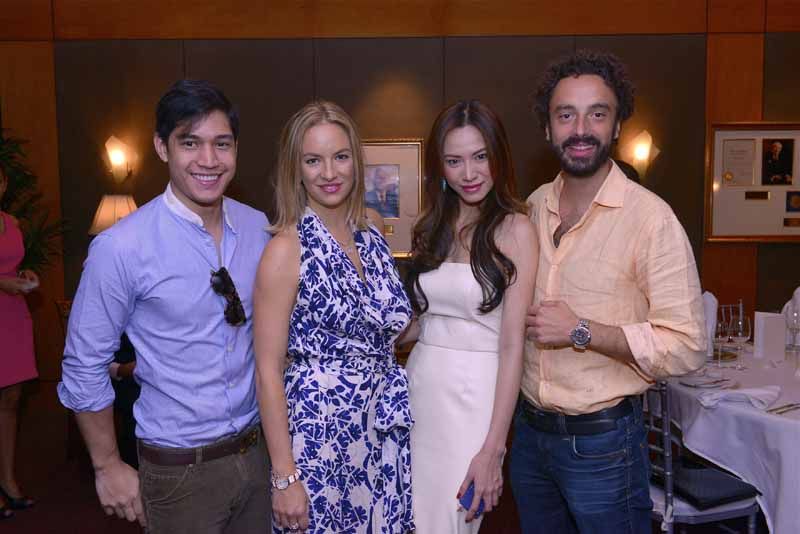 Here's Ginggay introducing me to Coralie. Actually, nawindang ako sa lippy.. gusto ko tanungin. hahaha!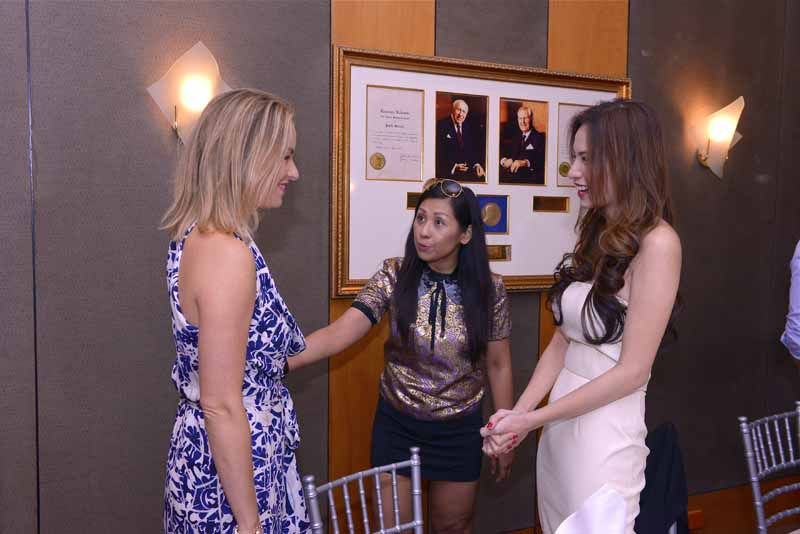 Tinanong ko after this photo ano yung lipstook nya. haha!

Tricia was also there for lunch!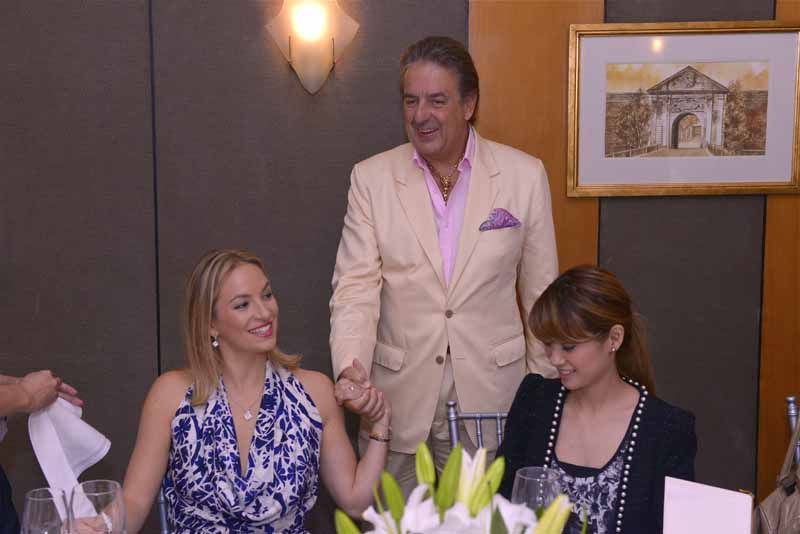 After lunch we had some time to get ready then ganapchi na! The official launch of their St. Tropez collection!
Another great set-up by SAGA again!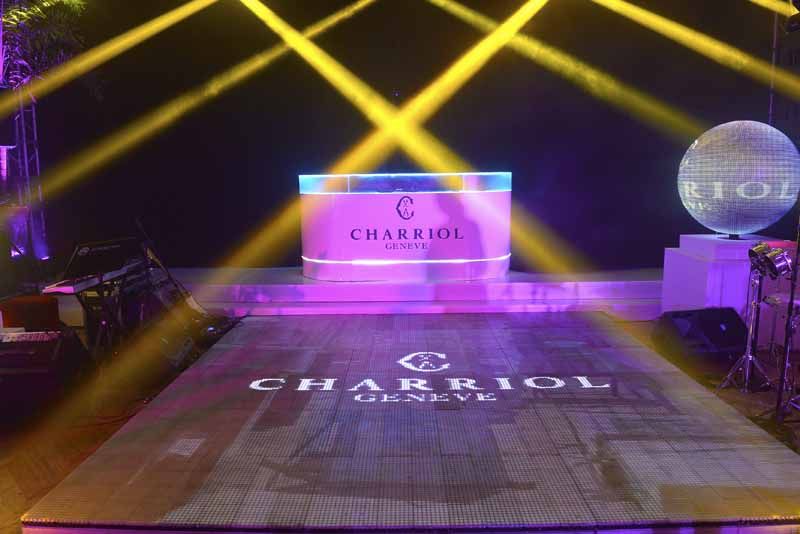 Ang bongga nung ganap na may puno sa Opus!
Youngness ang peg! So with Coralie and Alex on the team, they started using rubber and new materials with their old classic designs. Pakak d ba? Kung baga, affordable na klazz pa! For me, if you want to invest on an entry level watch na kabowg ang dating, this is good. It was also the first jewelry or accessory na pinagipunan ko nang bagets akitch. I like the idea that hindi sya naging baduy.
Classic designs.


Samples of their eyewear!

Sollenn is also a brand ambassador for the St. Tropez line! Bagay coz Charriol is french and she sang a couple fo french songs during the launch! Iba na talaga ang talented, bahay kubo lang ang keri ko. haha!

Sarah Labhati was also there as a brand ambassador!

Alex and Alex!

St Tropez daw ang outfit theme, but since i had to cover, nagjacket na muna ako at baka maloka sila sa coverage ko kung summer na summer ang peg! haha! I love this padded jacket by BOOM SASSON! THANK YOU!

Mike Concepcion naman ang guys brand ambassador!

V also! Na-inavail ang St Tropez concept. haha! Ikaw na ang makapagstripes!

Charriols St. Tropez line brand ambassadors!

Heart is also an ambassador! Blooming ka teh 🙂

Aliw din talaga si Mr. Charriol, last time he visited Manila he was in PLUM charriol color, ngayon Maroon naman! I lovet! Self branding!

Fireworks before Callum David!


If you are thinking of a good watch to start with. Bongga itich. Kung may paylite lang nung bagets ako baka hindi ko ginutom sarili ko. haha! Jk! But it's a good piece to own, if I only kept my old one, i'm sure masusuot parin sila ngayon. That's one thing you should also take into consideration in buying investment pieces. Sana wag masyadong trendy so keri pa ipasa or after years isuot. From highschool to now, i think Charriol was able to stand the test of time.
Til next ganap!
Much Love,
D