BBC Horizons- The truth about staying young
If you have time, try to download this episode on BBC.
BBC Horizons- The truth about staying young
Super dami kong nalaman about aging and staying young. They discussed sun damage on skin, products and food na perfect pang forever young. But one thing especially got my attention. THE FIRST ANTI-AGING PILL was discussed.
Ayan, hinanap ko talaga ano ba yung pill na nasa BBC feature na yun. And i found it. After years of research, they have a pill you can pop that can work from within. Bongga d ba? Research shows ayan check mo sa baba… haha!
Tested on 500 women in a 14-week trial, the Dove Spa supplement showed a striking ability to 'anti-age.' Wrinkles around the eyes improved by up to 30 per cent and participants experienced an increase in levels of collagen in the skin.

Dr John Casey, who led the team which developed the pill, said it worked by activating 'master' genes involved in collagen synthesis, reducing wrinkles and sun damage.

He said: "We used ingredients which have been shown in the scientific literature and our own tests to combat the causes of skin ageing and kickstart old skin cells into behaving like young skin cells.

"We spent five years testing the ingredients on hundreds of women and found this combination could reduce deep wrinkles within 14 weeks. There is nothing currently on the market which can do that."
Oh d ba? Syempre since best in research ako. I checked the ingredients. Most of the ingredients are from fruits and food na dapat naman natin lafangin everyday to enhance collagen production. But syempre, sino ba satin ang lumalafang ng perfect daily. So I assume na bongga nga ito. Kasi at least sure tayo may amount of nutrition daily para sa mailap na collagen na yan. haha!
Ayan galing sa unilever site. haha!
Each box is good for 28 days, so for a full cycle of 14 weeks. Keri ng 3 to 4 boxes. Pinapila ko yung shopper ko sa UK since it is only available there. haha! And takot din kasi ako sa hindi sure, so it's nice that it is also manufactured by a big company na UNILEVER/DOVE.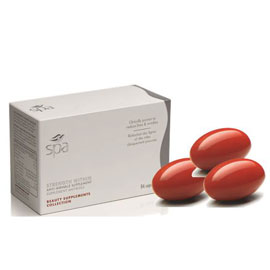 So for more fountain of youth. Parang vitamins nyo narin sa skin nyo 🙂 I think shopHK.by.KC@gmail.com is retailing it at Php2,800.00 per box or Php11,000.00 for for boxes. Yung buong ganap na cycle na yun.
I also checked some reviews.. bongga naman. Bet ko yung best in hair growth ha!
Keribells noh? Eto yung masnakakaloka.. The day the announced it, pumili pala ang mga ghelays! Whole first batch was all sold out in 4 hours! haha! The search for the fountain of youth nga naman! Damay damay tayo dyan!
I'm trying it out now 🙂 So far smoother nga ang skin. Actually more than smoother, may glow. I think with all our ritual na external facials, stemcell kits, etc. We should also work from within. Para walang kawala. haha!
I think shophk has a few boxes left. Try nyo avail!
Much love,
D