Interview Magazine! MODELS ISSUE!
September Issues! I think this is one of the most bongga! I love Sept issues! Interview Magazine released their 2013 September issue focused on MODELS! MOWWDELS! AND ALL MY FAVE!
Amber, Christy, Daria, Kate, Linda, Naomi, and Stephanie: seven supermodels, seven covers. Welcome to the model issue.
TARUSH! I got some of the excerpts of the interviews from their site. Ayan since spoiled kayo, will post here!
ABOVE: CHRISTY TURLINGTON IN NEW YORK, JULY 2013. STYLING: LUDIVINE POIBLANC. JACKET AND PANTS: DSQUARED2. 
INTERVIEW: What was your relationship like with fashion when you were a kid? Were you into it?
CHRISTY TURLINGTON: I never looked at magazines before I started modeling. I was 13 or 14 and none of my friends were into magazines. We were into the fashion of the day, though. Designer jeans were really popular—Sasson, Gloria Vanderbilt, Calvin Klein, Jordache. Once I started modeling, I began to learn about these things, and magazines helped me to understand who was who.
INTERVIEW: What was your first professional modeling gig?
TURLINGTON: I lived in Miami for a few years and that's where I got "discovered." I'm not 100-percent sure what my first job was, but it was probably for the department store Burdines. I worked with them quite a lot until my family moved back to California. The photo studio was in the department store itself. My mom would drive me downtown at 13 and we'd get lunch or frozen yogurt before my booking. I started modeling clothes for my age group but quickly moved into doing cosmetic and jewelry ads, which was funny to me at that age. I noticed that older, more established models would come down from New York for "special bookings," so that became a bit of a fascination for me.
INTERVIEW: How did you get from Miami to New York and Paris? What or who redirected your career?
TURLINGTON: At 14, I met a scout from New York named Bibi Monnahan who was with Ford and another affiliated agency called Karen in Paris. Both agencies invited me to visit but I was moving with my family to California. But the following summer I went to Paris and stopped through New York on the way home. Both experiences were great. I loved being in big cities and getting to see how the industry really looked and what it felt like. I didn't work much, but I loved walking around the city and meeting photographers and shopping.
INTERVIEW: Eventually, you lived for a summer at Eileen Ford's townhouse on 78th Street. What was that like?
TURLINGTON: I returned to New York the next summer, at 16, and I stayed at the Ford's home. It was fun getting to meet other 16-year-old girls from other countries. I made some good friends there. Eileen and Jerry Ford were probably the only agents I had heard of before I started modeling, so I felt they were the best and I think my parents trusted the Ford brand. They were known to be tough and professional, which gave us a sense of security. Things took off for me that summer. I was working a lot with Vogue so even after I returned to high school in Northern California in the fall, I would come back to New York and fly to Paris or Rome for "special bookings." That happened until I turned 18 and moved into my own apartment downtown. That was in 1987.
INTERVIEW: You just did an underwear campaign for Calvin Klein, a brand you've had a long association with over the years. Then, on the flipside, you also just did the campaign for Jason Wu, a younger designer. How does it feel to be working on those different kinds of projects now?
TURLINGTON: While I haven't worked as a full-time model for about 20 years, I've always maintained a few relationships. Calvin and Maybelline are the two longest. I'm flattered by the offers I receive, but there's no real strategy to the way I choose what to do these days. If I'm in a good mood and have the time, I'm more likely to consider it. Often the photographer and team are important factors, too. I needed to think seriously about the CK underwear campaign, because I knew it would be everywhere, and I wasn't sure I wanted to be photographed in my underwear now that I'm a mother. But I knew the images would be tasteful and I liked the idea of continuing a relationship with a brand that I grew up with. The Jason Wu campaign was totally different. I've worked more with Inez and Vinoodh than with any other photographers over the last dozen years, and I trust their vision and instincts. I know the photos will be pretty and the day will go smoothly. I was worried about having two fashion campaigns out at the same time, and when I got the offer for Jason Wu, I had just shot Prada with Steven Meisel, and my kids were in their final week of school. But I'm happy I agreed in the end. People seem to really like them.
INTERVIEW: Who were some of the important people early on in your career?
TURLINGTON: There have been so many photographers and editors who mentored me over the years. At the very beginning, the person who taught me the most was Arthur Elgort. I always loved working with him. We traveled a lot together. I couldn't wait to work with Steven Meisel, and once we met, we did a lot together too. I remember some great years working with him and Paul Cavaco, Brana Wolf, and Carlyne Cerf when she first arrived in New York. I did a lot with British Vogue and loved working with Liz Tilberis and Grace Coddington. I started with Vogue during the Grace Mirabella years, but then Anna Wintour returned from London and quickly made her mark. I also loved working and traveling with Herb Ritts. I met Lori Goldstein in L.A. through him. I worked with Patrick Demarchelier, Avedon, and Irving Penn. There were teams with each photographer and those would change periodically—Sam McKnight and Mary Greenwell, François Nars and Oribe, Stephane Marais and Odile [Gilbert], Linda Cantello and Julien [d'Ys], Kevyn Aucoin and Garren, Christiaan [Houtenbos], and Sonia [Kashuk] …
INTERVIEW: Once you achieved a certain level of success, what were some of the most important decisions that you made in terms of your life and career.
TURLINGTON: I signed an exclusive contract with Calvin Klein in 1988, and there were some pros and cons to that. I didn't feel that I was given the best advice at the time from my agency and I didn't have my own lawyer. I was young and wasn't ready to be locked up. I made the most of the time, but I missed the pace I was just starting to enjoy. I was also in a new relationship and started taking creative-writing classes in L.A. I renegotiated after a few years and came back, maintaining the Eternity fragrance contract, so I had the best of both worlds from then on. In hindsight, I probably would have burned out much sooner if not for that hiatus.
INTERVIEW: But in the mid-'90s you did decide to step away from modeling. Was that in order to focus on college?
TURLINGTON: I never thought I would model for more than a few years. And almost as soon as I wasn't a student who modeled part time, I started to feel like being a full-time student again. That was a goal I set for myself. Each year I would say "one more year," and that got old. So, after one particularly grueling season at the couture shows in Paris in the summer of '94, I decided that was it. I came home and applied to NYU and started classes that fall. I loved my college experience. I was so ready to stay put for a few years and focus on my education, make a home for myself, and slow down. I went year-round so I could graduate in four years. I loved that period of my life.
INTERVIEW: Looking back on the late '80s and early '90s, when you were becoming such a recognizable face, are those positive years for you?
TURLINGTON: For a long time I couldn't think about any of that period as positive at all. It all felt so exploitative to me at the peak of it. I am finally able to look back and see the good stuff over the rest, but it has taken time and distance. We had a lot of fun throughout those years. Now I can see there has been a positive impact on the industry.
INTERVIEW: You've also done some substantial work outside of the industry, like Every Mother Counts, which is a campaign to end preventable deaths caused during pregnancy and childbirth around the world, and the documentary No Woman, No Cry [2010] you directed, about at-risk pregnant women in four parts of the world. Where does that drive come from?
TURLINGTON: I always recognized that modeling would allow me to see and do a lot, so I looked for opportunities to learn and grow. I continue to find opportunities to challenge myself and I think I always will. I don't know where it comes from but it's always been there.


INTERVIEW: What's the best piece of advice anyone has ever given you?
TURLINGTON: Funny enough, some of the best advice I ever got was from other models. I met the famous Avedon model Dovima once, who told me to keep everything—letters, invitations, photographs, clothing. It was at the end of her life and she hadn't done this and had a lot of regret. The other was from Lauren Hutton, who advised me to always stay in a country longer than my work required, to take advantage of the travel and experiences that come from it. I followed it all.
INTERVIEW: What advice would you give someone who is just starting out in modeling today?
TURLINGTON: I don't know. To stay in school as long as possible, I guess. There is nothing important that won't wait, and it isn't easy to go back once you leave. Take breaks. See the world. Keep working on your inner life, too.
ABOVE: DARIA WERBOWY IN LONDON, JUNE 2013.  STYLING: KARL TEMPLER.
INTERVIEW: A lot of people imagine supermodels as overnight-success stories. But you worked for a long time before your career took off.
DARIA WERBOWY: Yeah. It was sort of like a shadow that followed me for such a huge part of my life. People wanted me to do commercials at 8 or 9 years old, but I first gave it a go when I finished high school. It was pretty much a disaster. Nothing really came out of it, so I gave myself six months and was living in Athens, Greece, and modeling in all of these random places. Nothing really clicked. It wasn't until I was 19 that I decided to revisit it because I wanted to make money to go back to school. I guess it was just the right time and right place for me. Everything started to happen.
INTERVIEW: Now you're 29. Are you ever surprised that you've been doing it for so long?
WERBOWY: Sometimes I am still surprised that I'm a model and that people think I'm good-looking. I've gone through a lot of different phases on what I do and why I do it—morally and ethically. I've tortured myself about it, especially in dealing with success and money. I just had to learn to look at it as a job, as opposed to identifying myself as a model and thinking of myself as a part of this industry. I just thought, Okay, this is an opportunity to learn and see and meet people. Still, I am a Scorpio and I'm quite competitive. If I'm going to do something, I'm going to do it as best I can. I'm going to give it everything.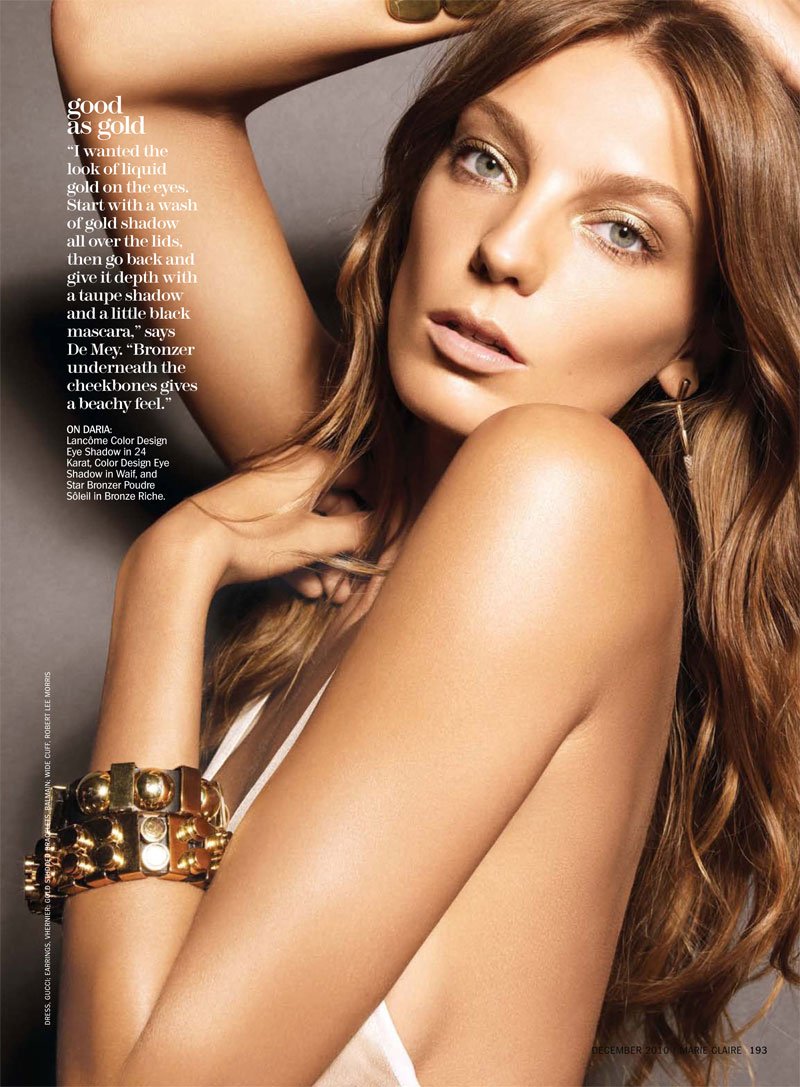 INTERVIEW: What kind of a kid were you?
WERBOWY: I was really quiet and shy. The thought of attention made me want to hide in a closet. I wasn't a kid who liked attention. I liked solitude and I still kind of do. I go through spurts where I love being around people and I want to be loud, but mostly I don't mind being alone. When I was a kid, I was always around boys. I was always trying to keep up with boys—skateboarding and snowboarding. If my brother was mowing the lawn, I had to mow the lawn. If my brother was using a hammer, I needed to use a hammer. I've always been a little bit of a feminist.
INTERVIEW: Speaking of pushing yourself, it's been said that you set a record for opening and closing the most shows in one season.
WERBOWY: Yeah. I actually don't know if it's true. Someone would have to be really bored to actually want to go through that torture to re-count and verify that. I guess that was my second or third season. I mostly remember just never sleeping.
INTERVIEW: You're a real adventurer. You sailed across the Atlantic Ocean in 2008.
WERBOWY: Yes! That's a true, 100 percent. I grew up in a sailing family. My dad lived for sailing, and when we moved to Canada when I was a child, he really wanted us to learn. He found a junkyard boat and restored it, and it was his dream to sail across the Atlantic. So we did. It all came true. We had some funny issues along the way—like, not enough fuel at one point. It was one of the best experiences of my life. I would do it again in a heartbeat and I will.
INTERVIEW: That sounds kind of terrifying, to be honest. The open ocean is so scary.
WERBOWY: Yeah, but I like terrifying. [laughs] Modeling's terrifying to a lot of people too. Standing in front of a camera is terrifying. I like a challenge. Sailing really forces you to be present and in the moment. You kind of forget about the bullshit of life. Your thoughts go away because you're focused on making sure everything's working. I like being in that place.

INTERVIEW: Where do you spend most of your time when you're not working these days?
WERBOWY: I've been traveling a lot. I try to work it out so I get a couple months off and then I work for two months. I try to do it in chunks so I can actually start and finish something. Right now I'm in between New York and Ireland. But I spent three weeks in Iceland last summer. Then I went to India for two and a half months. Then I was in Peru for four weeks.

INTERVIEW: When your modeling career took off, did anyone show you the ropes?
WERBOWY: Oh, god, someone's going to read this and be like, "That's a lie. I helped her!" [laughs] Off the top of my head, I can't really think of anyone who really took me under their wing. You get advice from everyone. Kate Moss once said to me, "Don't worry about the past, just keep going." That has always sort of stuck with me. I couldn't have asked for better agents. They were amazing and very supportive of me wanting to take time off and stuff like that. I also learned a lot from Emmanuelle Alt.
INTERVIEW: You worked with Helmut Newton on one of his last shoots, in 2004. What was that like?
WERBOWY: I was sick and he was sick, so he made me keep a distance away from him. [laughs] Still, he was amazing. I remember one of the first things he said was that he couldn't believe how thin I was. He was like, "Whatever happened to women?" He also made me wear rubber nipples. He was getting quite old at the time, but he was wonderful. It was amazing to be in a situation where you have to create but you don't feel any pressure. He had such confidence that it made things really easy. Steven has that, Bruce has that. There's a natural sort of process of something coming to life, which I really liked. And with Helmut, it was so quick and easy. It was like, "We're here, and let's make you lay on a bed of nails." But it didn't seem contrived or overly thought-out. It was easy.
INTERVIEW: You have a reputation in the business for being incredibly nice and polite. Are you the nice supermodel?
WERBOWY: What does "nice" really mean? I mean, really. "She's nice."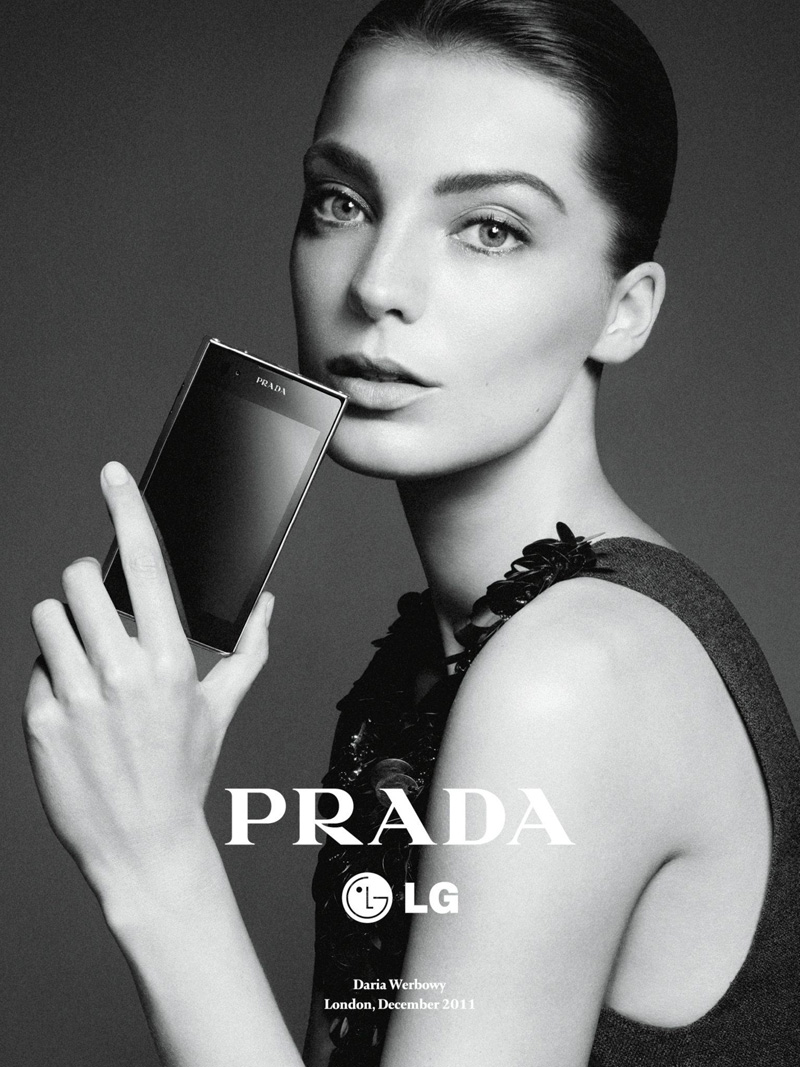 INTERVIEW: It could mean that you're always professional and pleasant and easy to work with, which are important and sometimes rare qualities in the fashion world.
WERBOWY: At the end of the day, I'm really fucking lucky. You know what I mean? I get up every morning and I can do what I want. I've made good money. I don't have to schlep around and go to work every day. I have a very blessed life. There are hardships that come along with doing what us models have to do, but if I woke up complaining and bitchy every day, for god's sake! Of course, there are days when you're not feeling your best and you still have to stand up there and it can be difficult. But those days pass and you move on.
INTERVIEW: Do you have any phobias?
WERBOWY: Snakes, but I'm getting over it.
INTERVIEW: Have you ever held a snake?
WERBOWY: I haven't in a while. The last time I did was probably six or seven years ago, and my whole body turned to ice. Like, I physically couldn't do anything. I can look at pictures of them now. I can imagine them. Whereas before, with just the thought of snakes, I'd have to lift my feet off the ground because I'd think that they're under me. So I've sort of made peace with that. Other phobias? Not really. I have a very high pain threshold.
INTERVIEW: If you had to stop working in fashion today, what would you want your legacy to be?
WERBOWY: I don't know. I've never actually thought about that. I hope somewhere along the way, I've inspired someone to do something. … And I hope they say that I was nice and polite.
INTERVIEW: You're Canadian. Canada must be very proud of you.
WERBOWY: You know, we Canadians have our own Walk of Fame.
INTERVIEW: Yes. And you and Linda Evangelista are the only two models on it, right?
WERBOWY: Yes. She and I are the models of the Walk of Fame. That's right. [laughs] It was really awesome for me because I'm an immigrant, so to be embraced as a Canadian … It was really emotional. It sounds kind of cheesy but it was. I got up on stage and I was so nervous, but it was amazing to be standing up there. Not to bore you to tears, but my family's history through the World Wars is really heavy. The fact that my parents got over to Canada is kind of amazing in and of itself. Had they not immigrated when I was a child, I probably would have never been doing what I'm doing today. So, thanks, Canada!
ABOVE: AMBER VALLETTA IN NEW YORK, JULY 2013.  STYLING LUDIVINE POIBLANC.
INTERVIEW: You grew up in Oklahoma, right? 
AMBER VALLETTA: I grew up in Tulsa, then moved to Europe to model when I was 17. Big difference.
INTERVIEW: How did you get from Tulsa to Europe?
VALLETTA: I got discovered in Tulsa at a local agency. My mom had paid for modeling classes, and some scout came through and discovered me. They asked if I wanted to come to Europe for the summer to model. I didn't even really know what that meant. I just wanted to go to Europe. So I went with another girl and her mom. Luckily, I had already traveled to Europe twice before I finally moved out at 17. In retrospect, I wish I had spent one more year at home. But my career was starting and people were calling and I kept getting pulled out of school to work anyway. It was like the call of the wild—I just couldn't not go anymore.

INTERVIEW: What was your first really big job?
VALLETTA: It was an advertorial for Italian Vogue. I cried on set because I didn't know what to do. That was two weeks after being in Milan for the very first time. I think I had one or two test shoots there. The other big break would have been a cover of French Elle with Hans Feurer. Then I cut my hair short and it basically changed everything overnight. I was about 18 when I cut my hair off—the little pixie haircut.
INTERVIEW: What prompted the new haircut?
VALLETTA: Nobody had short hair at the time. The waif thing hadn't even started. I was working with a well-known hairdresser, Yannick d'Is, on a French beauty campaign and had a bob down to my chin. I was working all the time but I hadn't done shows or real editorial work. So I said to him, "Let's cut my hair off! He looked at me and was like [mock French accent], "Why? How old are you?" I told him I was 18 and his eyes almost popped out of his head. He was like, "Oh my god, I thought you were so much older because of your haircut!" So, not too long after that, I was on castings for the shows, and I bumped into him and Ward Stegerhoek—another big-time hairdresser—and they looked at me and said, "Let's cut your hair off." We went back to my apartment in Paris and just cut it all off. Two guys cutting my hair at the same time. And then literally overnight everything changed. I worked with Steven Meisel within a month and a half and I booked every show. Then I got a Vogue cover—my firstVogue—and that came out a few months later.
INTERVIEW: Was there anyone taking you under their wing at the time?
VALLETTA: My agent, Didier Fernandez—who's been my agent since I was 18—has definitely been a mentor and a protector and a trusted friend. There have been a few people in the business: Paul Cavaco and Garren Defazio, both of whom I call "Papa." Peter Lindbergh and Steven Meisel, for sure. Those guys were great mentors. Carla Bruni was the first girl to say hello to me at a shoot. And then Christy and Naomi and Linda all kind of shepherded us and were good to us. We'd all hang out and get into trouble and stuff like that.
INTERVIEW: It's nice to know that all the models were running around together having a good time.
VALLETTA: We did! It was like a sorority. We got up to some serious shenanigans.
INTERVIEW: What was your family in Oklahoma's reaction to your sudden fame?
VALLETTA: There were different reactions. One of my little brothers felt that I had left him. My mom was proud but very hands off. She didn't really know enough about the industry, and she didn't have the time to stop her life to go chaperone me. I think she trusted me and … Well, she was probably a little naïve. I think my dad was proud. My stepdad was definitely proud. I had weird reactions from other family. One of my half-sisters just couldn't deal with it. I think she saw me as someone she had a hard time relating to. We're super-close now, but I probably came home from Europe with weird opinions and attitudes and weird clothing. I probably looked so different to her, and I couldn't show up for things she would have liked me to. My life picked up speed, and I couldn't really stop the momentum.
INTERVIEW: If you hadn't become a model, what do you think you would have done instead?
VALLETTA: I thought of doing many things. I wanted to be an archeologist at one point, but I was a little kid. I wanted to be a social worker. I don't think I really had any idea. I don't even know what would have happened to me had I not become a model. I don't know if I would have gotten out of Oklahoma. I was so young when things started happening for me and I realized I could make a living. After the first summer modeling, I came home with almost as much money as my mom made in a year—after being away for about two months. I just decided to give it a shot, and if it didn't work, I was going to go to college.

INTERVIEW: Model-turned-actress isn't a foreign concept, but how hard has that transition been?
VALLETTA: It was hard to be taken seriously. I needed to work on my acting chops. There are so few parts available that are good for women, you know? I'm not going to complain about it. I feel like I've gotten whatever was meant to come to me and I feel really blessed. I have a new show that starts filming in January called Legends, from Howard Gordon, the executive producer of Homeland and 24. So that's pretty exciting. It's a regular part. But yeah, I definitely think that being a model makes it more difficult to be taken seriously. And I understand. I don't take it seriously sometimes. You can't. [laughs]
INTERVIEW: It was hard not to notice in your filmography that early on in your acting career, you were in a TV movie about Def Leppard [Hysteria: The Def Leppard Story, 2001].
VALLETTA: I know. It's hilarious! So many bad wigs.
INTERVIEW: Bad wigs sound delicious.
VALLETTA: It is kind of genius, actually.
INTERVIEW: And you were also a host on MTV's House of Style in 1996.
VALLETTA: God, yeah. I don't even want to go there.
INTERVIEW: Come on. That's how a lot of America got its first taste of fashion. Do you have good memories of that show?
VALLETTA: I had a blast because I was with Shalom Harlow, my best friend in fashion, but it was not a good period for me, personally. So we'll put it this way, I wasn't always present for that, even though my body was there. If I could do a do-over, I would. But I'm grateful to have had the experience.
INTERVIEW: What was the scariest thing you've ever been asked to do on a photo shoot?
VALLETTA: Just recently they had me on the top of the new Freedom Tower, in a construction elevator that was on the outside
of the building. I hate heights.
INTERVIEW: Is there something you are a lot better at now than when you were younger?
VALLETTA: Letting go. Moving on. Not taking things so personally.
INTERVIEW: On Twitter you describe yourself as being a "hometown girl, occasional party crasher, hockey mama, fashion renegade." Hockey mama?
VALLETTA: Oh yeah. I'm obsessed with hockey and my son's a big player. I spend a lot of time driving to the ice rink and I'm a huge Los Angeles Kings fan. So, yeah, I'm a hockey mama—a cool hockey mama.
INTERVIEW: You Instagram pictures of your dogs a lot. How many dogs do you have?
VALLETTA: We have two. Two little rescue crazies! They're mutts. One's a beagle rat terrier; he looks like a beagle weenie-dog. The other one is a little chug; she's half Chihuahua, half pug.
INTERVIEW: Did you always like modeling? Did you realize right away that modeling was something that you were good at?
VALLETTA: Yeah. I knew I liked art. I knew I liked photography. I remember seeing photos of Linda Evangelista in Italian Vogue as a teenager, and at the time I didn't know who she was. There were two photos—one shot by Fabrizio Ferri and another one by Steven Meisel. I didn't know who any of those people were. I think it was the first summer I was modeling, I saw these magazines sitting out and looked at them. I remember thinking, These are the kind of images I want to make. My mom had photography books back home, so I knew a little about photography, but when I saw those images, I knew that's what I wanted to do. I didn't know they were high fashion, I just knew I that wanted to make those kind of images.

INTERVIEW: And then you did.
VALLETTA: I guess storytelling's always been in my blood. My mom said I was always dressing up and jumping in front of the camera and putting on plays. There must be a part of me that has to express that. If we were living in prehistoric clans, I'd probably be sitting by the campfire taking two stones and showing you how dinosaurs were chasing us. [laughs] I'd be the one finding a way to communicate and perform.
ABOVE: KATE MOSS IN LONDON, JUNE 2013. STYLING: KARL TEMPLER. DRESS AND BRACELET: VERSACE.
INTERVIEW: You were really the first model where it was acceptable for any kid to put a picture of you up on their bedroom walls—straight girls, gay girls, straight boys, gay boys. Everyone had Kate Moss up and everyone agreed you were beautiful. Before you got into this business, who did you have up on your walls in your bedroom in Croydon?
KATE MOSS: I had David Bowie and Rob Lowe. I had boys. But I met a friend who had Linda Evangelista on her wall. Those famous Peter Lindbergh pictures.
INTERVIEW: Did you copy her and start putting up fashion images?
MOSS: No, I was always more into boys. But I think I had a Marilyn picture up.
INTERVIEW: Before you got into modeling, were you interested in fashion? Did you covet any clothes?
MOSS: I was more into music, but I also liked fashion. The first time I went to New York, I went with my first boyfriend, Clark. His dad had just bought an apartment in New York and my dad dropped us off and we were there for a week on our own. I must have been 15 or 16. I remember I went to Harlem and bought a goose jacket. That was the hip, hot thing. It was all about a goose. "Oh, she's got a goose." It was a leather goose, and it was so cool.
INTERVIEW: Were you excited to be in New York for the first time?
MOSS: Yeah, I was terrified.
INTERVIEW: Well, New York was terrifying back then.
MOSS: I'd only seen it in movies. With all the fire escapes that people would run down. I was so scared.
INTERVIEW: It was on a trip to New York with your boyfriend at the time, Mario Sorrenti, that you met the people that would later be your agents—Paul Rowland and Jen Ramey. You were on your way to L.A. to work, right?
MOSS: I met Jen and Paul after I'd come back from L.A. Mario and I were in L.A. because we were doing a music video together. And then we ended up staying there for a few weeks. Do you know Sharon Gault? She was "Mama Makeup" in the Madonna Truth or Dare documentary.
INTERVIEW: The one who was roofied and didn't remember how she got back to her hotel room?
MOSS: Yeah. She was the makeup artist on the video we did. Me and Mario were really young. I was 17 and he was 18 or 19, and she said, "Just come and stay with me." So we ended up living with her in L.A. for a while. We loved her. We were her babies. She was like, "My children," and kind of adopted us.
INTERVIEW: Did you like L.A.?
MOSS: Not really. Because we weren't 21 so we couldn't rent a car. We finally found someone who would rent a car but it turned out to be this old banger. So we drove around in that. We had fun.
INTERVIEW: You ended up making London your home. Which makes sense because you're British. Did you always think that would be your home?
MOSS: Yeah, always. But I've lived other places. I lived in New York for seven years, although I was always in denial about it. Even though I had an apartment there, I always pretended I was just visiting. I do love New York. But I'm a Londoner at heart.
INTERVIEW: Does that mean you, like your fellow countrymen and women, were excited beyone belief about Prince William and the Duchess of Cambridge delivering a future king to England?
MOSS: I love the Royal Family. The Queen, she's fabulous.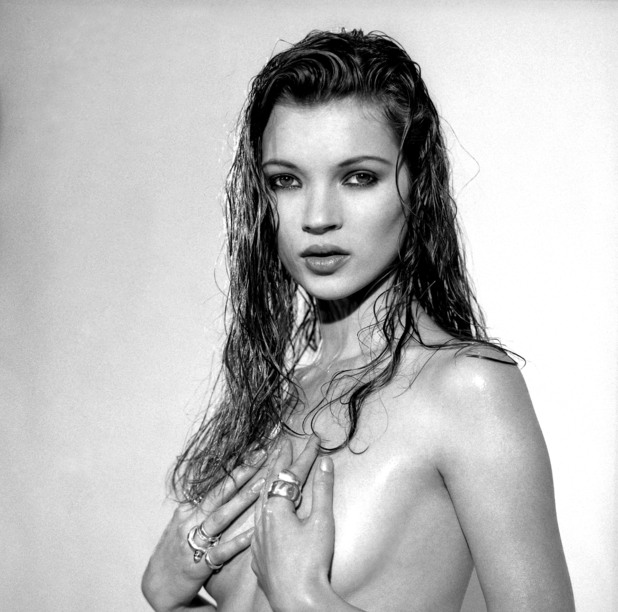 INTERVIEW: Have you met the Queen?
MOSS: Yeah, I have.
INTERVIEW: Were you intimidated at all as a teenager when you first found yourself in a world populated by supermodels like Naomi Campbell, Linda Evangelista, and Christy Turlington? Even just height-wise that must have been a little intimidating.
MOSS: Yeah, but they were nice. And I was quite streetwise. I still knew things. I even knew about some things that they didn't.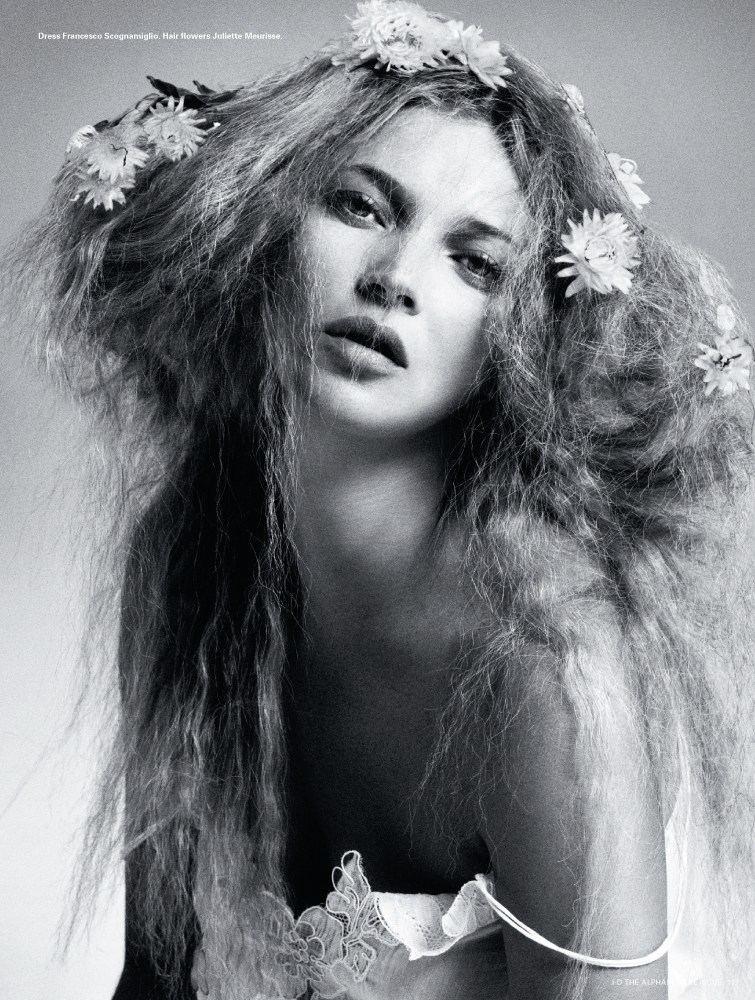 INTERVIEW: So you weren't some naïve girl from the country who found herself backstage at a fashion show.
MOSS: Exactly. But they were amazing. They showed me the ropes, really. If I hadn't been with them, I would have been screwed. They really protected me.
INTERVIEW: Still, a runway the first few times must have been daunting.
MOSS: When I started, a lot of the models were still doing their own makeup. Now that's just unheard of. Now you'd never go in and do your own makeup before a show. I never did that—I couldn't. The first time I went to Paris for John [Galliano]'s show, no one knew that I was even a model. All the girls were lined up, and I remember Stéphane Marais said to me, "Are you in the show?" I said, "Yeah." He's like, "Who are you in the show?" I said, "I'm Lolita." He's like, "Oh my god, get her done quick." [laughs] I was just sitting there all day. I'd been there since, like, 10 in the morning. They just didn't take me for a model.
INTERVIEW: They probably thought you were someone's little sister hanging out backstage.
MOSS: Those were before the days of mobile phones. I wonder what I was doing? Chatting. I was probably just chatting.
INTERVIEW: You may be the most frequently shot human being since the invention of photography. Can you remember all of the work you've done? Do you ever run across an old campaign or magazine story and say, "I have no memory of doing this?" Are there whole periods in your career where it's a blank?
MOSS: Not a period, just certain things where it's like, "Is that me? I can't remember doing that." If you've taken a lot of pictures and done so many shoots, you can't. I remember most of them, but there are some that I don't.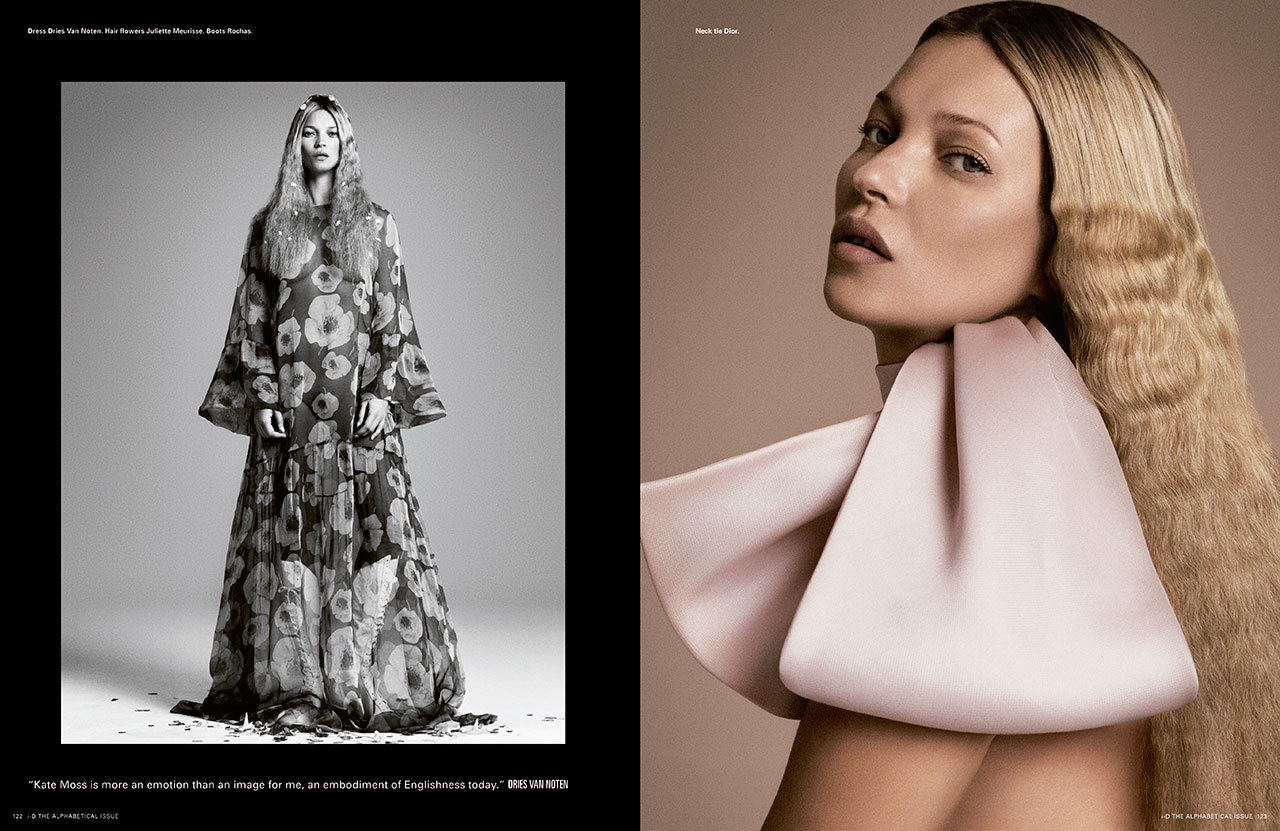 INTERVIEW: Are there any particular shoots that are of particular importance to you and hold a meaningful place in your mind?
MOSS: Yeah, obviously Corinne [Day] in Camber Sands—the first one. I remember that like it was yesterday. I remember the car that we did the hair and makeup in, I remember what I was wearing, I remember everything. And then the Harper'sBazaar shoot [in 1992] that I did with Patrick [Demarchelier], Fabien [Baron], and Paul Cavaco. I remember everything about that one too.
INTERVIEW: Why were those two so meaningful to you?
MOSS: Well, they changed everything.
INTERVIEW: Do younger models come to you today for advice and protection?
MOSS: Sometimes they do, but I think it's really difficult. It's like with any young person—you can't tell anybody what to do. They have to do it their way. You can't say, "Oh please, I've been there, don't do that." Or it's like when I hear someone say, "I was talking to my friend, and she's 20 and …" And I think, "Oh god, I don't want to hear about it. It's too terrifying." Because I'm a mother now. My daughter is only 9 years away from being 20 herself. So I'm a bit more like that. I'm more protective. But you have to go through it yourself, don't you?
INTERVIEW: Are you locking your daughter up when she turns 14?
MOSS: Yeah, absolutely.

INTERVIEW: If she wanted to be a model, would you forbid it?
MOSS: It's up to her. At the moment, she's definitely not into that. She's not into having her picture taken. She gets shy.
INTERVIEW: Young models today are social-media stars. You don't have a Twitter account. That game is not for you.
MOSS: It's just a different generation, I think. That's how they communicate. That's what they do. All the kids do it. My daughter loves Instagram. I mean, I do Instagram but I've only got 25 followers.

INTERVIEW: I have a feeling if you told us your Instagram name, you'd get a few more followers when the issue comes out.
MOSS: Yes, but I don't really want anyone to know where I am. I don't want people to know what I'm doing. That's the complete opposite of what I feel like.
ABOVE: STEPHANIE SEYMOUR IN NEW YORK, JULY 2013.  STYLING: KARL TEMPLER.
INTERVIEW: For you, what kinds of people make the best collaborators?
STEPHANIE SEYMOUR: Well, I always had difficulty as a model just being myself. I can be very shy, and I used to have a lot of anxiety about working on set. But it was really after I worked with Avedon extensively that I learned how to deal with it better. Dick was both a great collaborator and a great director. He taught me a technique where I had to come up with a character each time I was on set. We would work on it together, and he would go to the extent of showing you pictures of your character and playing certain kinds of music. He would say things like, "What would your character be doing? Are you hailing a bus? Are you fainting?" So we would come up with these characters and these situations, and that changed everything for me. Suddenly, it opened up a lot of possibilities.
INTERVIEW: When did you first work with Avedon?
SEYMOUR: I did my first Vogue cover with Dick when I was 18. But I really got to know him when I did a class for him. He was teaching a class about the fashion end of photography, and he had asked Christy Turlington to be his model for it, but she couldn't do it. So then he asked Linda [Evangelista] … I was his third choice. [laughs] But I was like, "Yes! Yes!" And that's where that picture of me lifting up my dress comes from. There were actually 12 or 15 students watching as we took that picture. Before every picture, there was this intense excitement from Dick, where he has these ideas. I know a lot of girls maybe thought that his ideas were a little crazy sometimes, but I would just go there with him. I loved working with him. When you work with someone like that over a period of time, I think you give each other something. Without that other, deeper kind of collaborative experience, I could not have kept going this long.
INTERVIEW: So much of fashion photography—especially today—is about the image, the end product. But what, for you, is the most enjoyable part of it? Is it seeing that iconic picture? Is it the process?
SEYMOUR: Oh, it's always the process. I know that there is so much more that they can do now with computers, so making images has become a different process. But without the process, I don't believe that you can have that product of a photograph that is memorable. But in terms of retouching and postproduction, Dick was doing all of that stuff, too, swapping heads out and things—and way before computers. I did this photograph with him with these monkeys. It was a double-page and I was looking at the monkey and the monkey was looking at me. We had these two baby monkeys, which were on my arm, but they couldn't be separated from their mother and they were all screaming. So we did the picture where I'm screaming at the monkey, but we couldn't get the shot where I'm screaming at the monkey and the monkey is screaming back at me and we're both facing each other. So Dick shot the monkey separately with the mother where I was, and then he just put it together to create the image.
INTERVIEW: Monkeys sound difficult to work with.
SEYMOUR: But working with animals is exciting.

INTERVIEW: Have you worked with a lot of animals?
SEYMOUR: Oh, yeah. I've worked with Dobermans biting my arm. A bull. An ostrich. Boa constrictors. Snakes are really fascinating. But to relax and be able to have whatever expression you want to have on your face while you're naked and a boa constrictor is draped over your body is not an easy thing to do.
INTERVIEW: What, for you, makes an image iconic?
SEYMOUR: It's when something is memorable, but in a searing way—an image that becomes burned instantly into a person's memory and also brings back all kinds of personal memories for them at the same time. It's something that has that kind of effect on a large number of people.
INTERVIEW: Do you remember your first professional modeling job?
SEYMOUR: How could I forget? It was for Cosmo. I don't know if Cosmo still does this, but they used to do a thing called "Cosmo Tells All" where there were three or four pictures on a spread. They would take a picture of a girl and then write something like "How do you have the best orgasm?" or "How do you get your hair as big as you want it?" I was the picture of a girl with big hair. I was 14, and I remember going to the grocery store before school to get it when it came out. I was so excited … Those pictures are pretty great.
INTERVIEW: Your mother was very into fashion when you were a kid. Were you into it, too?
SEYMOUR: I wanted to connect with it—and I definitely did connect with it—but in a very local-girl kind of way. I didn't have very sophisticated taste, but I was definitely really into it. When Flashdance [1983] came out, I cut up all my clothes. Everything.
INTERVIEW: Did you have a favorite outfit or piece of clothing when you were a kid?
SEYMOUR: Yeah, I had a couple: my red and black Norma Kamali cowboy boots, and my red mini skirt.
INTERVIEW: Did you wear them together?
SEYMOUR: Of course, I did. [laughs]
INTERVIEW: You've now got this tremendous collection of couture, clothes, and jewelry. When did you start collecting? What have you learned from it?
SEYMOUR: That started for me when I met Peter, my husband. It was his idea. We were in Paris for the weekend and I hated wearing anything that was in style. I always had to do the opposite of what was in style, so I would make up all these things and go out and put things together. I was really anti-fashion, I guess. So he goes, "We're in Paris. Let's go to all the vintage clothing dealers here." The most fashionable women lived in Paris, for the most part, and at that time, I really loved '50s dresses, so we started going around Paris and hunting this stuff down. It became like this treasure hunt. From then on, I felt like a pirate every time I left Paris. I could barely close the luggage with all these dresses I'd stuffed in there with the crinoline and the bodices. But I really learned a lot from collecting because I got to go back into the history of fashion and fashion photography and jewelry. It changed how I felt about fashion and about what I did forever because I used to look a little bit down on myself for it. I never would admit it because you don't bash what you do, but I don't think I understood fashion in the way that Linda Evangelista always understood it. Linda knew the history of fashion. We lived in the same hotel when we first started modeling, and she had pictures of all the great models and the great fashion photographs pinned all over her wall. I always remembered that, but it went over my head at the time. Later, though, when I'd discovered it on my own, I was like, "Wow, now I get Linda."
INTERVIEW: What was the hotel that you and Linda both lived at?
SEYMOUR: The Hotel La Louisiane in Paris.

INTERVIEW: Was that the first place that you lived on your own?
SEYMOUR: Yeah, it was. Christy, Linda, and I all lived there at the same time. Christy's mother came with her, so she used to have to hide in our room if she got drunk. [laughs]

INTERVIEW: Obviously, the modeling business has changed a lot over the course of your career. How do you feel about the atmosphere in fashion for the girls who are coming up right now?
SEYMOUR: Well, I would like to see fewer actors modeling—or if they're going to model to the extent that they are modeling, then I think that models should be actors. [laughs] Nowadays, if you want to be a model, then you should probably become an actor. That's the only way to get hired to do the great advertising campaigns that are really interesting or the magazine covers, and it's hard to build a name for yourself as a model without those things. Even though it is done, it's not done to the extent that it was done during the time when I was coming up, and that bothers me. Believe me, I love film and I love acting and I respect it enormously—I just feel sad for that part of our business. What are the girls left with? They do all the grunt work. They do all the shows and the fittings and all of the really tough, grueling work, but most of them don't get to reap the same benefits. There is also not as much money in it for a decent amount of girls, and the consequence of that is that it's going to shorten the careers of models, and there are going to be a lot more one-hit wonders. So that is something that has changed. I hope it changes again.
INTERVIEW: What about fashion right now do you find exciting?
SEYMOUR: Well, I love all of these new products that are coming out—you know, things like headphones with cute, catchy names. There is also so much going on now with the marketing of fashion. And then, I still love the classic stuff, like great dresses and wonderful photography. That still exists. You know what else is coming back? Couture. I just bought a dress from Balenciaga. They're doing a couple of classic Cristóbal Balenciaga pieces in each season. I walked right up to one of these pieces and I was like, "I know this piece. I know this sleeve." I didn't even have to try it on, but I did, and it would look like nothing on the hanger, because for great couture that's a typical facet of it. But you put it on and it's just unbelievable. They got it right, with all buttons on the inside, the grosgrain ribbon around the waist. It's just beautiful. So I love that they're doing that. I think it's a really great sign that these young designers are putting some effort into things that won't necessarily make them money or won't make the brands money, but will keep them elevated. I think they must really enjoy it, too. You get to see their talents much more.
INTERVIEW: What's the best piece of advice anyone has ever given you?
SEYMOUR: There are two things that have really stayed with me. This photographer named Les Goldberg once told me to always hang up my dresses, so I always hang up my own dresses. It was a good lesson in appreciation and in always remembering that you're part of a team—not outside of the team, but with the team and on the team. And then probably the most important piece of advice that I've ever gotten is to develop your mind. I left school very young and I always regretted it. I could never stop talking about it—"I'm going to go back to school, I'm going to go back to school …" I did everything young—I was always in a hurry to do everything. I had kids young and I worked young and I didn't have time to go back to school because I wasn't willing to give up anything that I had. But I educated myself, and it made me feel good. I went to museums. I read books. I did all the things, pretty much, that you would do in school. I would never want my kids to leave school, though—I'm really for education. But education always continues. We all know that beauty fades, but what stays is a person's personality, their sense of humor, their wit, what they're interested in. That's what really shines.
INTERVIEW: Finally, is it true that Naomi Campbell has an amazing memory and that she never forgets anything?
SEYMOUR: Never. It's unbelievable.
ABOVE NAOMI CAMPBELL IN LONDON, JUNE 2013.  STYLING: KARL TEMPLER.
INTERVIEW: You opened the Versace couture show this past June—26 years after you first started working with the house. Did it feel the same backstage as it did all those years ago?
NAOMI CAMPBELL: For me, absolutely. I didn't do it for 14 years, and I had to keep my appearance a secret for many months. When I walked in to do my fitting, it just felt like being around the family again, like no love had been lost. Donatella and Allegra—it was her birthday—and all the people that I've known for many years. It was very emotional. I had been wishing I could do Versace one more time.
INTERVIEW: You recently posted a photo from 1994 of you and Gianni Versace on Instagram.
CAMPBELL: I did. Every 15th of July, no matter where I am in the world, I always go to church and light a candle.

INTERVIEW: Does the fashion world still feel like a family to you?
CAMPBELL: Yes. I love the relationship that I have with Azzedine, with Donatella, with Stefano [Gabbana] and Domenico [Dolce], with Marc Jacobs, with Anna Sui. When I started out modeling, there weren't casting directors and there weren't stylists, so you just dealt directly with the designer. We were all much closer back then—we had direct communication with each other, and we all hung out when we weren't working. Obviously, now that's changed, but I believe I've kept it that way.
INTERVIEW: Do you think young models today are missing that connection with designers?
CAMPBELL: Yes, I've noticed that. They have to deal more with the casting directors and the stylists.
INTERVIEW: You advise young models on your reality showThe Face. Does it feel like you are talking to young women in an entirely different business than the one you started out in?
CAMPBELL: Yes, I do feel that I'm talking to someone who's in a totally different place from where I was when I started modeling. I was fortunate enough to have the wonderful designers and amazing photographers around me, and editors that I knew, and if I wanted to ask a question, I asked them. So that gap has broadened a bit.
INTERVIEW: But one quality of modeling you brought to the fore was doing a zillion different projects far beyond the magazine page and the runway. You've done acting, music videos, charity work, you wrote a book. Were those projects offered to you during your career or did you intentionally go out and try to find as many new avenues as you could?
CAMPBELL: It wasn't planned, to be honest. In terms of my charity work, I did it for, like,15 years without anybody ever knowing. I did it because it was something I wanted to do, not for public adulation. When I wanted to change the concept of what I was doing, I needed to be more public because it involved more people to collaborate. And I'm doing television now. I have to be honest, I was very afraid to do TV. I said no for 10 years.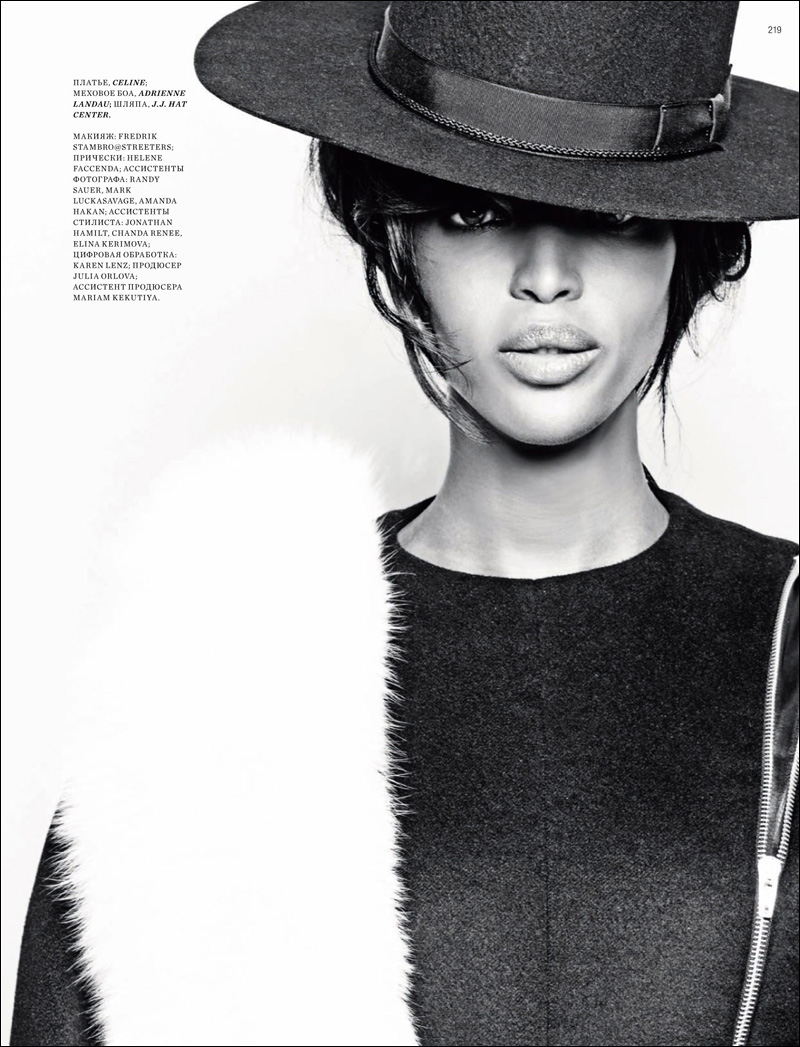 INTERVIEW: Oh, really? Why?
CAMPBELL: The word reality scared me. I just looked at reality as everybody follows me around with a camera, and I'm not that kind of person. I fought for my privacy in England. And I didn't see another way it could be done. So when this opportunity came up through Elisabeth Murdoch and her company Shine, to be an executive producer and actually be part of the show, I liked the idea because I like the word mentor. I don't want to judge someone. I like sharing my knowledge with my girls, and anything they ask me I'll try to do to help them. Any of my real friends who know me, know that's how I really am.
INTERVIEW: You always seemed so confident, even early on. Is that an innate quality or something you had to assume to do the job?
CAMPBELL: They always say, "Fake it till you make it." [laughs] No, I'm determined, and I'm passionate and driven about whatever I commit myself to do. If I don't know something, I'm going to ask, and I've got no problems in asking questions. I never have. People ask me, "Are you nervous when you go on the runway? You don't look it." Yes, I am.

INTERVIEW: Linda Evangelista and François Nars were recently talking in the magazine, and Linda said you have an amazing memory, that you never forget a thing. Is that true?
CAMPBELL: Supposedly. I don't know if that's a good thing or a bad thing … You know what? It's a good thing. It's a blessing. People always say, "Do you want to write a book?" I'm like, "Not yet." "How will you remember it all?" I say, "It's in my head. It's there. I remember." I've been asked about a book a lot recently. It's a possibility. Put it that way.

INTERVIEW: Do you ever have days when you wake up and have nothing to do?

CAMPBELL: When I take a vacation. That's what a vacation is—chilling, swimming, running. When vacation's over, I'm working. I mean, sometimes if I've flown a long-haul flight and I know I've got work two days later, I try to just chill and do nothing, but it's very difficult for me. I'm not a sit-still type of person. I never have been.

INTERVIEW: Do you still consider the other models you came up with members of your family? Like Kate Moss, for instance.
CAMPBELL: Of course. Kate is like my sister. No matter how old she is—she's going to be 40 next year—I look at her as my little sister. I was first introduced to Kate by a makeup artist who was on tour with Madonna called Sharon Gault. This was 1992. I was introduced to Kate and Mario Sorrenti at the same time. Then I met Kate again in Madrid. I kidnapped her and that was it. I kidnapped her, stopped in Paris to pick up Christy, and we all flew to Dublin together.
INTERVIEW: Do you have any new hobbies?
CAMPBELL: I just learned to dive. I just got my PADI [scuba] certificate. But it depends, honestly, on where I am and what I'm doing. If I'm in a big city, I want to go to a museum, I want to go see art. If I'm in an ancient place like Egypt or Greece, I want to see historic rural sites. I'm blessed to be able to travel and work at the same time.


INTERVIEW: Are there any places on earth where Naomi Campbell can just walk around on the street and no one stops to take a picture?
CAMPBELL: I was just asking myself that, because where I am right now, it was perfectly fine and quiet, and then I went outside, and there they were. I'd like to go around anonymously and just see things in a normal way like everybody does. But I'm different. It's an occupation, but I'm just a human being. Fame and all that, what can you do? It comes with the job. So I try not to let it stress me out. And if they get a picture, they get a picture.
INTERVIEW: Earlier you said you liked being a mentor. Who were your mentors when you started modeling?

CAMPBELL: I would say that person is my mother. It wasn't easy to convince my mom, because she had put me into a private school and paid all this money for me to learn another type of job. But she was a trustful mother and I promised not to let her down. Two other ladies who have been big mentors to me in the business are Bethann Hardison and Iman. They were very protective of me—very, very protective. And they're still very protective to this day. I have a huge admiration and respect and love for Iman as a fellow model and as someone who I hold close to my heart. She's so much fun. She's got such a great sense of humor. We always have a giggle. I also have had amazing men in my life. Again, that's been Gianni Versace and Azzedine Alaïa. I call Azzedine "Papa." He basically took me into his home at 16 and told my mother he'd take care of me. I was very fortunate that I had these people who would guide me, that I could go to and say, "What do you think about this? Should I do this, should I not?" That meant everything to me.
ABOVE: LINDA EVANGELISTA IN NEW YORK, JULY 2013. STYLING: LUDIVINE POIBLANC. COAT: CHANEL HAUTE COUTURE. SLIP: WOLFORD.  
INTERVIEW: Did you ever keep a diary during your early days as a model?
LINDA EVANGELISTA: I used to keep a diary in the beginning. I had my agenda with my appointments in it, and used to put Polaroids in there from the shoot and make a note. That lasted a couple of years. When my son was born, I thought, I will never forget this moment, and I thought that every day after. And recently he asked me, "When did I lose my first tooth?" And I said, "I don't remember." [laughs]
INTERVIEW: So you're not planning to write a memoir anytime soon.
EVANGELISTA: To do that, I would have to ask people about what the hell went down.
INTERVIEW: But you must remember starting out and all of the work it took to get to the top.
EVANGELISTA: I remember doing the rounds of go-sees in New York with Elite. I remember meeting John Casablancas, who I adored.
INTERVIEW: In his obituary, he was quoted as saying that you were the only model who ever thanked him for helping her become such a big success.
EVANGELISTA: That's so sad. We butted heads a few times, but he's right. I'm not self-made. I can't take full credit for where I am today. There have been so many people behind me—supporting me, pushing me, advising me, guiding me. I didn't get here on my own.

INTERVIEW: How did you first get into modeling?
EVANGELISTA: I took a modeling course in my hometown, St. Catharines, Ontario, Canada. It was sort of a scam. In order to work as a model, you had to pay for the classes. My mom paid for me. They sent me there at 16, and I was chosen by a Japanese agency to go over to Japan for the summer to work.  My parents were strict Italians who didn't let me go out past 10 o'clock, and I had to choose between going out Friday or Saturday night and was not allowed to have a boyfriend. But they said okay. I got there and it was a catastrophe. They wanted me to take my clothes off and shoot me naked. It was a nightmare and I panicked and basically the Canadian Embassy helped me out. I was there about two days and went home, saying, "I don't want anything to do with this ever again." But how I got my start was that my modeling agency insisted I enter the Miss Teen Niagara Pageant.
INTERVIEW: Like a beauty pageant, with a swimsuit competition and a segment where you're forced to give a speech about bettering humanity?
EVANGELISTA: Yes, all of that stuff. It was a full-on pageant. I wore a gown that my friend Christina made for me. I didn't even place, but a scout from Elite who had found Kim Alexis and Dawn Gallagher was there and he gave me his card. I had finished early from high school and didn't have much to do before going off to college, so my mom suggested I call him. I did, he took pictures of me, sent them off to New York, and New York wanted to meet me. That's when I met John Casablancas. He said I looked like Joan Severance. I said, "What?" I knew exactly who she was. I had her up on my walls.
INTERVIEW: Did you do well in New York?
EVANGELISTA: New York kept me around for about a month—I did, like, eight or ten go-sees a day to see if someone would test me. A few did but nothing really happened there so they sent me to Paris. I went with a bunch of models. We stayed at L'Hotel rue des Beaux-Arts, the one where Oscar Wilde died. We all got bed bugs there. My mom said that she would pay the extra money to go into the Hotel La Louisiane. Those were the two hotels where all the young models stayed.
INTERVIEW: Was it a stressful trip because you knew you had to land some jobs or get sent packing?
EVANGELISTA: Well, I ended up getting work. I got catalogs and a couple of editorials, but it was three years in the making. I wasn't an overnight success. I didn't dream higher than what I was doing. I just felt fulfilled that I was working and doing things and being paid for it. I never imaginedVogue or doing Versace. I didn't think I qualified for that. [laughs]
INTERVIEW: You probably just thought, I'll do this for a little while before moving on with my life.
EVANGELISTA: I was told it would last about three years—that's what the agents told you. A good career was three years.
INTERVIEW: So when did lightning strike?
EVANGELISTA: It all started to come together when Arthur Elgort booked me for French Vogue, and then British Vogue, and then French Vogue started using me. I did Bill King's last cover of French Vogue. Then I met Peter Lindbergh and Steven Meisel and Patrick Demarchelier, and I started working with the big photographers and then went right away to [Irving] Penn and [Richard] Avedon, and then the haircut …
INTERVIEW: You and Steven Meisel have always had a very close connection.
EVANGELISTA: Working with him was easy because he helped. Some photographers don't help you. He helped, and then you get this confidence, and when you have confidence, it can take you to other places. I feel safe with him. I feel inspired. I love taking it to where he wants to take it.
INTERVIEW: Did you keep a record of the number of times you dyed your hair?
EVANGELISTA: I have no idea. It was sporadic, but I remember I didn't see my mom for a few months, and I had cut my hair shorter and stopped coloring it. I was back to my original color. When she saw me, she said, "Oh, what is this color? This is far too harsh on you. Why did you pick this color?" [laughs] It had been so long that nobody remembered what my natural color was. It's dark, dark brown.
INTERVIEW: It must have been fun to reinvent yourself every time you were on a shoot.
EVANGELISTA: Hair is just one way of expressing ourselves. We express ourselves through how we dress or through tattoos or body art or piercings or cosmetic surgery …
INTERVIEW: Did you ever get a tattoo?
EVANGELISTA: Nope, never went there. But I love tattoos. I love sleeves. I think they're gorgeous.

INTERVIEW: In the '80s and '90s, you were the icon of high-fashion modeling. Did you feel the aura around you?
EVANGELISTA: You know, men are not my target audience. I was always sort of jealous—not jealous, I admired those girls who did Playboy, Sports Illustrated, and Victoria's Secret. I love looking at them too, but I never went in that direction. I just stayed in fashion. I worshiped the models who were able to do both. But I really liked fashion. I was one of the first print models to go on the runway because I wanted to do runway. When I started doing the shows, I was the only print girl there. I was doing it with the Dalma Callados, and Anna Bayles, and the Pat Clevelands—the runway girls. I wanted to be a part of that world. I love everything about fashion. I even love the fittings and watching it evolve from a pattern to a muslin to the final product. I used to stay with Azzedine Alaïa until four in the morning, letting him stick pins into me because it was a dream.
INTERVIEW: Did you keep a lot of the clothing you've been given over the years?
EVANGELISTA: No. I do have a lot, and I'm grateful, but I know that some models have warehouses or storage places for their clothes. You don't really get to keep the clothes. Sometimes when you would do shows, you would do it for trade. I always supported young designers and never charged them. And then, some designers were just very generous. Karl Lagerfeld, my hero, is one person who gives, and I have very beautiful Chanel. That's one archive I do have.
INTERVIEW: What was it like to be in the George Michael videos? You were in "Freedom 90" and "Too Funky." Those videos were how a lot of America came to understand fashion and the big faces.
EVANGELISTA: We did hit another audience there. No matter where I went in the world, they knew me from the George Michael video and not from my campaigns. The day filming the "Freedom 90" video was a long day and it was so much fun. The night before, I was in Paris. That's the night I had dyed my hair platinum. I took the first flight to London and showed up on the set. Everybody else had been given a Discman to learn the lyrics to the song, but I had never received mine. I was the last one to be shot, and Georgie came to me and said, "Now, Linda, you've gotta hit these difficult lines that are overlapped and that no one got." So he played it for me a few times, and I was like, "Oh my god, I don't even know this song," but it all came together.
INTERVIEW: It's such a good video. And now here you are today, still modeling and going strong.
EVANGELISTA: I'm still going as strong as I would like it to be. I do not work every day. I am not up for every job. There's a place for me. I think it's great that there's no age boundaries anymore or race boundaries or size boundaries. That's wonderful. And that's something I've seen change over my whole career.
INTERVIEW: So you pick the jobs you want to take and let the rest go.
EVANGELISTA: I'm presented with offers, and if it's right for me, I do it.
INTERVIEW: Has having your son made it more difficult to choose jobs away from New York?
EVANGELISTA: I've only left him a handful of times—for three days maximum. I can't leave him. I'm hands-on, and I have separation anxiety. I admire women who are able to do their job and come back, but I need to be with him. And we love New York.
INTERVIEW: You aren't moving back to Canada any time soon.
EVANGELISTA: We just spent the whole month of July in Canada on a lake with my family and had the time of our lives. The situation was one step up from camping. We were in a cottage and we got to fish and water ski and paddleboard and canoe and sit around campfires. It was an absolute dream. Then I came back to New York, and it was wi-fi and a manicure on the corner and you can call the deli and … I missed it.
THERE YOU GO GUYS!
Hope you enjoyed kasi ineffort ko yan! Haha! Excited to buy the issue!
Much love,
D