This is the 3rd post for the MDNA concert 🙂 If bet nyo magbacktrack, check this.
Check out MUSIC category for past posts 🙂
This is her first outfit for this gap! Chume-cheerleader ang pegaloo! Costume designer and stylist Arianne Phillips wanted a 1940's type of marjorette levels! Bet ko toh! nakakarelate ang mga beckies sa barangay! Marjorette!
So her first song was Express yourself for this gap.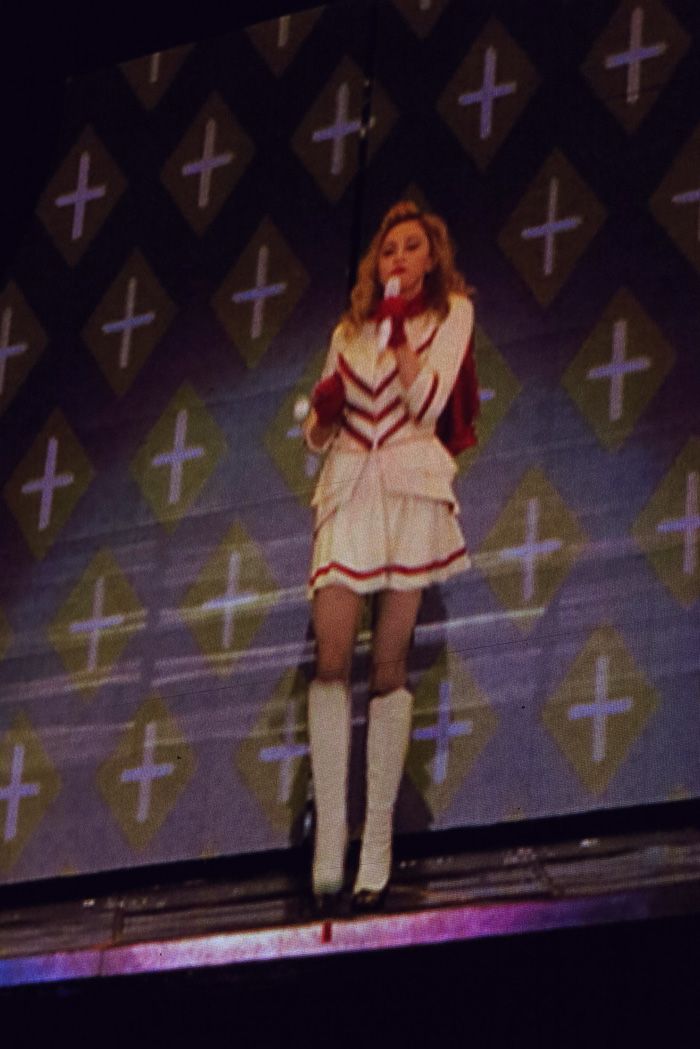 In fairness, batang barangay si Madonna! Lakas makabagets ng costume!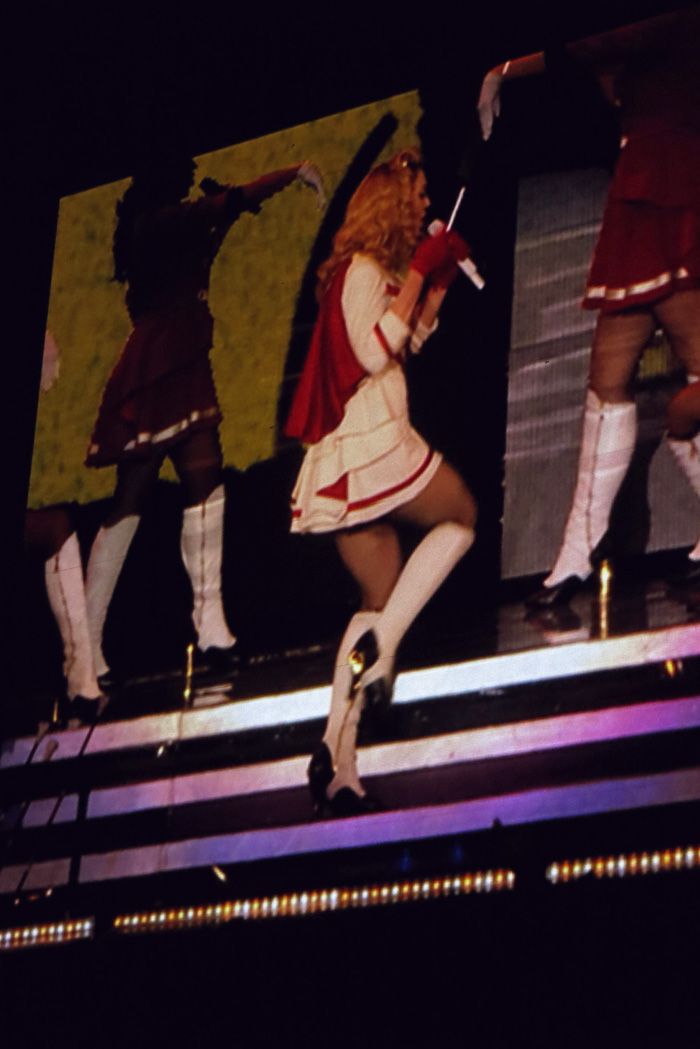 Ganito ka todo ang lola mo, parang nang aasar! haha!
Since dati pa naman may issue yung Express yourself and sabi daw ginawa lang dun ang born this way ni LADY GAGA. Bigla nya itong kinanta! She sang it complete with GAGA dance steps. At that point akala na natin binigay ng Lola Madge mo kay Gaga… then right after.. KUMANTA SYA NG SHE'S NOT ME! Ayaw talaga ibigayyy! Kakaloka! Check out the video here!
And this is the full video!
Next song was GIMME ALL YOUR LOVIN! Biglang may ganitong effect! Yung dancers naging little drummer boys! BETTY MAE!
May mga ganap na hanging marching band! Idea toh sa next santa cruzan!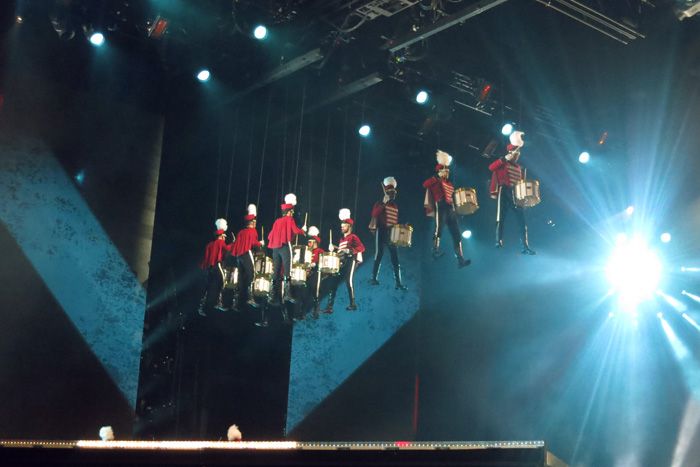 Cheerleader! Yan na ang bagets! give na natin!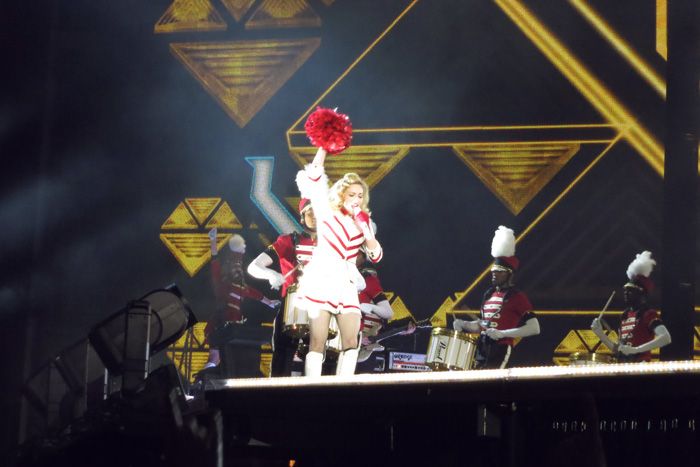 Todo with Red lippies!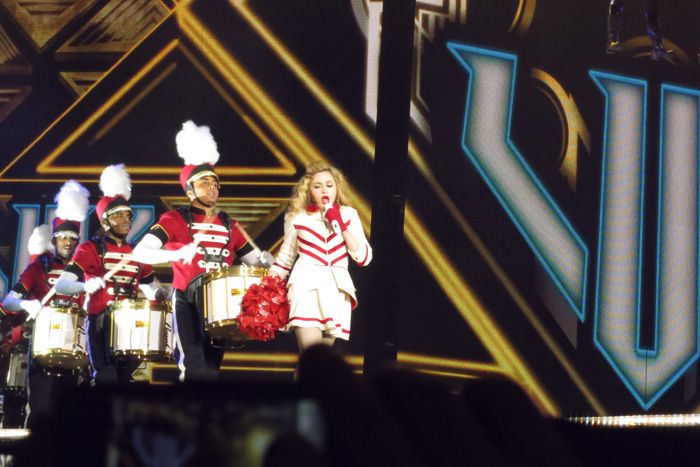 Hindi sya nagpapainda sa mga banda, basta indak lang ng indak ang lola nyo.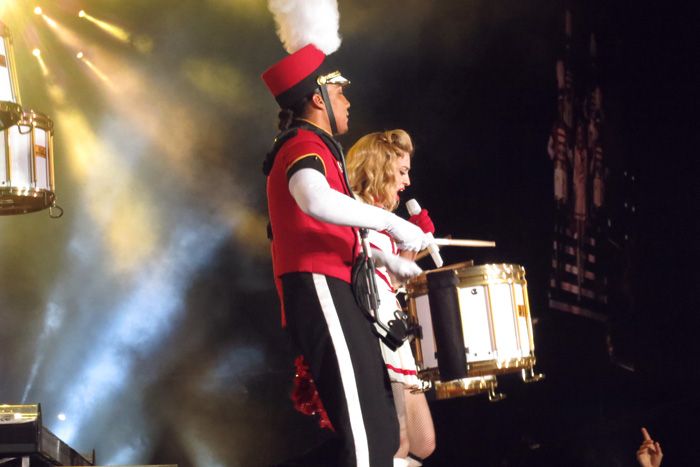 Watch the video here! (medyo nagiingat ako sa number of video uploads and photos coz the last post naghahang sa kadaldalan ko)
Check out the full video here 🙂
The next ganap alam na natin pag may video na lumabas.. magpapalit outfit na ang lola! So she had a video interlude of her songs na "Holiday", "Into the Groove", "Lucky Star", "4 Minutes" and madami pang iba! 🙂 Since Madonna fan ako, parang lahat ata keri kong kantahin! 
Next outfit!
Ang outfit ng lola mo HERVE. with matching singaloo and guitar levels! Ayaw nya patalo kay GAGA sa Piano! haha! Here watch the video and TURN UP THE RADIO! (Yan din yung may bagong video nya)
Ok, yung next segment nya yung pinaka madami kong chika. It's actually my fave part. First i like the idea na may drum beat and pag edit ng OPEN YOUR HEART. One of my fave songs from her!
I love yung parang ang saya ng drumbeats and pinalabas nya rin yung son nya na si ROCCO to join pero sandali lang! In fair, anak nga sya ni MADONNA! Galing umindak!
It's really my fave part sa show! Rocco was also part of some other segments.. check the photos!
ANG KYOT ni bagets!
GWAPO!
D talaga nagkakalayo! I lovet!
Hindi na naman bago sa kanya ang pag join ng bagets, she also included Lourdes in her old tours and in her celebration video (check 3:15 in the video)
So ayan, turn na ni ROCCO!
For this segment she introduced "the Kalakan Trio" from the Basque Country joining her on tour. Love nya daw sila. so love ko narin. haha! So the background changes to BASQUE COUNTRY levels.
With this they also sang SAGARRA JO! Yung parang chant chant 🙂
eto massakto coz the video i borrowed from youtube shot in the Paris concert. But i heard kasi sa ibang countries, hindi pinayagan kumuda ang Lola Madge mo. But in this video she explains SAGARRA JO and what it means. And also, she started talking about fighting for freedom. Sobrang meaningful pa sa PARIS concert kasi her concert was during Bastille day. All about freedom. SAGARRRAAA JOOOOOO!
Well, sa video they included narin the next song called MASTERPIECE.
Some more clips of her speech.. galing sa iphone namin sorry!
You can even hear me shouting.. touch ako dito. Ewan ko kung feelingera ako but she nailed it. Her message was clear.
So as lola Madge said … Sagarra Jo just means smashing apples. Ganun kasimple but the deeper meaning is that it's an act of fighting for something. Showing you are standing up for something.
She also added this:
"So while you are fighting for freedom. Remember the person standing next to you. And remember that fighting for freedom just for yourself is a waste of time. Fight for freedom for everyone. And that means that we treat EVERYBODY with human dignity. We treat everybody EQUALLY. So the next time someone puts you down for your sexual preference, for your (d ko marining kasi sumigaw ako ng i love you), for the color of your skin, for whatever you believe in. YOU JUST SAY TO THEM… SAGARRA JO!@#$$%%%%"
Here speech was less dramatic than Lady gaga's. No crying, no ganun. Love ko sila both, but nasight ko talaga na i think experience and years ang naiba kay Madonna. The way she said her speech, she won't let or allow anyone be defined by these pangkukutcha or negativity in life. You are bigger than that. Parang na feel ko sa sinabi nya na, deadma kayo dyan. They should not define you. You define yourself. And lalo naman hindi nya satin tinuro to ibato ang nega back to them. SAGARRA JO.
I think I am drawn to people who are passionate. Kaya siguro super bet ko si Madonna. So remember, next time na may mangapi, may magsabing trying hard ka, or dugyot, walang silbi… Wag nyo na pakulam. Wag nyo murahin. 
SAGARRA JOOOOO! 
Klazz pa d ba? d nya alam yung sinabi mo 🙂 
Next Madonna post up next. Balitaan nyo ako if matagal magload tong blog entry na toh.
Much love,
D