Make your MANDAUE Mood Board!
I recently visited the Mandaue Showroom in Ortigas extension. Nagulat ako! Ang bonggels pala! I get a lot of friends kasi with different pegs for their studios, offices etc. Pero hindi nila alam paano aachievin. So here is a sample of how to do MOOD BOARDS for your dream space!
WORKSPACE
Photo above: Eto isang peg sa net na nasight ko. So technically, ginawa nya one color lahat ng furniture and with minimal accessories. 
Photo below: From the inspiration board we were able to replicate the look with a more woody color. I think maganda kung gawin beige yung wall for this workplace. And the total price is so affordable! Your whole workplace for only Php 24,800.00!
Workplace option 2: This is actually how we do mood boards for Extreme Makeover Home Edition. I am in charge of picking the look, then I give to our shopper Joby, who find similar pieces. The 2nd option for the workplace, mas modern ng konti. May feel ng parang canteen na open space.
Photo below: Pasok! You just need a sand finish wall (pwedeng paint or wall paper) and green carpet or kung talagang bet nyo yung look na outdoorsy, you can buy fake grass (you can find it sa mga hardware one stop shops, made out fo recycled materials pa yun). The idea is we mixed different seating areas na modern and hip looking! All from Mandaue!
Photo: Living and Dining room na medyo old world glamour. I suggest this peg for those na medyo maraming items na woodlike or antique pero bet magmodern twist
Photo Below: If you have a brick wall, bongga sya to get the full look. Recreate this look by mixing different texture and colors of furnitures. Also, don't be scared to mix old and new looking furnitures para ma-avail nyo yung OLD WORLD charm na ganito!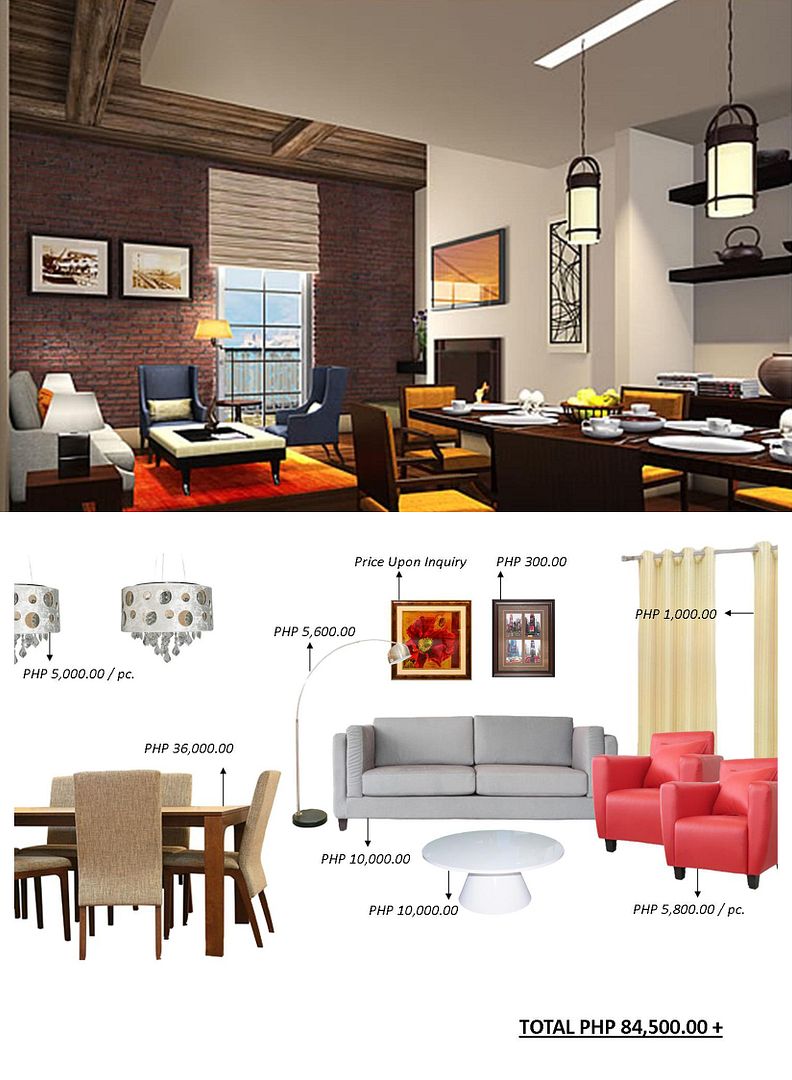 Modern and Sleek! Eto bet ko, I think  my sala and dining is leaning towards this look since mahilig ako sa earth tones. White is also integral sa design na toh, but mahirap lang talaga maintain. Yung akin, panay laba. haha!
Photo below: Work with one color palette! Eto all earth tone, even for books and accessories na lalagay nyo, you can make it lahat similar color. PASOK SA PEG!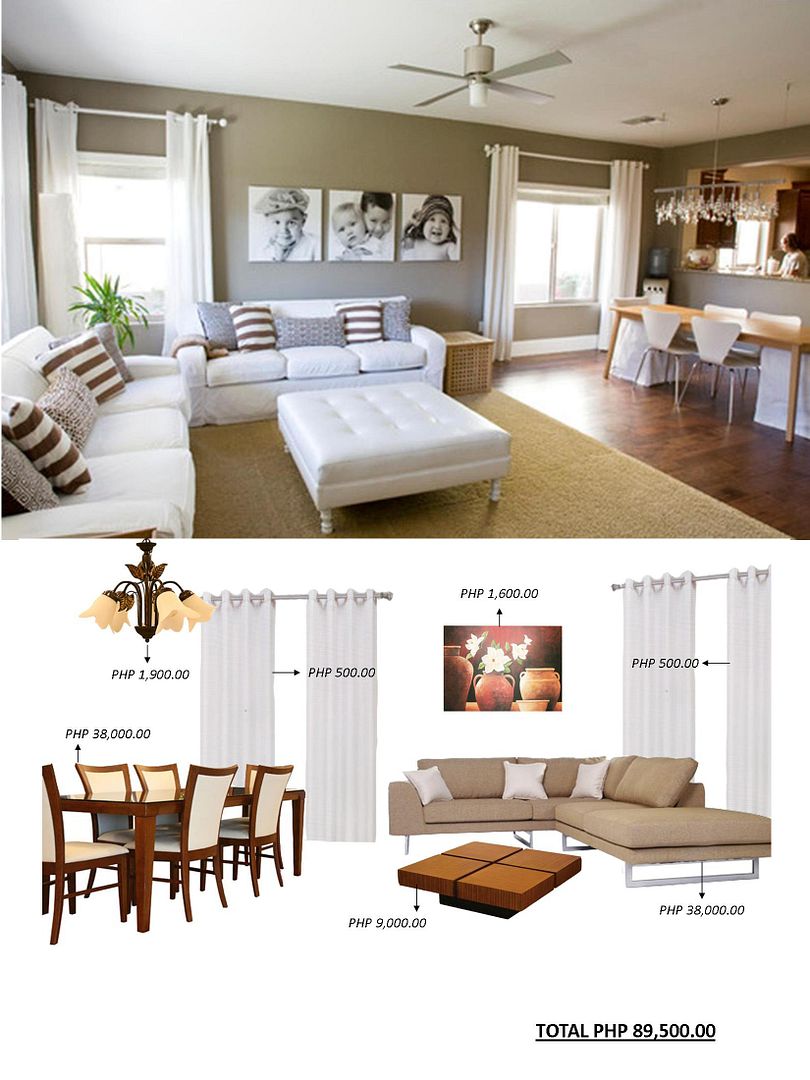 Bedroom option 1: I like my beroom looking like a hotel suite. Eto ang pegaloo for the first one. Clean and straight lines with simple colors.
Photo below: Using Mandaue items, we recreated the look in yellow! I think need lang ng white bedsheet pasok na sa peg!
Modern bedroom peg: Ayan para sa mga menchu or beckies natin. Gray tone naman tayo. In my experience eto yung pinaka madali na iattain sa maintenance na color.
Photo below: Use black, dark gray or beige bedsheet and put these furnitures against light gray wall. Modern and sleek na naman ang bedroom mo! 🙂
Bedroom: For the girly girls and gusto elaborate design! Eto na! Yung gusto na parang princess look!
Photo below: Pick furnitures na may moldings and french looking. You can also use textured wall paper if bet mo.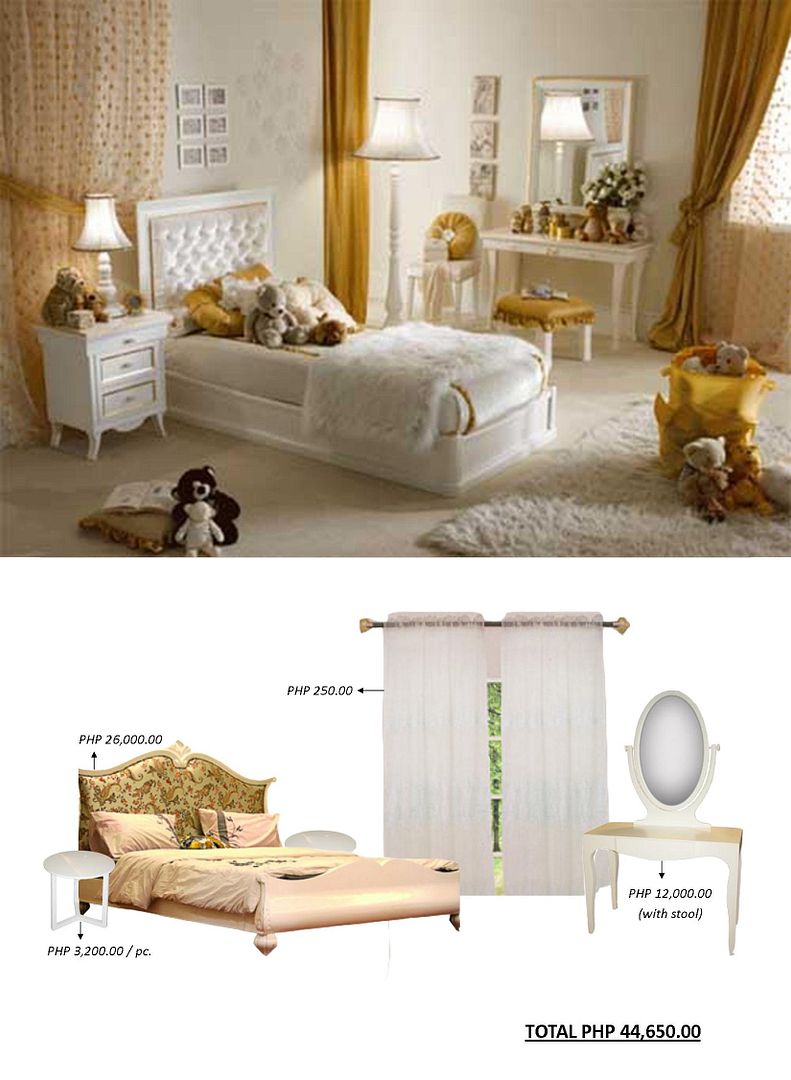 I love doing mood boards! So ayan alam nyo na how to do it, get a photo or peg tapos mix and match lang yan. Kung gusto nyo naman exactly the same, Mandaue also customizes furnitures so you can get the exact look!
Try making your own moodboards using their website http://www.mandauefoamph.com para maavail nyo ng bongga and sure na kayo sa budget even before going to the store.
Rush narin coz i know they have a sale! This is the branch i went to: 4 floors ata sya sa laki!
MANILACainta, RizalKM 23, Ortigas Avenue ExtensionCainta, Rizal(02) 656 6804
Much love,
D