Here we go! Chichen Itza tour! The tour is about the whole day. Mga 7 to 7 ang ganap. Full availment! Aside from Chichen Itza, you will also see the city center and the underground river nila.
Ewan ko anong trip ni V, at naisipan picturan toh.
The terrain of Mexico is very very flat. Waley mga pinatubo levels. And dry. Even their shrubs medyo mababa pati mga puno. Here is a photo of the AGAVE, dyan galing yung mga nagpapasakit ng ulo nyo the next day sa gimik.. TEQUILA!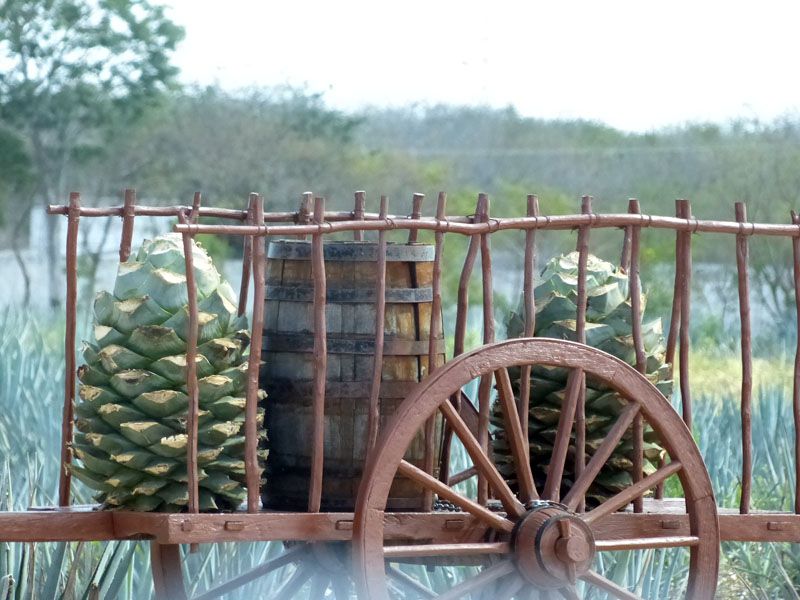 I like the tour guide. Aliw sya. Chichen Itza was built by the Mayans. I think kilala nyo sila dahil sila yung nagchizmiz na may end of the world daw nung Dec. 21, 2012. Actually the tour guide cleared that na assuming daw kasi tayo. D naman sinabing end, start of a new cycle lang daw. Because Mayans believed in cycles.
GWIYOMI! choz! very Korean ang look ko ditey. Choz! When you go to the sites, natanong ko so… "where are the Mayans? Vanishing point na ba ang drama nila?" The tourguide explained that the Mayans are still around, contrary to the stories na waley na sila. They still speak their language. Pero not like before na sama sama sila sa mga pumypyramid nilang structures. Will explain more about their history ditey sa vlag.
When you do the tour… make sure may hat kayo! D makatao ang init!
Madami pang ganap! read more!
Nakisilong…
Way back, when the Mayans built yung mga areas nila. Wala pang machinery, actually ang chika ni tour guide… The Mayans are one of the most advanced na civilization. They "invented" 0. A number representing nothing, and of course their Mayan Calendar. They relied on the stars for most of their work and life. They worship the stars and dun din nila nakikita best days and times para sa mga buhay buhay nila- when to construct, when to harvest, etc. Commercial break yung photo… bongga yung mga ceramics nila.
I regret not buying one for the house. HULAZE. By the way, dito na kayo umavail ng pasalubongs, we checked sa mall. Masmahal sila. They also accept US dollars if ayaw mo magpalit. 1 USd is to 10 or 11 ang palitan sa ganitech.
ETO NA ANG MAYAN DYOSA! choz! So back to bakit nawaley sila, kasi eventually their cities nagpasiklaban (uso na pala yun noh? haha), they were competing who can built bigger and better structures. Structures, required manpower and trees. So ayun, najubos nila yung trees nila. And as nachika ko kanina, their land is flat and dry, no rivers around, so mahirap magplantation ganap. Because of survival, iniwan nila yung cities nila coz kahit gaano kabongga they all need to eat and waley na foodams dun.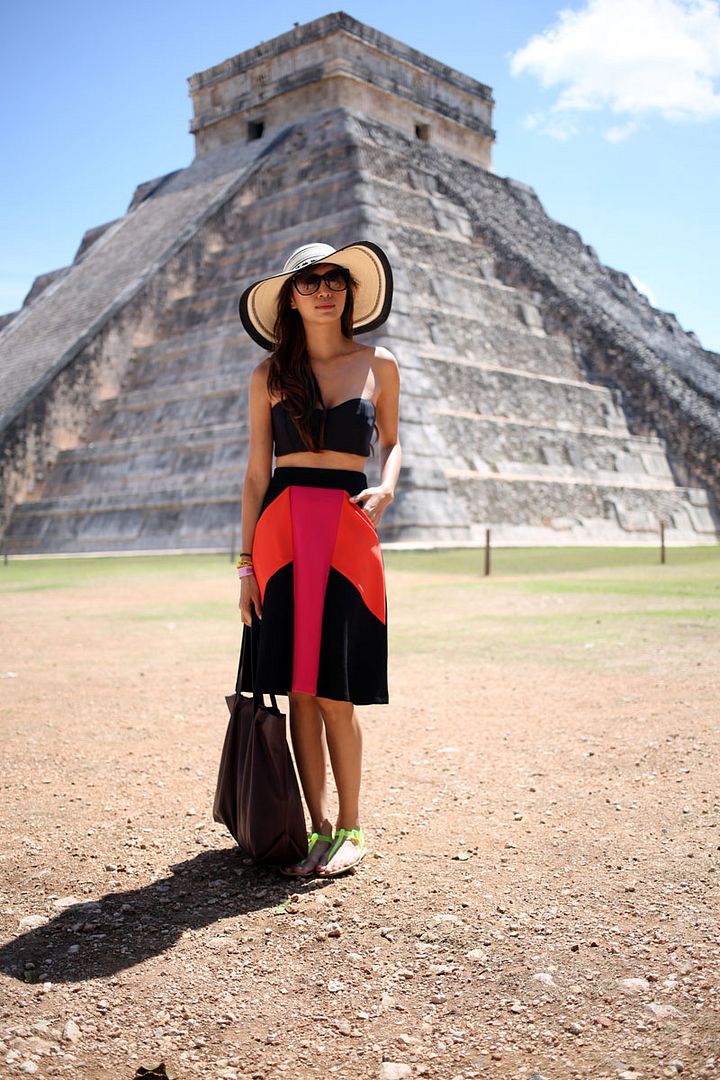 All of the structures were made ng walang machines. So hirap at pagod talaga yan.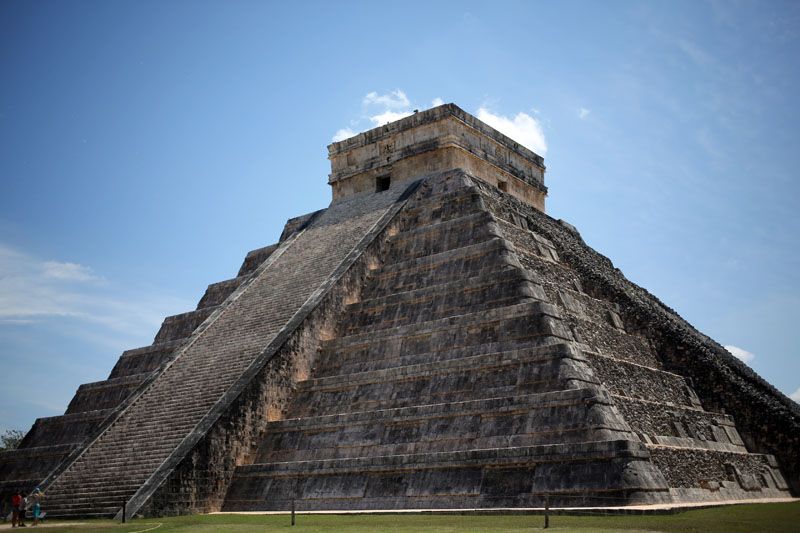 I'm sure gulat si V after reading this kung bakit knowsline ko ang history, eh habang nageexplain si tourguide..best in kodakan kami. Haha! HOY D BIRO MAKUHA ANG PERFECT SHOT NOH! Mukhang once lang ako makakapunta dito.. sulitin na!
Take turns, Milan naman kukunan ko!
Look away Milan…Look away! haha!
Selfie. GGSS. Gandang Ganda sa Sarili
This site is actually part of the 7 NEW WONDERS OF THE WORLD. So bongga syang masight!
Umaraw, umulan.. yang ang elephant gray tan! choz! Konti nalang borderline sime darby black na ang kulay ni Milan.
Chichen Itza is one of the largest Mayan cities. And actually, they have a portion where they are digging pa. Marami pa daw masisight, but it will take time and money from their government.
They made these paandars as religious sites and mansions of their rulers. parang d ko naman bet tumira ditey. Ang haba ng aakyatin. haha!
Sorry, d ako makapili anong masbet ko ipost.. pareho nalang. haha!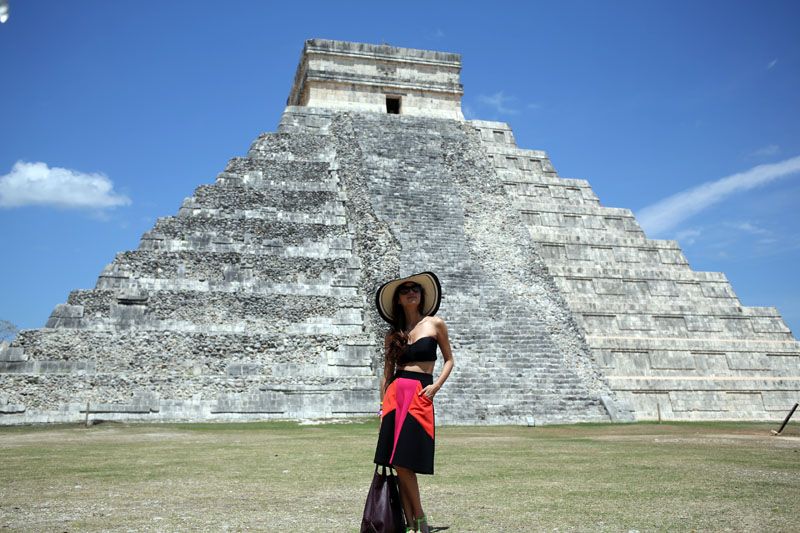 In Mexico, bongga din yung mga white embroidered dresses nila. ANSAVEH NI THALIA???
This part is called COLUMNS IN THE TEMPLE OF A THOUSAND WARRIORS
When they were still living here, they had an extensive roof system daw. Eto nalang natira na nakikita natin ngayon…
Hassle mag taguan dito… haha!
They have a big open area wherein they identified as ball courts. In fair, masports pala sila.

You can't go up the structures na. Dati daw pwede, sayang d ko naabutan. But to preserve the place, pinagbawal na.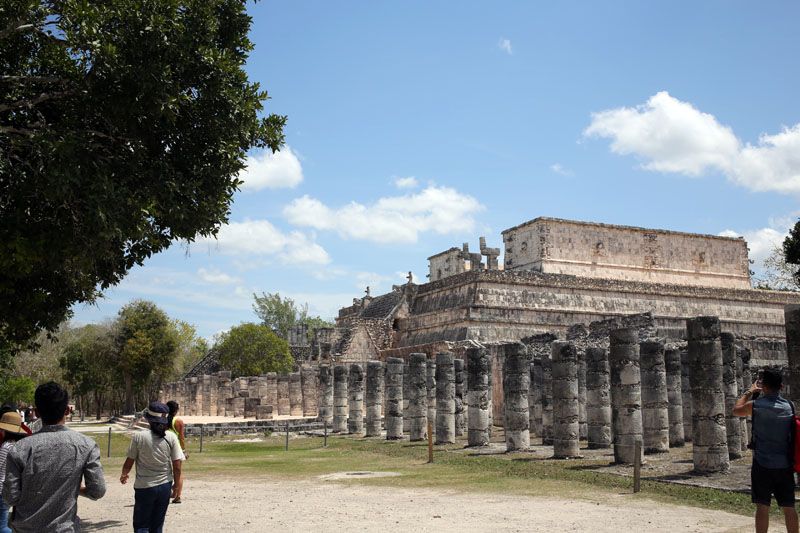 Jenni Epperson would love the platuplatuhan ditey!
We got some skulls for the house!
Eto yung mamang nakauto sakin sa hat ko. haha!
This is about 30 meters high. So buti nalang pinagbawal na umakyat. D ko ata kering may makitang may majulog sa hagdan.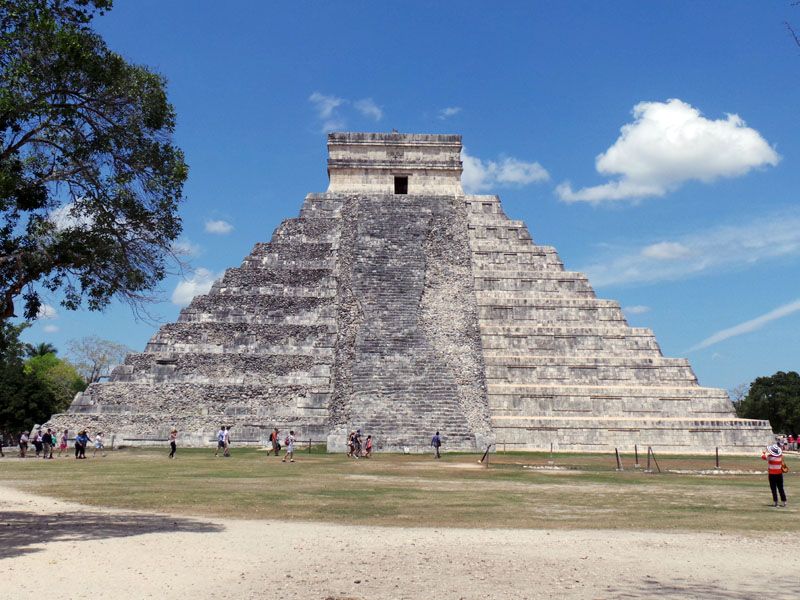 You won't get lost in the place. Because wide open naman sya, and super flat. So keri lang humiwalay sa group. Just be sure you know your meeting time.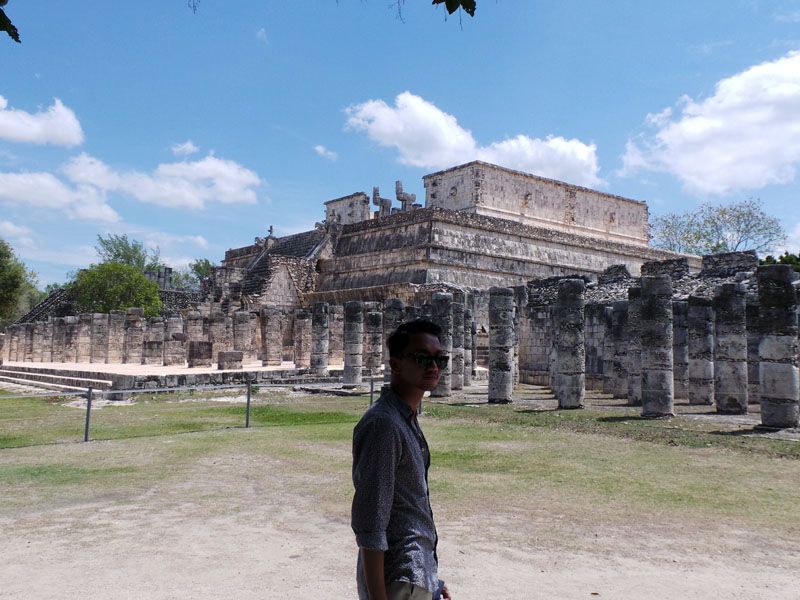 Thank you SHOPHONGKONG for my shades!
Dao Ming Su and San Chai… charez!
More options, more fun! haha!
Kanya kanyang paandar yan. Hindi po casual ang pagupo sa damuhan. Nasa script po yun.
Ang bongga na nakisama ang clouds!
OO, hindi pako tapos! haha! Ok more about the Mayans. Their history is mainly divided into 3 segments, preclassis, classic and postclassic. During the preclassic, yan yung pasimula palang sila mga 2600 BC. OLD AGE! choz!
Eto ang classic. choz! haha! Masingit lang talaga noh? HOY! Mahirap kaya magbra top sa gitna ng mga tourista. Susulitin ko ang photos! haha!
The classic period ang boom nila. Dun yung mga paandaran ng structures and eto yung parang peak nila. Eto yung URBANISM na tinatwag where they built empires and cities.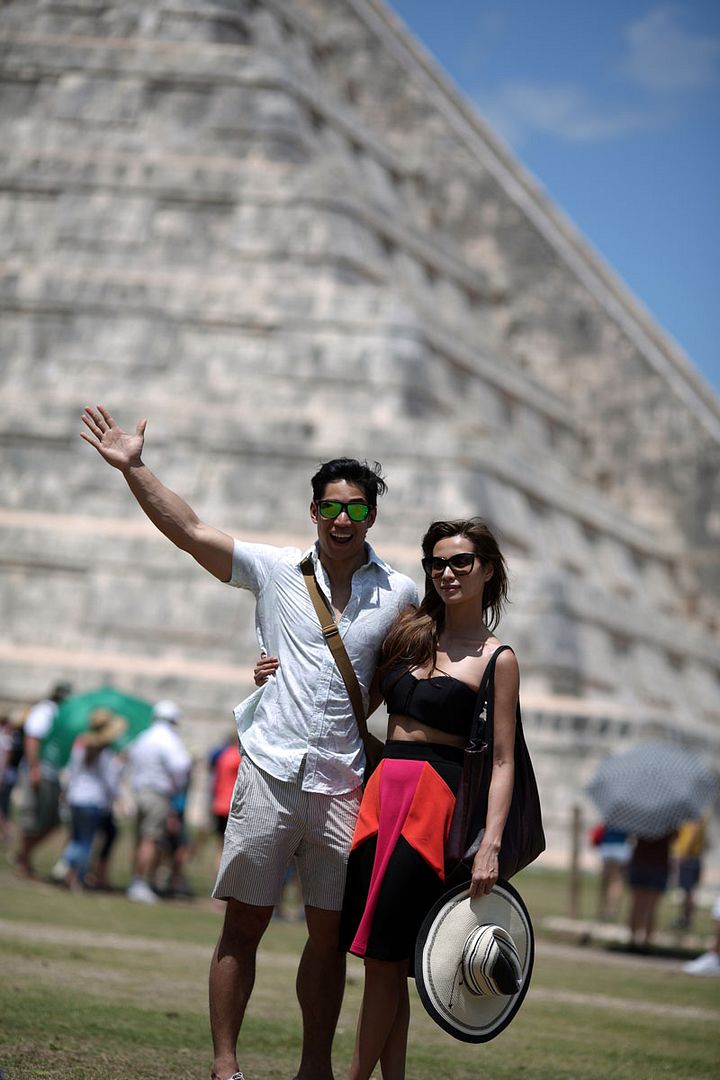 Kunwari d ko alam ha… choz!
Eto post classic. hahahaha! GANDANG NAGIINIT! haha!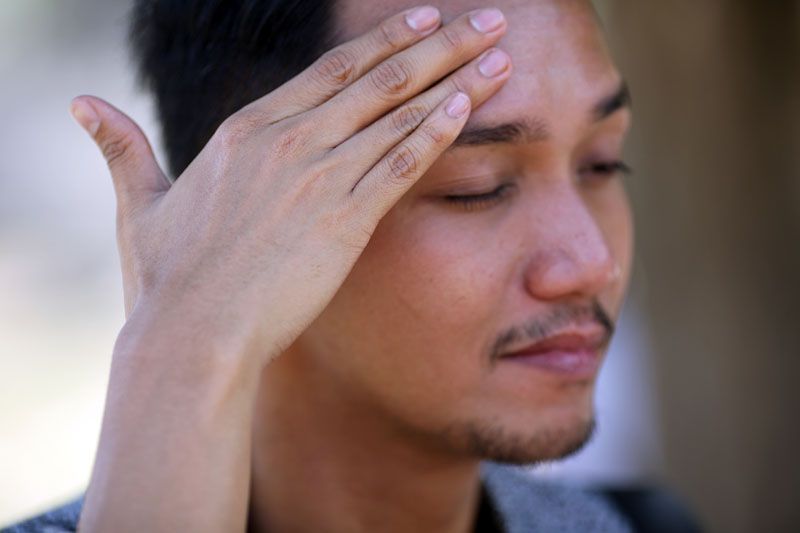 Forever Batman and Robin.
Post classic was when they started abandoning the areas. Matagal yan ha, hindi naman overnight. And eventually, nakielam na naman ang kamaganak ni Magellan and conquered the Yucatan.
Nakakatakot naman yung mga dolls. AFRAIDY ROACH!
Digmaang pang bra ang labanan. choz! haha!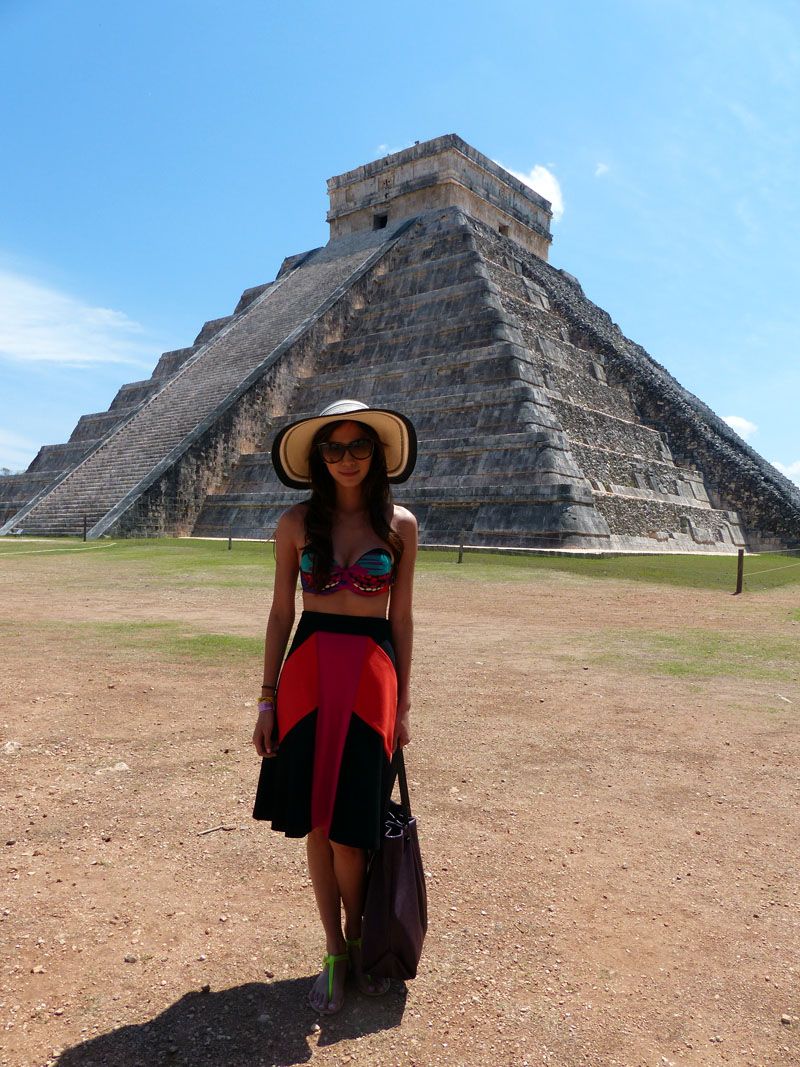 Ayaw umawat oh.
Sige lang.. sunog balat ka mamya! haha!
Sawa na kayo? ako hindi pa! hahaha!
If you see the area, waley masyadong punong malalake. So mahirap sumilong. Flat and bare…
Eto yung mga panahon na, bilis picturan mo na ako. Habang hindi pa hulaze ang buhok ko. 5am ako nagising para magblowdry noh!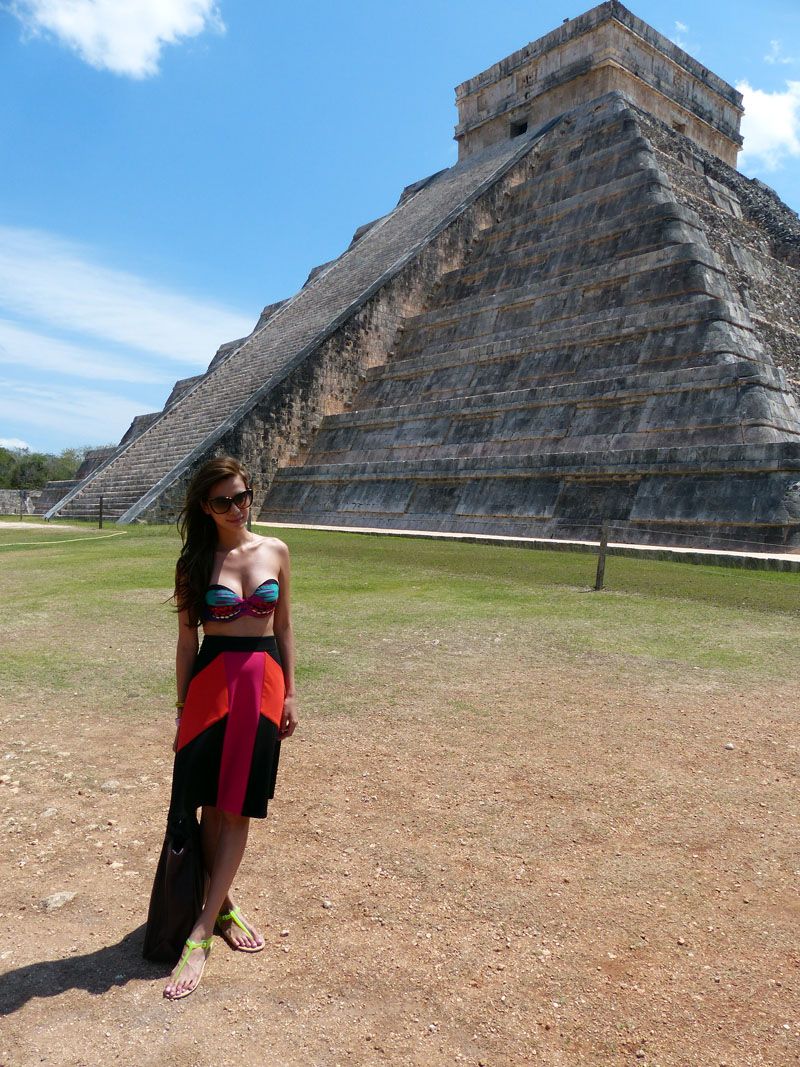 Sa dami kong photos, kahit ako nauubusan na ng sasabihin. haha!
Wag nyo nang tangkain mag heels. Nareasearch ko yung area before hand. haha! Greek ruins nga nakatiil ako, pero wag na ditey. Dead kuko na naman ang labas. Kasi mahaba ang lakad.
Look MAYAN! choz!
 Their trees here, hindi masyado malago. Very dry. So no wonder na umali nga naman mga utashi ditey.
Lakad kunwari… hahaha!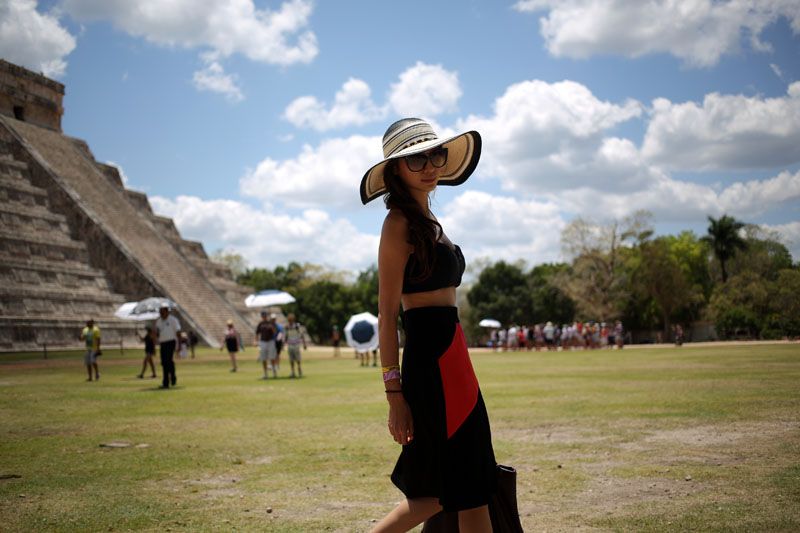 Nauto kayo noh? Wag maniwala sa candid. Wala ng candid ngayon!

You actually need about 2 hours to take photos. Sakin kaya ko whole day. choz! But enough na yun to see the whole place. Try to learn about their history kasi it allows you to visualize… naks! VISUALIZE DAW OH??? haha!

Parang si V ngiting pusa na. Ang kulit ko kasi magpapicture palagi!

D naman sya napipilitan noh? haha!

Eto sure ako walang pilitan! haha! Nagpresenta pa!

D: Hoy bilis na magpose ka dyan. V poses. D: D ka napilitan noh? haha! Kakaloka, parang naiiyak na! hahaha!

Ako hindi pa! hahahaha!

May option pa oh!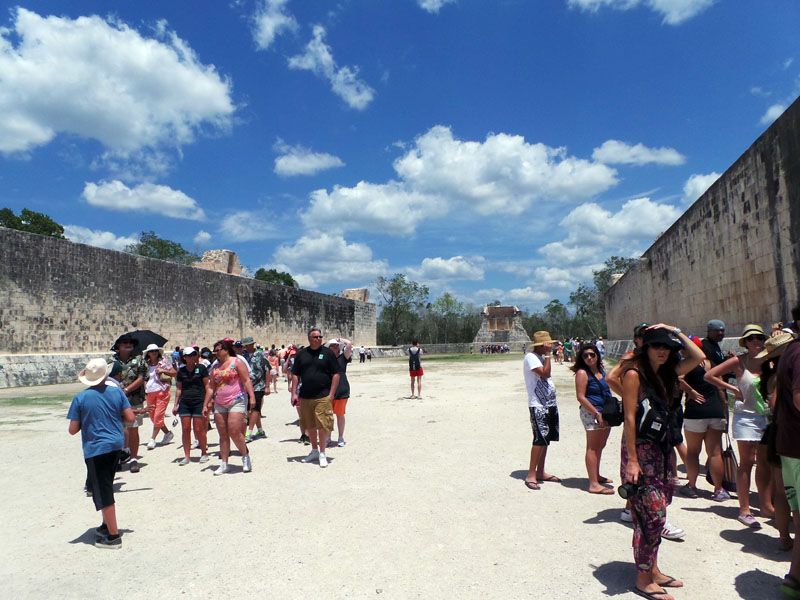 Bakit daw ako nakabra top… terno kasi tayo! choz!

Sa init na toh, ang paraan lang magpahangin… maglakad at tumakbo!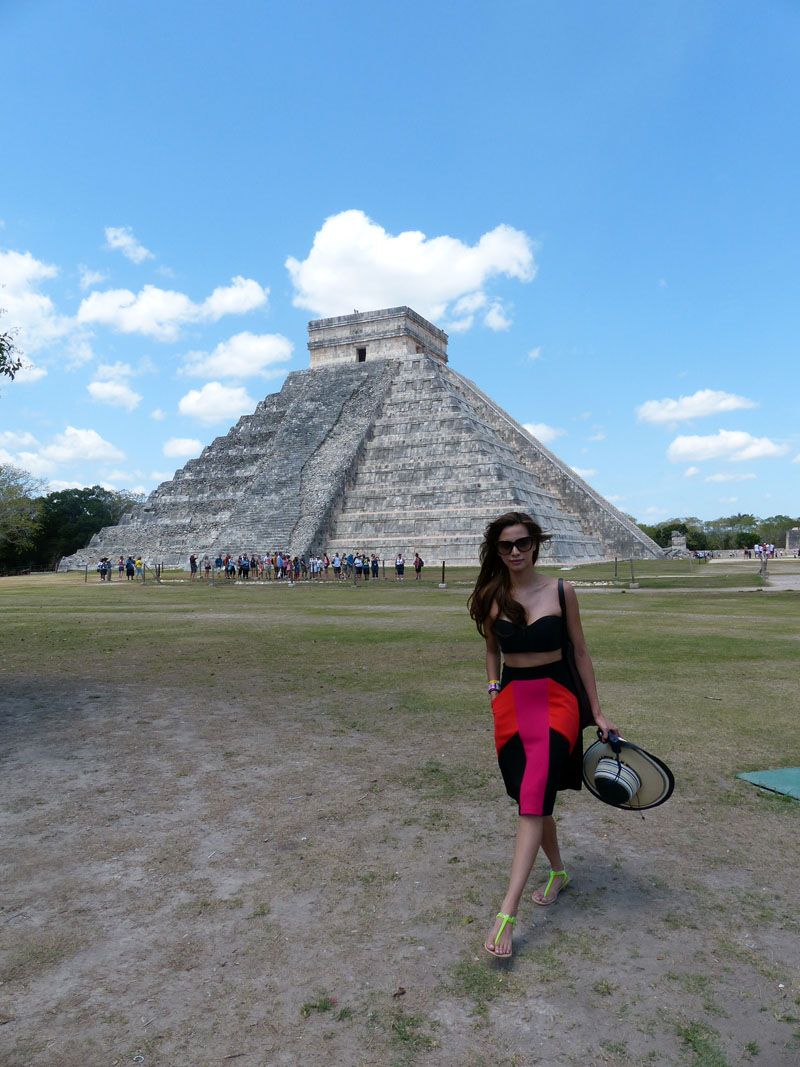 BOTE DYARYO! choz!

It's nice how their perimeter wires manipis. Hindi nakakasira sa photos.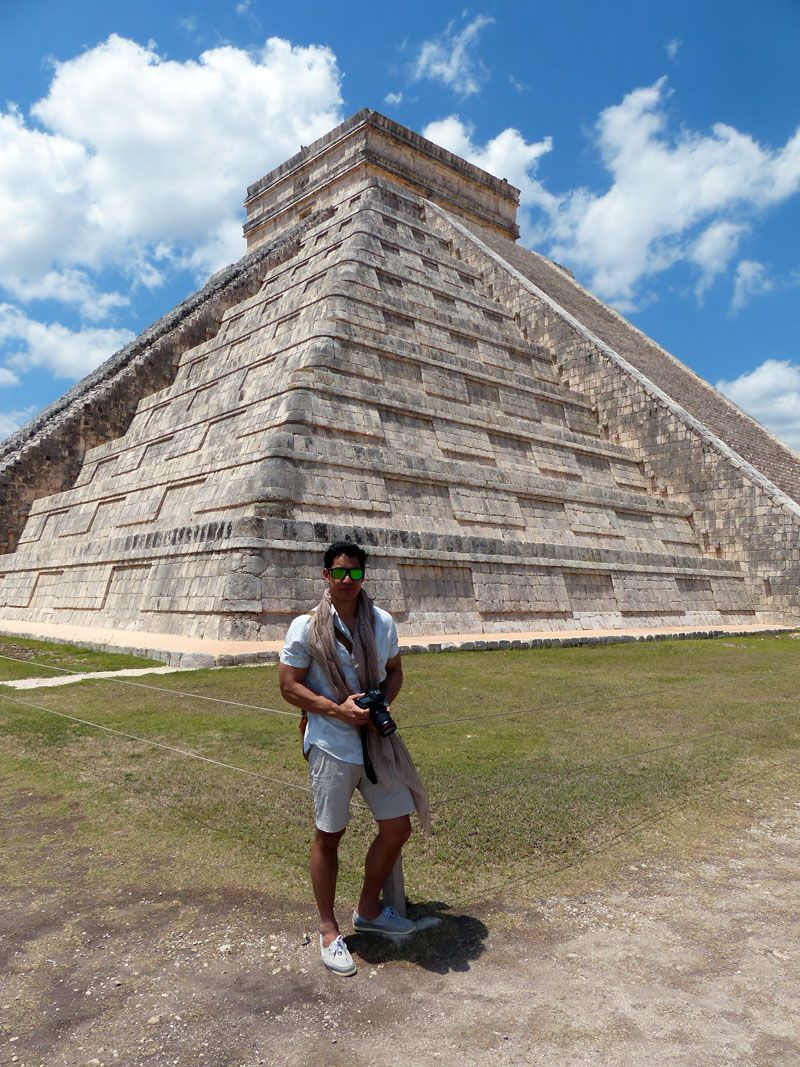 MAY DATING. choz! hahaha!

Sabi ni Milan, chinecheck lang naman daw nya yung super zoom ng camera. Sige na.. sabi mo eh.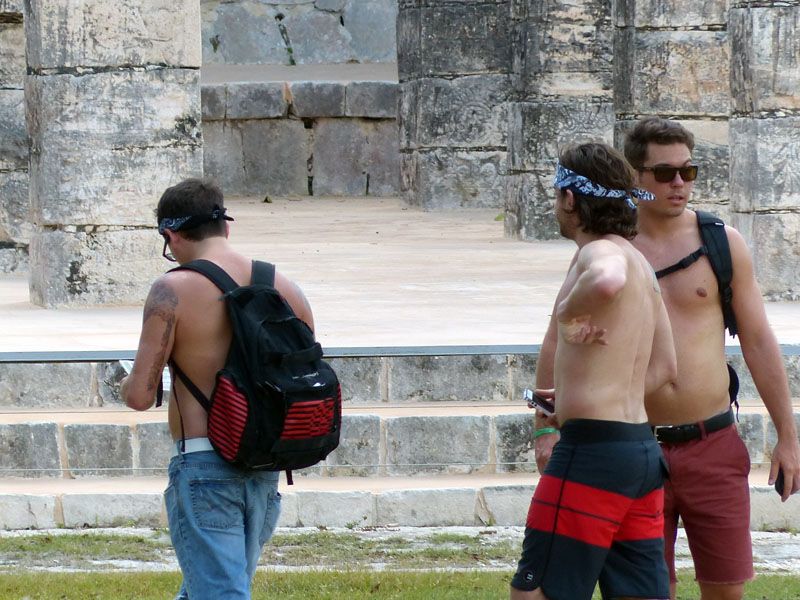 Right outside you can buy pasalubongs. Mga times 3 plus sa pera natin yung pesos nila.

D parin sya tapos.

Eto pa. In fair, candid talaga yung kanya. haha!


I wanted to get the Jaguar mouth. Sayang talaga 🙁 Gandang centerpiece sa balur.

Chichen Itza pala is about 2 hours from the main hotel strip of Cancun, so bongga na may paandar na drinks yung tour.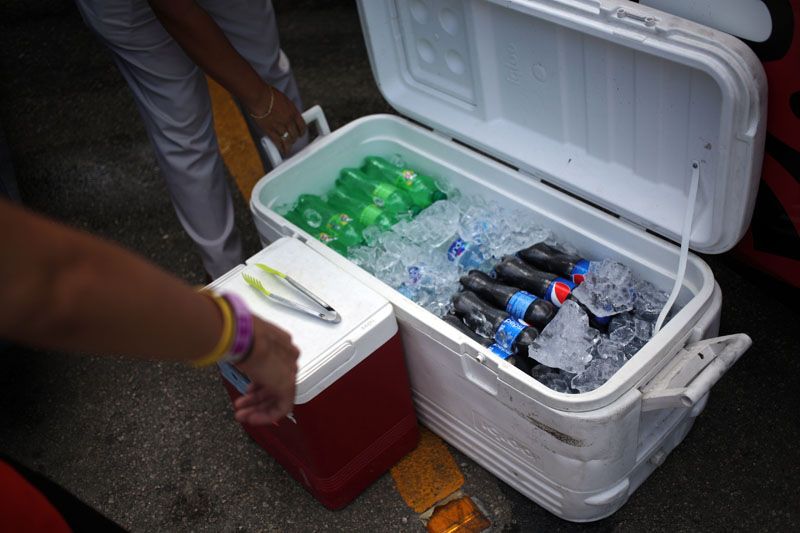 After Chichen Itza, we went to the resto of the TOUR COMPANY. Same owner daw. Bongga sya!

If you like spicy food, Mexico ang pakak sayo. I brought home habanero sauce. Pero iba parin yung fresh!


The buffet na kasma bongga naman because they had traditional mexican food and continental food.

May pagumamela sa buhok. choz!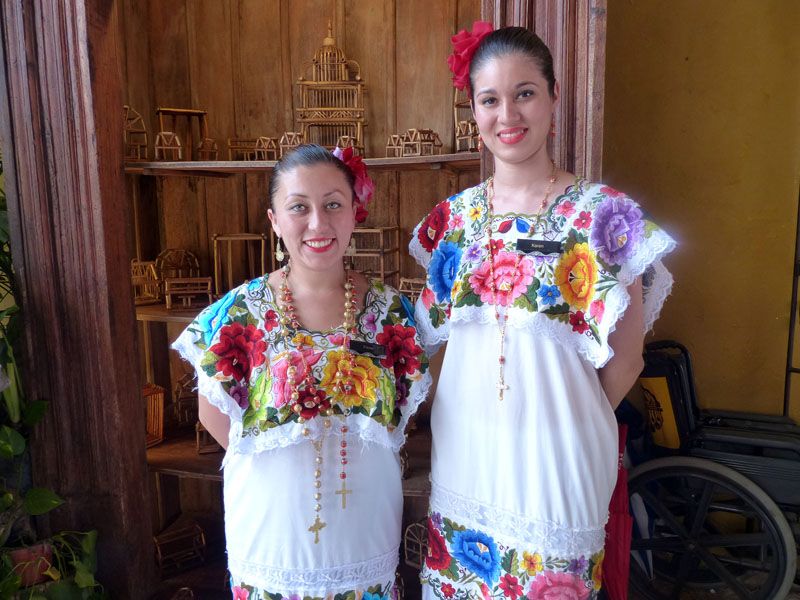 They had a small grotto in the back.


Their structures bongga sa pagkaintricate. It reminds me of Gaudi in Spain.


Hmmnn… gandang idea toh sa mga basag na vase and ceramics…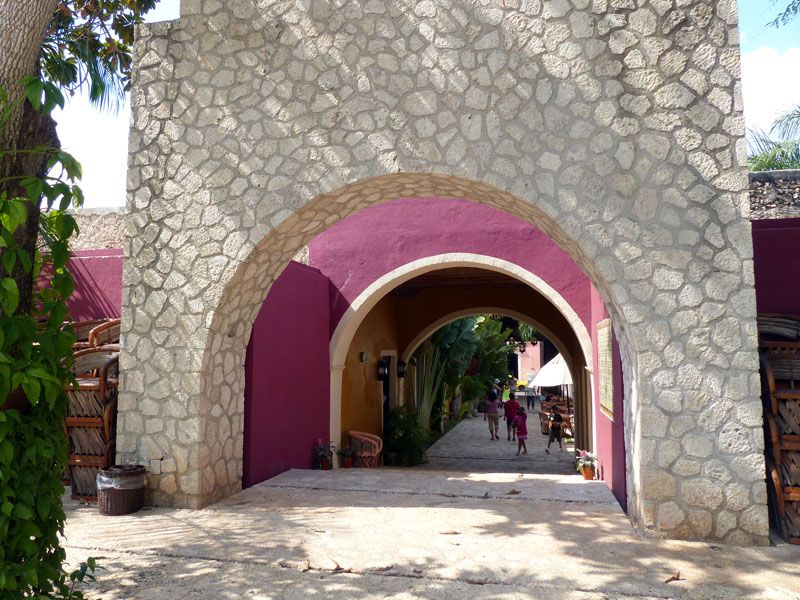 Nakapagchange outfit pa ako for my grotto shot! hahah! But i changed back right after kasi best in hangin sa skirt. Ayoko naman sila mashock! haha!
D pa nyo memorize? More options more fun! haha!
They give you some time na rumampa sa city. So avail nyo yun.. lakadan portion na naman.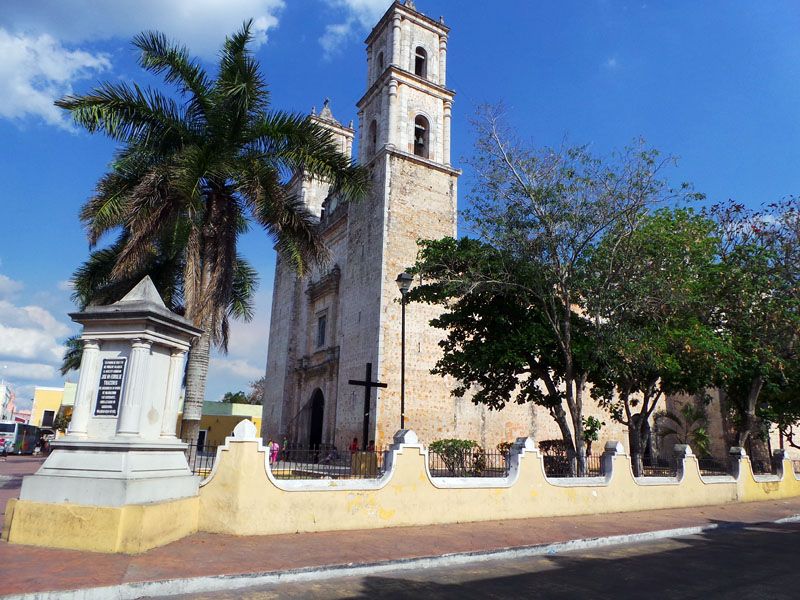 Visit the church, magwish narin kayo 🙂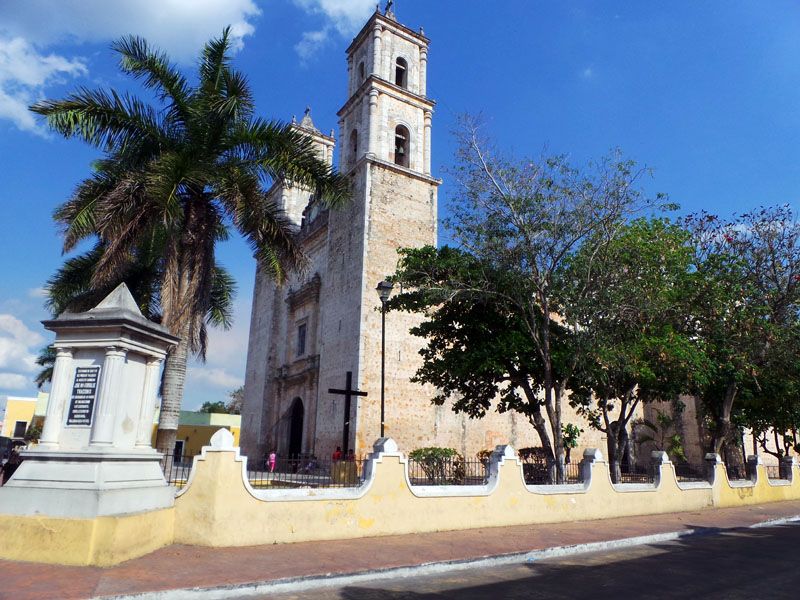 May plaza sila. So very pinoy yung format 🙂 This reminds me of Vigan.


KODAKAN ULIT! Wag na kayong magulat bakit 5000 photos per one week trip. haha!
Yung mga chairs na ganito, madalas ko makita around the city.

City hall, where they have some art works displayed.


Last stop of the tour naman is the underground river. Meron din sa Palawan, pero masbongga yung atin! Yey!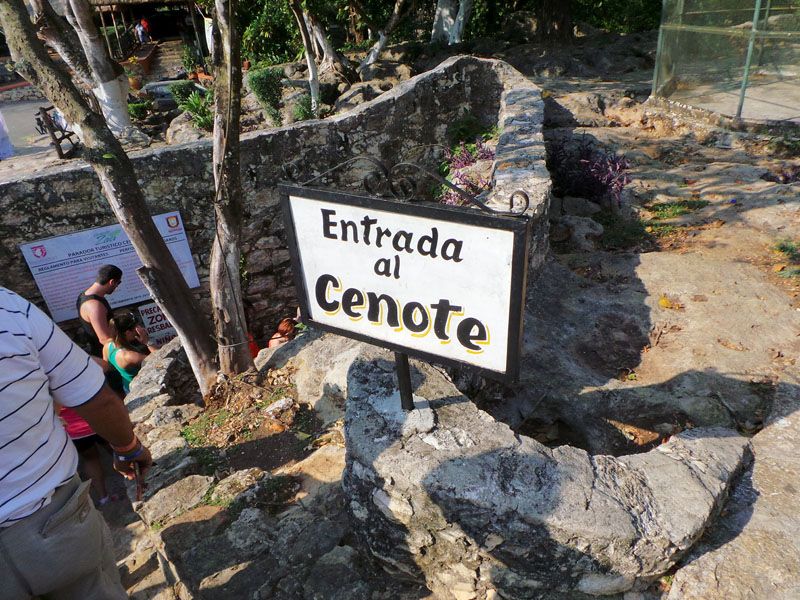 They allow people to swim here, but ibang tour ata yun.

Nakasinggit na naman ako! haha!
You will see stalactites around the caves. Medyo may katakot factor ha.. or duwag lang ako! haha!


Ganyan sya ka demanding, topshop daw.. haha!

NAKUHA NARIN AFTER 10t times…


Gulat look with shades

Dahil sa daming takes.. tawang tawa na naman ako!

END OF CHICHEN TOUR!

Wait for the next post.. TULUM naman ang tour! Which beach and pool ganap!
Much love,
D