I like travelling, but syempre hindi naman pwede travel lang lagi. Masmatagal ata ang ipon factor bago larga! I have made it a point to transfer all possible points to my miles (kung ang Meralco may points baka pati yung trinansfer ko na). Parang ang sakit sa bulsa ko when i travel airlines tapos walang miles. haha!
I usually travel with friends because most of my Brent schoolmates have already resided in different countries. Bongga kasi tipid at madaling hatakin. Like for Paris, I would always stay with my friends there. So yung pang hotel, panglalafang ko nalang. At chef pa isa sa kanila, haha!
Here are some of the girls! Stacey from Australia but met her in Paris, Laleyna from Australia but travelled with her to Greece for Stacey's bday, Sherry studied in Paris but from Canada/Taipei who is with my Kuya Alex who is half German/half Pinoy and Florence is my bestie from highschool who is has family in HK. This was during Stacey's wedding in Balesin. Actually, if gagawin kong map lahat, baka masmaguluhan kayo sa connection naming lahat. haha!
So bet ko chika sa inyo yung mga party destinations that i have tried or yung bet kong puntahan!
1. Zouk Out SINGAPORE or LANEWAY
Some I was able to do blogs on so sight nyo nalang yung links. But Zouk out is a beach party paandar. Very musicfest since maraming stage. Karamihan mga DJ sya but super fun. We went there when tourism board of Singapore invited us to go. Saya sya! One night lang and tickets are usually bought online. So bonggels toh kung gusto nyo ala Boracay party na isang stretch ang beach. This year 2 days na ang paandar! December 13 and 14 ( check tickets here)
http://www.divinemlee.com/singapore-zouk-out-2010/
With Mac and Tim! Ang cute nang album ko, nalalaman ko yung year based on Tim's hairstyle. Haha!
D naman ako oily noh? hahaha!
If hindi nyo naman bet yung beach party and bands at indi kayo… Try Singapore's Laneway festival. Smaller set-up so hindi lost valdes ang drama. I went 2x na dahil indi si V, at sapilitan pa nya akong kailangan ilibre para gumora. Haha! May kasama pang bribe na kakain kami sa fave resto ko kahit everyday!
We stayed in a hotel na full board! Yes, may lafung na kajoin! Check my blogpost!
You will also see a lot of Pinoys in this fest. So bongga yun, parang Rockwell lang! haha!
http://www.divinemlee.com/laneway/
2. Mykonos Island, Greece
I LOVE MYKONOS! Parang Becky Island sya promise! It's all day party dun. Kahit anong oras kayo magising may ganap. You just nee dto know where to go. I would segway here every time in in Europe for work. First time was for a double birthday bash of our friends, so tamang tama after work dumerecho na kami sa Greece for our vacay. Every since that time, ang hilig na ng lahat dun gumora. So ipon ipon pag may time ang peg ko. What I love about this place is that it is cheaper than most European countries. Technically, bongga din yung food!
As for the parties, nagkalat! Just go to the city center, paradise beach, super paradise beach.. mauubusan na kayo ng oras!
Kaasar talaga ako noh? Blue and white daw eh! haha! Buti ng pasok sa mood board!
OH, Manlalait pa kayo sa haba ng paa ko. haha!
At La Luna, you have to drive around so make sure to rent a car. Hati hati ang barkada!
http://www.divinemlee.com/mykonos/
3. Ibiza, Spain
Of course eto na daw ang party central! The top DJs that fly here, regulars dun! All year round and super huge clubs!
And madaming pa foam parties so have your swimwear and beach bodies ready!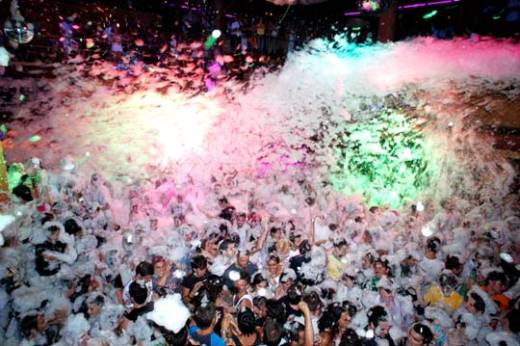 Ayan oh! labanan ng bikini! So handa nyo ang tyanella!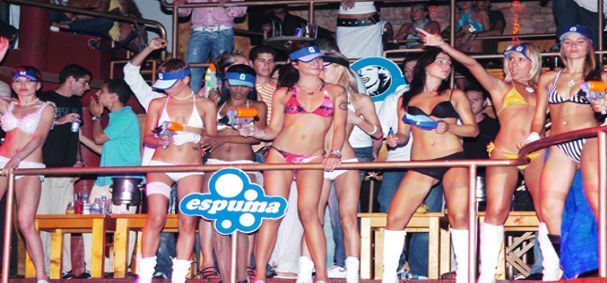 4. St. Tropez, France
I've been here pero ayoko na naman maghakot sa hardrive ng photos. Hahaha! Ok eto ang perfect itinerary here. You fly to NICE. Stay a night there or 2 para masight nyo narin. Get a rent-a-car with GPS. Tapos from there maybe take a day trip to Monaco, and stop by EZE (old town yan na bongga). Mga one to 2 hours lang car ride. Then balik ka nalang ng Nice after your day trip (or kung bonggels and more time more fun kayo… stay a night sa Monaco). We did the whole Grace Kelly tour in Monaco and ate lunch sa EZE. Then pag nakabalik naman kayo ng Nice, take a long drive to St. Tropez.
Ayan, may map na. Can you see parang Nice yung gitna? To the right is Monaco. Then to the left is yung road to St. Tropez. While the long drive, you can stop by Antibes, Cannes, etc. Oh d ba? Pwede pa mag coffee break!
Check out clubs and nice hotels. Like Byblos! Then ikot din kayo sa city center. Mag sight kayo ng mga yacht sa dock!
This is Byblos hotel.
5. Coachella
Ayan na! Just search for Coachella sa vlaggey! Ayan masisight nyo na. Bongga sya because aside from the festival, tarush ang mga parties.
We usually drive from LA. Actually hilig namin magroad trip so pakak mga driving ganap samin. You can use your pinoy license in renting a car. Kahit sa Europe 🙂
http://www.divinemlee.com/tag/coachella/
7. Tomorrowland
Eto d ko pa napupuntahan. Parang tinitignan ko palang pagod nako. Haha! But this is an annual thing of all the top DJs. So at least once in my life, aavail ko toh!
D ba? Parang isang malaking party! Although, i know hirap kumuha ng tickets. Pero planuhin ko toh, baka maavail din 🙂
http://www.tomorrowland.com/home/
8. Brazil Carnival
I've been to Sao Paolo, Rio and Brasilia. Although hindi carnival dahil tinakot ako ng mga brazilian friends ko na magulo daw. haha! But I really wanna try it kahit once. Wag naman sana yung loley na akitch. Haha!
Pabonggahan ang floats at ganap. I actually saw a documentary about it how it is a whole year industry. Pati yung pag join maraming politics pala. Pati yung mga mapipiling sasayaw and muses big thing yun! The tickets are minsan black market na kasi super bongga syang event! If anything, bet ko bumalik ng Brazil kasi tarush ang pagkain!
9. Full Moon Party, Thailand
Eto, malapit lapit! Very young ang crowd ditey! I haven't been but good reviews from friends who actually went. Party daw but if bet nyo naman magrelax, may areas din naman na more quiet.
http://fullmoonparty-thailand.com/
10. Las Vegas, USA
Eto all year round. parang tourist destination talaga, whether party or shopping or relax. Masaya sya. What we did is we drove again (4-5hours from LA). Then we rented a house para masmura!
Kita nyo naman kasi, barkada package ang ganap!
masaya din yung mga stops namin while driving!
I like the weather pag summer. Maavail ko ang skirts!
ANSAVEHHHH? 
http://www.divinemlee.com/tag/las-vegas/
There you go guys! So dream book na natin! Ipon ipon! Masarap magipon pag may goal! rather than spending on items, spend on enriching your soul (charotz). Travel really rejuvenates a person. Most of my creative ideas dyan galing sa travels!
Check my travel tab sa vlag!
Much love,
D