Since @jakegalvez left his whole set of @makeoverPh cosmetics and allowed me to test it yey!
I am a makeup junkie. Certified. Pag may makeup artist na pupunta sa balur, kahit hindi na sila magdala ng kit magsusurvive kami.
And years of collection yan, trial and error so on going joke na na tuwing may makeup session, best in tanong ako sa mga bagong secret.
If ayaw nyo maniwala na past time kong maglabel… look here.
Each foundation labelled. My skin is a yoyo. Minsan super puti, konting araw sobrang itim. So my foundation malaki ang range ng color. I mix din. Feelingerang makeup artist! Haha! Oc noh? Labelled lahat.
best in barat talaga, can you see the perfume testers? Yes, i keep all of them. Lahat ng samples inaavail ko din!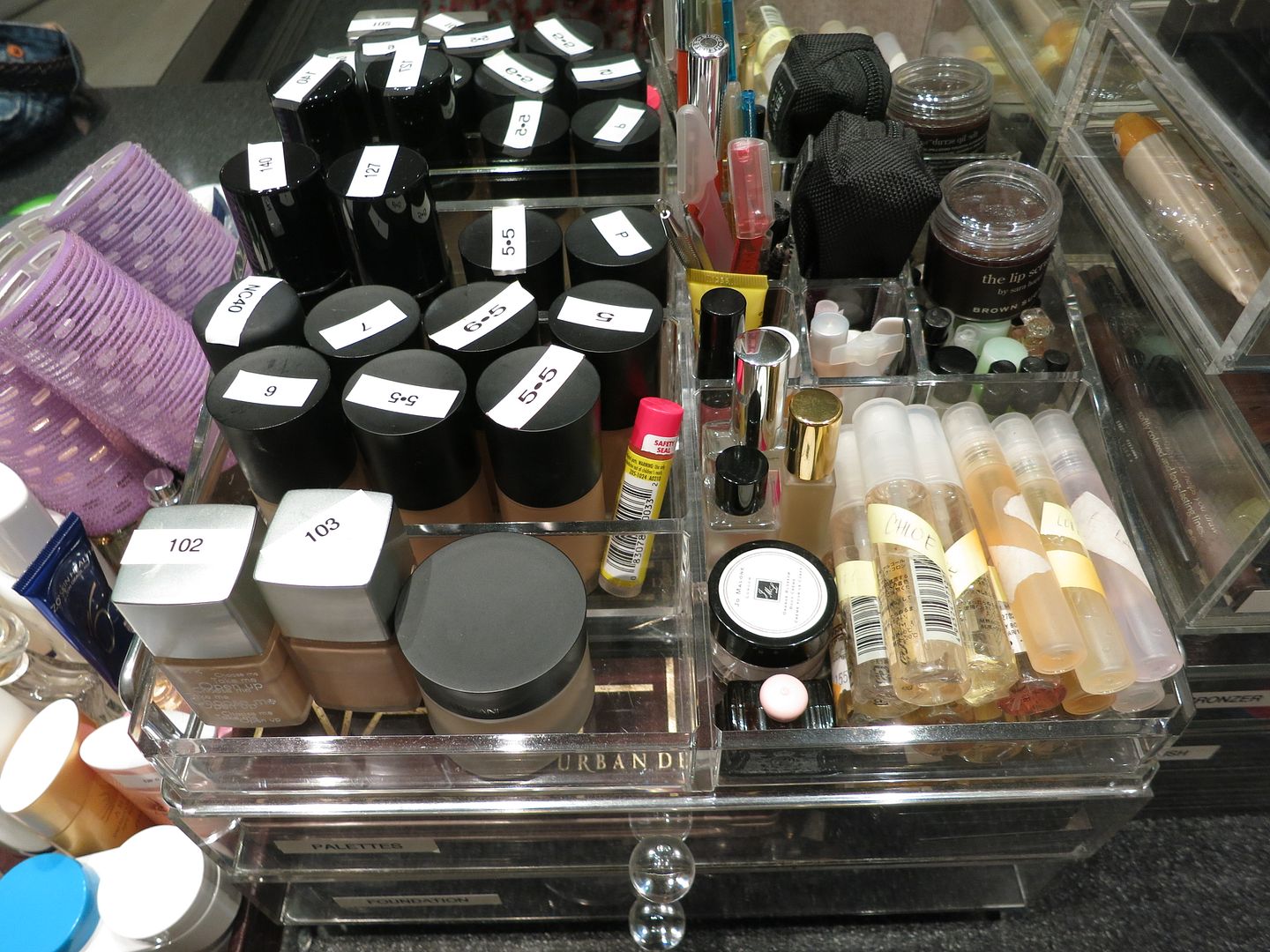 My brushes nakaorganize kung san sya ginagamit, face, eys, etc.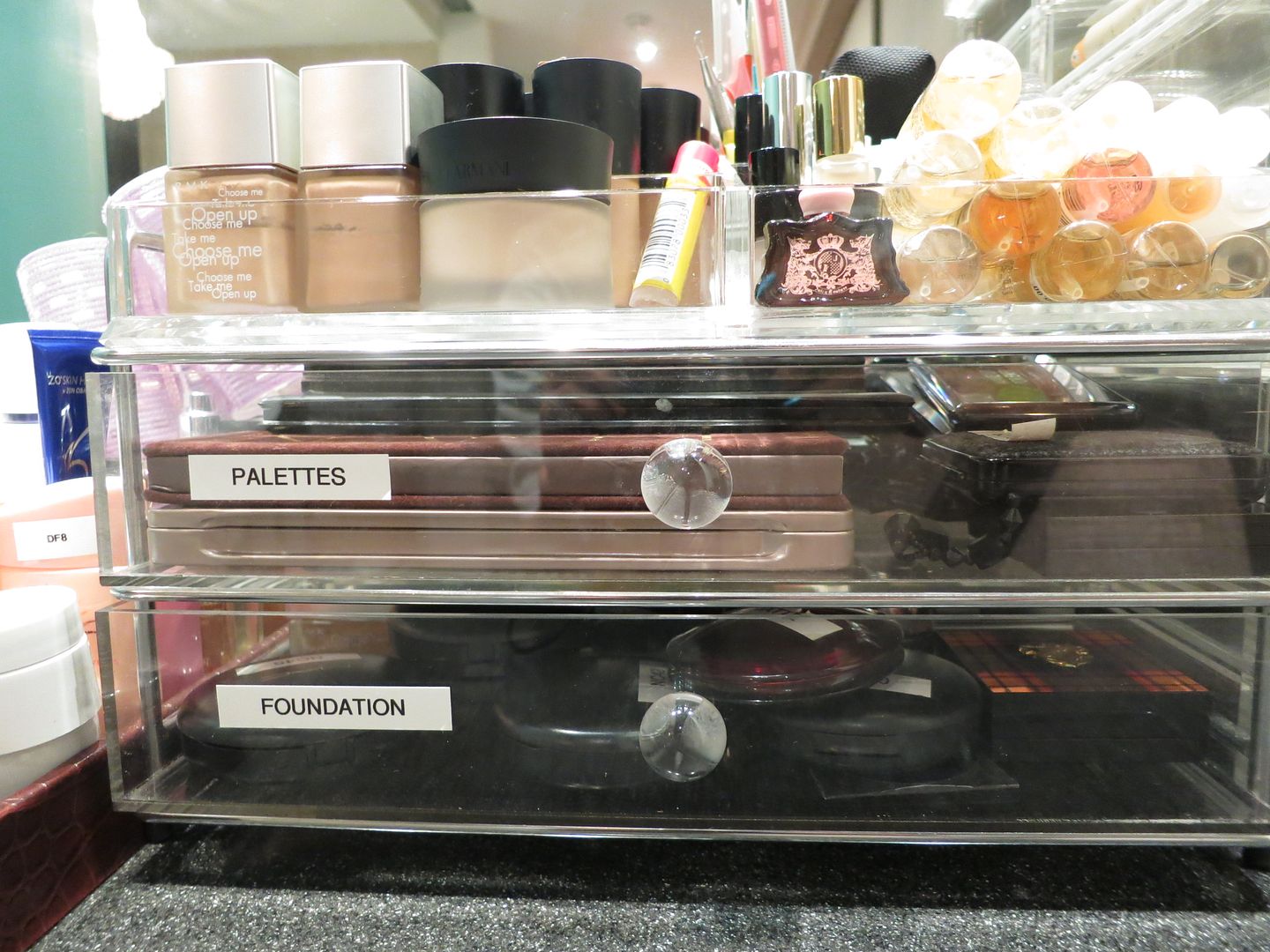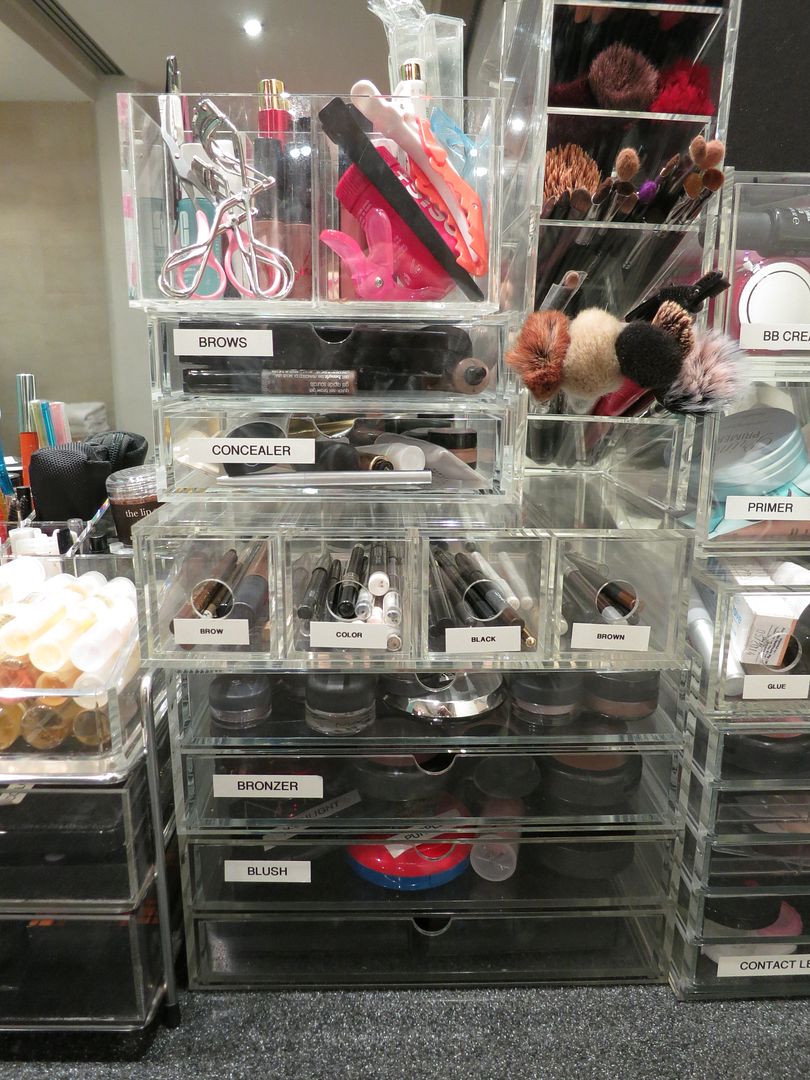 Each drawer, for specific ganaps. D ba? Parang filing cabinet! haha!
Forgot to take photos of the lippies! But bawat lipstick, may number, para alam ko kung may nawawala! hahaha!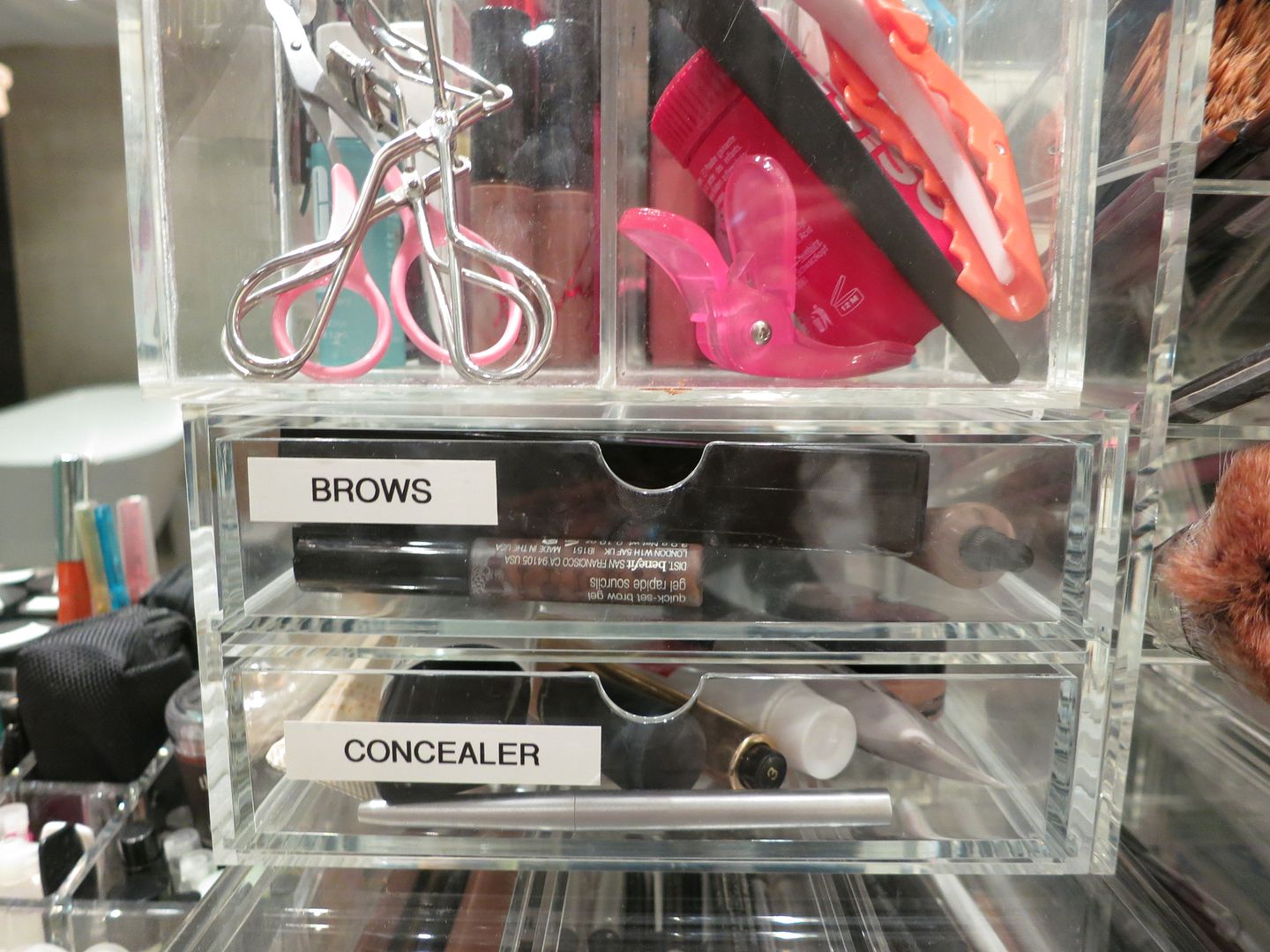 I clean my brushes depende sa usage. But important yun ha!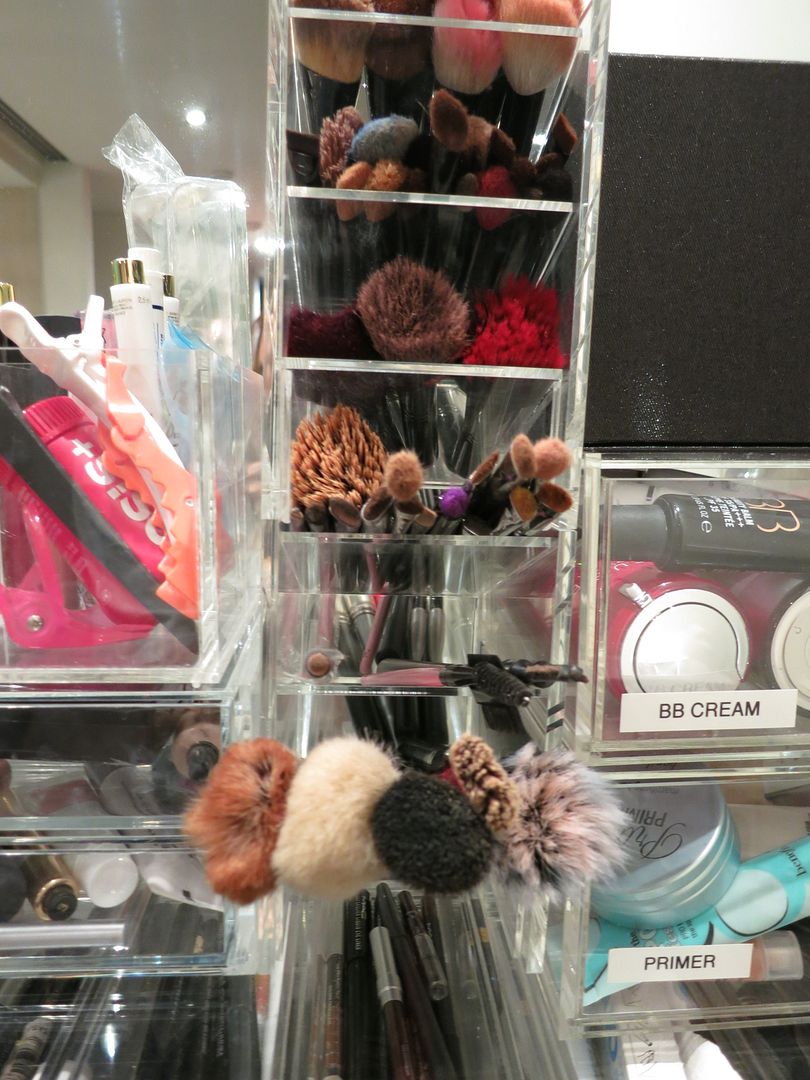 BB creams and primers in bigger drawers!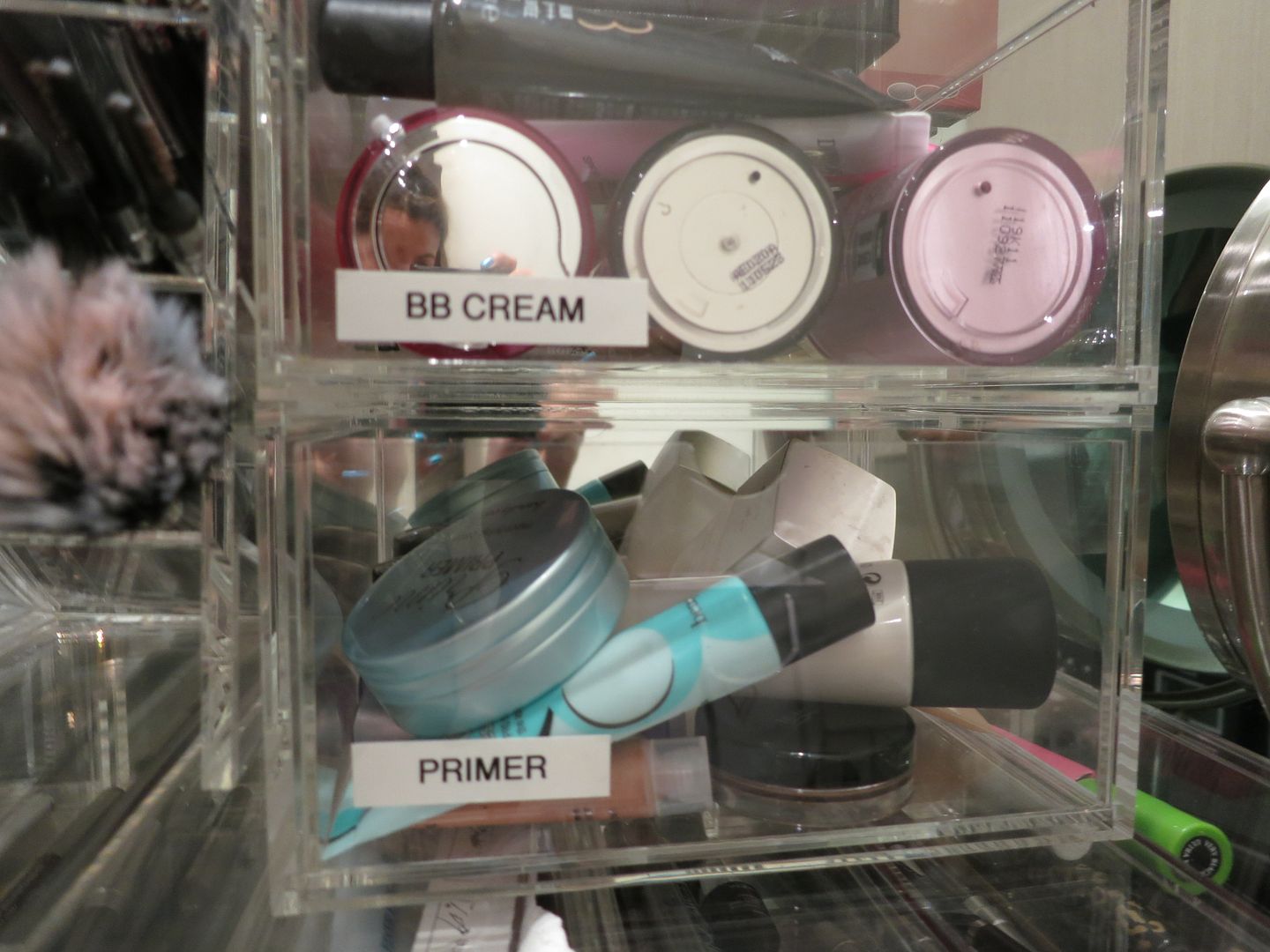 Pagpasensyahan nyo na ang pagka OC ko. haha! Baliw baliwan ang peg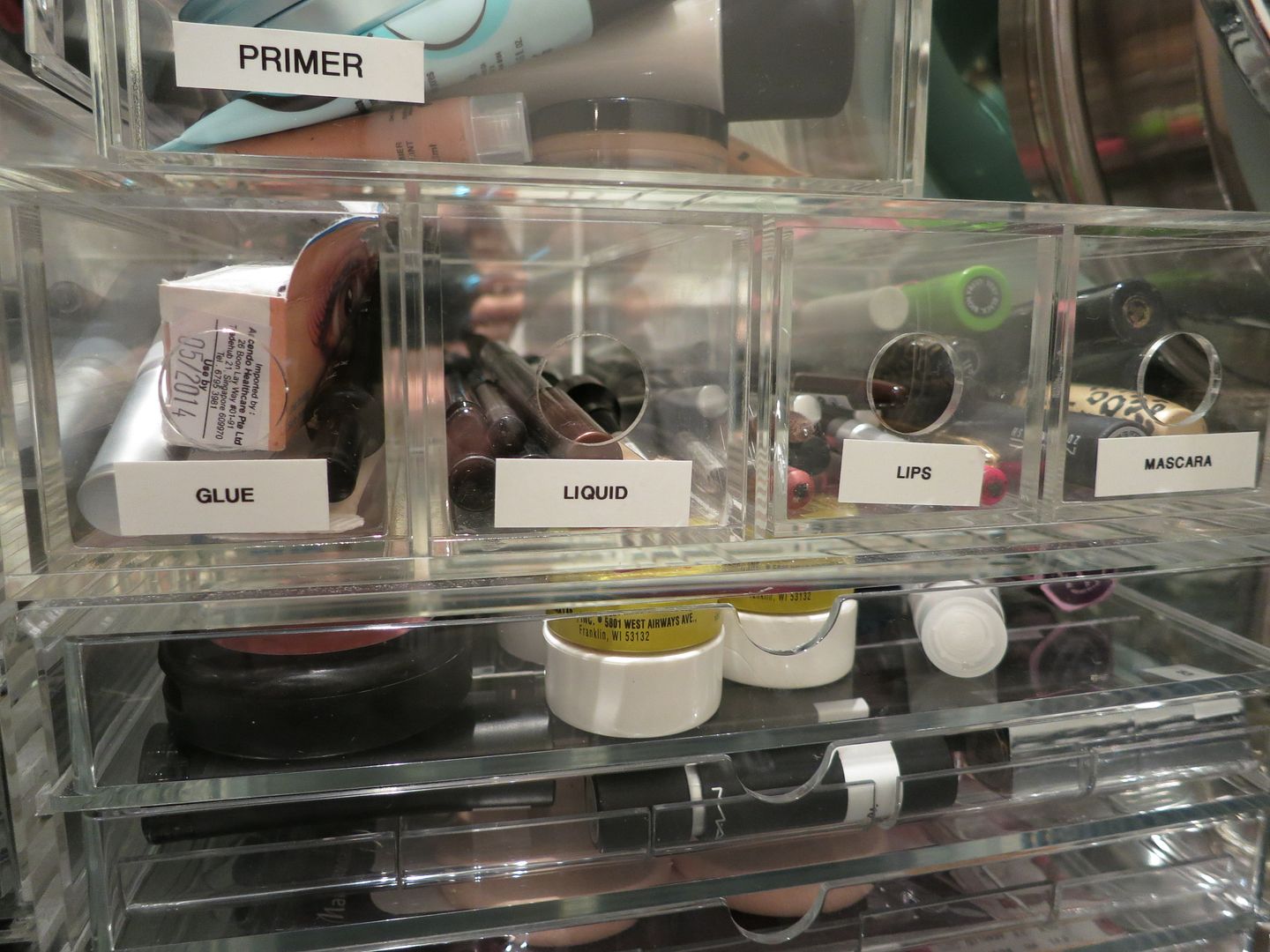 Hindi ko na pinicturan yung mga hair and ibang drawer baka tuluyan nyong isipin na baliw ako.
Wag kayo mabigla, i started with a pouch lang then i built it to this. But ngayon, I am so keen about quality na, I really look for pro lines or in short yung bonggang pigmentation para ma career ko naman yung mga youtube video na pinaggagawa ko noh. haha! When I say pro lines, I mean yung bongga ang pigmentation. Because aminin na natin minsan iba yung packaging sa paglagay mo sa fez mo. Ang ang hirap nung paulit ulit ang apply hanggang maachieve ang color! So with prolines, masmabilis talaga sya and maskita ang colors because hi pigmentation. In short, makukuha nyo yung mukhang artista look.
Jake owns a makeup school and dahil dyan puro proline ang gamit nya. Akin patingi tingi lang. Recently sa sobrang obssessed ko sa makeup, i joined him sa cosmetics fair in HK. NALOKA ako. PROMISE. Kung pwede lang ako tumira dun, ginawa ko. haha! So he picked his choice for a proline na pang school and nakita ko talaga gaano kabongga. So i kept on making him kulit na kung pwede pa avail sakin. AYAW pa nung una. Eh sa ganda kong toh, makakatangi ba sya? choz! More like ang kulit ko! haha! AYAN! He allowed me to bring to blogger's united and test sa balur kasi alam nya bored ako dahil may sakit. So buong araw na ako nageyeshadow! haha! I LVE YOU JAKE!
So if you want to build your makeup kit. Eto yung basics for me na dapat meron kayo.
1. Foundation day (echos): Syempre alam nyo na yan, dapat memorized nyo na! I just posted that a few days ago. Pakihanap nalang! haha! Oh fine, ayan na.
http://divinemlee.com/post/24189162742/ok-since-im-reviewing-beauty-stuff-next-up#notes
2. Concealer stick: WALANG PERFECT! Susko. umamin kayo, kahit maliit may sumpa kayo. So eto ang masilya ng fez. haha!
Eto i tested this. Bongga lang sya at 400.00 matagal tagal sya magagamit kahit maganda ang coverage. Here's the link. But medyo basic lang ang color line nya or hindi pinadala lahat ng colors ni Jake.
http://www.officialmakeovercosmetics.com/#!vstc0=face/productsstackergallery0=0
3. Sculpting kit: SAGOT SA LAHAT NG CHUBELITA CHEEKS! Susko, eto na ang sagot ko sa mga araw na tumodo ako sa potato chips. I don't know how people can live without this. First ko nasight toh sa Makeup forever but ang liit and a little expensive. So when I saw it in the makeover line. BEST IN AVAIL! the nice thing about this is aside from contour and highlighting, i use this for eyeshadow pag gusto lo natural look. And noseline! UUYYY AMININ!
http://www.officialmakeovercosmetics.com/#!vstc3=sculpting-kit/vstc0=face to the tune of Php 1,600.00 Super sulit sya. Don't worry, chaka lang yung photo but maslight yung brown dyan.
4. Eyeshadows-HANDS DOWN! Eto ang pinaka bonggang product with the lipsticks ng makeover. If kaya nyo completuhin ang colors, gawin nyo. haha! that's my goal (HI JAKE! ANG GWAPO MO!). But for starters, I think 6 colors ang pinakabongga. Get the following colors
Black, Beige, Brown, Highlighter na frosted, Frosted na earth tones, and gray. I think yan ang pinaka basic basic that you need from day to night 🙂
My Faves on the makeover site and na test ko din:
Beige levels (click on the color): beige, soft pink, champagne (for base)
Black: Matte black, Smokey (pang kabowgables night out)
Brown: Brown, chocolate matte, dark fawn (for shadow and contour)
Highlighter: white shimmer, besque, silver shimmer (inside eyes and near brow line)
earth tones frosted: Tan beige shimmer, metallic taupe, earth, espresso (actually madami pa, gusto ko nga lahat eh. haha! inside color)
Gray: pearl grey, matte grey, free love
Yung colors, next kit nyo yun masadvance levels kung baga 🙂 Eto yung basic basic. And l like that makeover has BIG eyeshadows. Matagalan na toh, d ako maghihinayang magpractice!
To the tune of Php 400.00 each check http://www.officialmakeovercosmetics.com
6. Liners: Important yan, dapat water proof palagi. Hindi nyo alam kung biglang may famas award kayo! haha! Black and brown lang. Ganun ka simple! 🙂
The other colors, kareerin nyo na if magaling na talaga kayo. haha! D ko pa keri make makeup ng colored liners. D pa ako confident! haha!
eto meron ang Makeover, pasado naman sakin and hindi sya nagrun!
http://www.officialmakeovercosmetics.com/#!vstc7=khol-eyeliner-pencil/vstc0=eyes
I think they have colors pero wala sa site. Meron sa samples nya eh 🙂
I also like MAC's Black track! Fave ko yan pero mas pro level sa application, dapat nakapractice na kayo kasi Gel sya.
7. BROW!!!- Ang walng kilay… walang K, walang karapatan! I-fill in the blanks nyo yan! It really frames your face! Sabi ko nga eh, itapon nyo na yung suklay ko wag nyo lang kunin ang pangkilay ko! haha!
My faves are WATERPROOF… yes, totoo. Makeup forever eyebrow! pero dapat magaling ka rin mag apply.
Eto yung sa makeover. Bongga sya kasi duo na. Ang kilay never dapat parang linta, may shading din yan. Use both colors 🙂
They have different colors to choose from. DITICH! Php 450.00 kering keri!
8. MASCARA: Any any ako sa mascara basta super black 🙂 I like Lash King of Majolica and makeover has din. Wag nyo na muna avail yung may colors, basic tayo at magandang ang ala Isabael granada lashes na blacker than black!
Acording to the site Php 850.00 . Bongga, kasi ang ganda pa ng packaging!
9. LIPGLOSS: Eto nakakayoung and if masyadong strrong yung feeling nyo sa lips, put this over. Eto din yung from matte to shiny na look!
For me, perfect na yung mga colors dito. Check their site! Andun lahat.
Tinatamad nako. isa isahin. Haha! Basta you have nude, pink, reddish or pag isa lang talaga get the clear 🙂 Php 350.00 so kering keri! (Hi Jake, alam mo bang mahal kita. Oh by the way ang ganda LAHAT ng colors…. Malapit na bday ni Vic, sabi nya give me nalang daw the gift…)
10.LIPSTICKS: Ang hirap ng choices! bet ko din lahat! haha! I really fell in love with the lippies and shadows. AS IN ALL. haha! (Hi JAKE!)
Kung basic basic basic. I think 3 colors talaga. Pinkish, Nude and Red. The tone, depends on your skin color.
But if you want to expand hehe! Sige 6 colors tayo meaning Nude, Red, Hot pinks, Light pinks, Orange, Red.
My fave picks from makeover!
Belle de jour, Success, Baby Pink, Roman Holiday, Blonde Venus
Php 599.00 pasok sa bangga! 🙂
Masmadami pang ganap but syempre d ko naman mapost lahat dahil magkaiba pa ang eyeshadow ko sa bawat mata. haha! Check nyo!
http://www.officialmakeovercosmetics.com
They deliver in Manila! And bongga sya kasi bet ng mga makeup artist. AVAIL!
Gow, so ayan na ang basic basic basic. Yung expanded machika ko next time! 🙂
Much love,
D