The Tony Galvez School of Cosmetology
Most of the time, I do my own hair and makeup. Pati sa taping ako narin! Tipid hindi ba? Haha! But more than that naeenjoy ko kasi talaga. At siguro swerte din ako na hilig kong kulitin si Jake Galvez how to do things everytime minemakeupan nya ako sa shoot.
For those na bet magaral, short course or for career dito na kayo! If you know Jake or Buern Rodriguez who does Vice's hair. Ayun mga producto sila nila at madami pa! Bongga kasi they apply both old and new techniques, since generations run na yung school from Jakes dad to him. So kabowg, d kayo mawawala sa uso! Aside from that they teach pre requisites in chemistry, anatomy, mathematics, communication, and salon management, including occupational courses such as hair cutting, hair coloring, facial make-up, and nail care. Bihira yun sa cosmetology noh!
TGSC is the ONLY cosmetology school in the Philippines that offers Cosmetology courses with a curriculum based on international standards and global training structure. It trains students intensively and rigorously, thereby producing globally competitive graduates. Here at TGSC, our cosmetology courses comply with International Licensing Requirements.
The Tony Galvez School of Cosmetology was established in 1989 to provide a quality standard of cosmetology education in the Philippines. Initially, it provided scholarships to underprivileged but deserving and talented students who were serious about becoming true professionals in the field.
Bongga pa kasi may pa international friendships by  maintaining close, cordial relations with beauty industries in Japan, Singapore, and Hong Kong.
The curriculum also includes a ladderized training program by which a system of courses will equip you with the knowledge and skills to help you land a job. Equally important it helps you advance in whatever area of cosmetology you choose to specialize.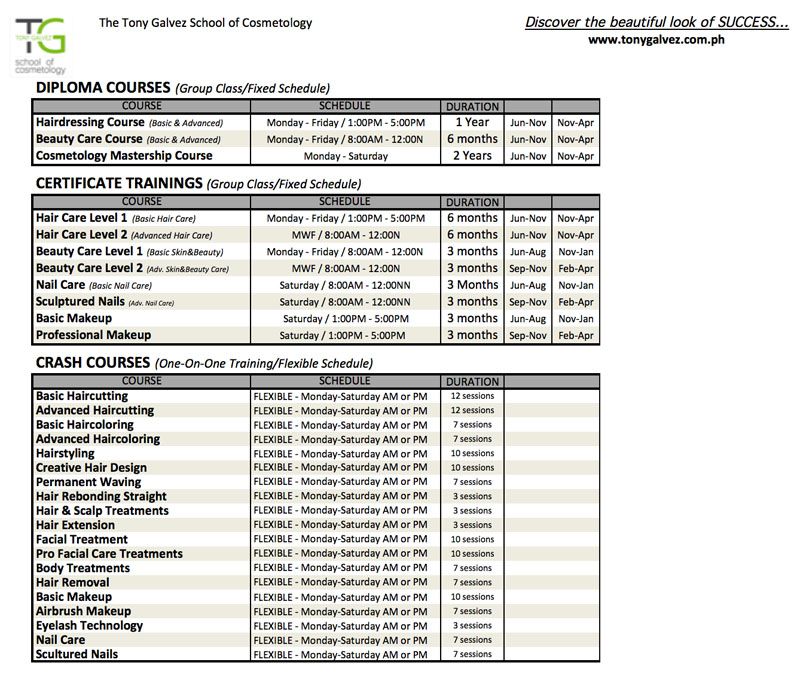 FACILITIES
AVR Room
Hair & Make Up Room 1
Hair & Make Up Room 2
Haircutting Student
Hairstyling Student
Hallway 1
Hallway 2
Lecture Room
Lobby
Locker Area
Nail Care Room
SRC-Shampoo Area
Students Lounge
Magbusy busyhan na kayo! Bongga ng new learning ganap! At parati ka pang plakado!
Much love,
D