As you are waiting for my Coachella post! We have something with the same vibe here!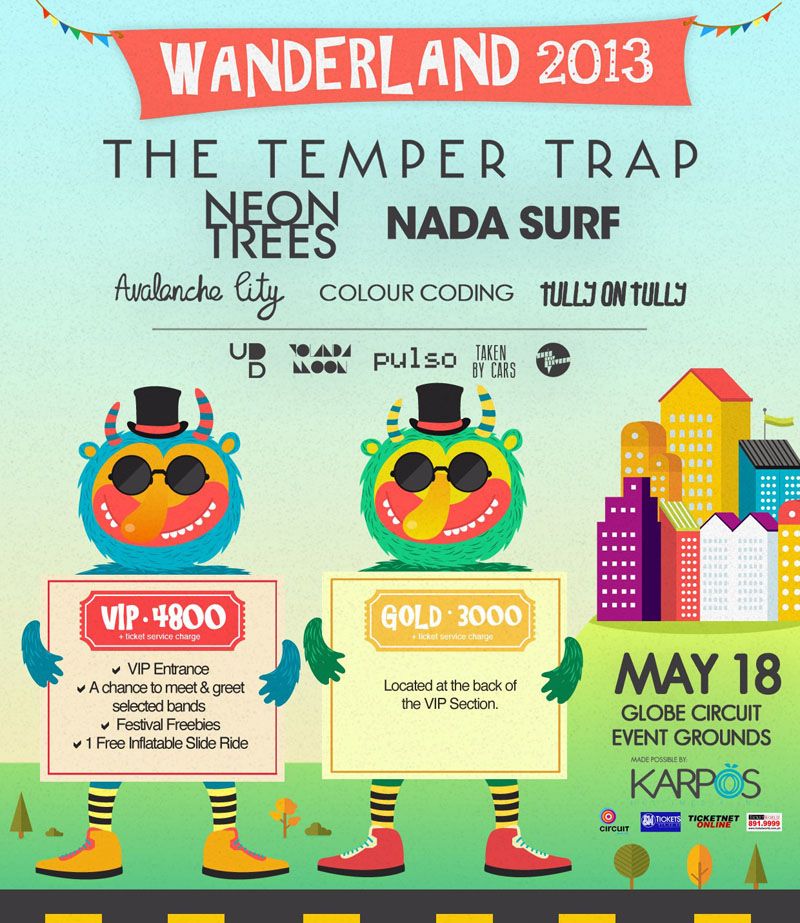 Step into Wanderland:
The ultimate sonic playground for the summer
 Get ready for one surreal summer experience as Karpos Multimedia Inc. proudly presents Wanderland, an annual outdoor music and arts festival with sights, sounds and a little something extra. Slated to rock music-loving Manila on May 18, 2013, this whole-day event is the first of its kind in the Philippines and will be the first major concert at the new Globe Circuit Events Ground in Makati.
Wanderland makes its scorching debut this summer by bringing together the hottest indie pop and indie rock bands and up-and-comers, both foreign and local, all on one stage. All the rage activities also await revelers, such as performances by live art artists Anjo Bolarda x Martojaks, Secret Fresh and Thursday Room, inflatable slides, jousts and a Velcro wall.
Headlining the music festival is Australian five-piece outfit The Temper Trap, best known for upbeat joyride tracks "Sweet Disposition," "Fader" and "Need Your Love." Composed of Dougy Mandagi (vocals), Jonathon Aherne (bass guitar), Toby Dundas (drums), Lorenzo Sillitto (lead guitar), and Joseph Greer (keyboards, guitar), The Temper Trap formed in 2005 and steadily built a solid fanbase while playing at numerous music festivals in Australia, the UK and beyond. In 2009, the band took the mainstream music scene by storm with its critically acclaimed debut album Conditions, whose ethereal carrier single "Sweet Disposition" shot up the European music charts and spawned several remixes, including the popular house version by Axwell & Dirty South. The Temper Trap went on to land two distinctions — "Best Group" for Conditions and "Most Popular Australian Single" for "Sweet Disposition" — at the 2010 ARIA Music Awards. That same year, the band broke into the US market, with "Sweet Disposition" gaining heavy radio airplay and figuring prominently in various TV shows ("Skins," "Greek," "One Tree Hill"), commercials and films ("500 Days of Summer," "Eat, Pray, Love"). Conditions also spawned two more soundtrack staples: the infectious ditty "Fader" ("The Vampire Diaries") and the easy, breezy "Love Lost" ("Pretty Little Liars"). After an extensive touring circuit, the quintet released their eponymous second album in May of 2012 by Infectious Music, which includes the lead track, "Need Your Love," and the most recent single, "Trembling Hands." The band enjoyed a stellar 2012, debuting the record across sell-out tours of the US, UK and Australia in March, April and May, including two sold out shows at London's Koko. They completed a sell out US tour ahead of a run of summer festivals, including appearances at T in the Park, Wilderness and Truck Festival, and a show at Somerset House that sold out in less than 48 hours. They closed the year supporting Coldplay on their autumn stadium tour of Australia, before heading back to the UK to play Xfm's Winter Wonderland.
Joining The Temper Trap are two American alt-rock bands: Neon Trees, who rose to popularity with certified charttoppers "Animal," "Everybody Talks" and "1983"; and Nada Surf, who's responsible for the '90s coming-of-age track "Popular," the melancholy "Inside of Love" and its unforgettable rendition of the new wave anthem "If You Leave" from the seminal soundtrack of "The O.C." The lineup offers more indie-pop goodness in the form of New Zealand-based folk group Avalanche City, Australian pop duo Colour Coding, and the female-fronted indie quintet from Melbourne, Tully on Tully. Homegrown talents Up Dharma Down, Taken By Cars, Pulso, Yolanda Moon, and She's Only Sixteen round up the cast.
VIP tickets are priced at PhP 4,800 and Gold tickets are priced at PhP 3,000 (exclusive of ticket service charge), available at all TicketNet, TicketWorld and SM Tickets outlets. Gates open at 11AM.
For more information and updates about the art and music festival, check out Wanderland.ph and the following social media sites: Facebook/Wanderlandfest, Twitter/Wanderlandfest and Instagram/Wanderlandfest. Do not forget to hashtag #KarposWanderland2013.
Wanderland 2013 is presented by Karpos Multimedia Inc., the group behind The Cranberries Live in Manila, We Are The In Crowd, This Century and Set Your Goals, The Maine Live in Manila among others.
So see you there? PUSH!
Much love,
D