Gusto nyo ng carru? BMW pa!
Gusto nyo nang bonggang carru? ETO NA! Watson's beauty ganap!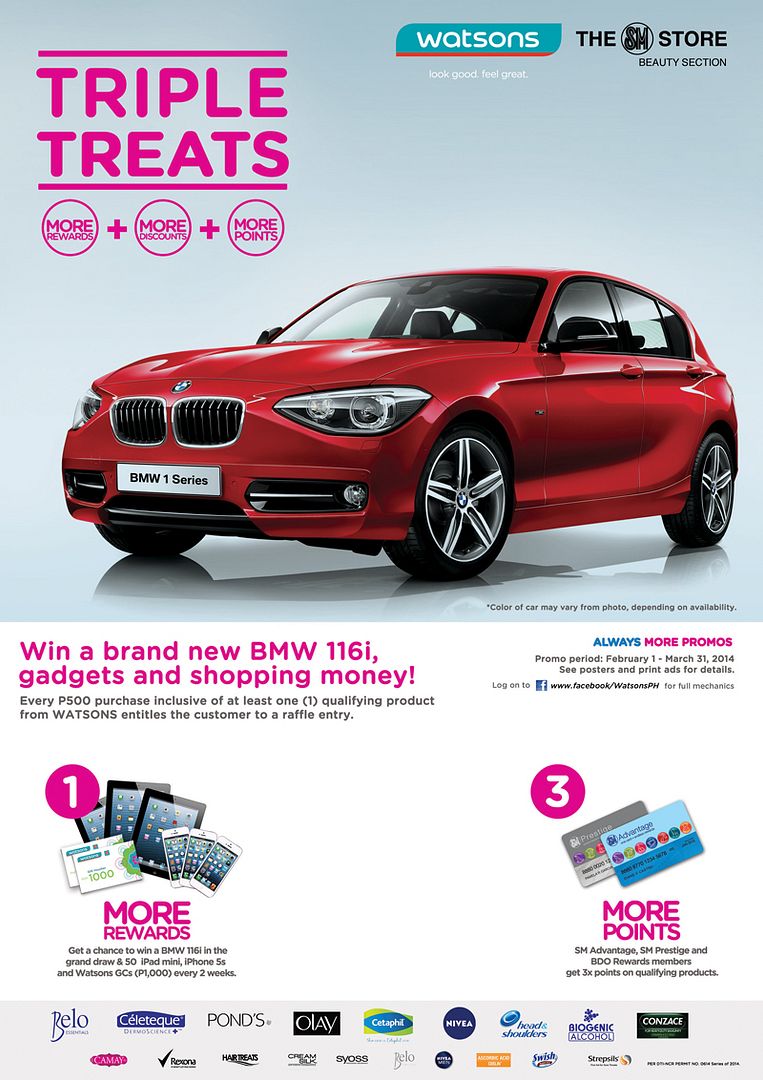 Tarush noh? BMW 116i pa ang giveaway! Basta shop at Watson's and the SM store para makaavail! Malay nyo!
More rewards, more gv, more discounts, more points and more ganda! Tarush! Happy to be part of this family!

So from Feb 1 to March 31 run na! Avail agad agad! Aside from the car, meron pang GV na more rewards and 50 iPad mini, iPhone 5s and watson's gc!
Ayan check the details below:
Here's how:

Every P500 purchase, inclusive of at least one qualifying product from Watsons or The SM Store Beauty Section, entitles you to an e-raffle ticket. To register, text WATSONS REG <name/address/email> to 2600. To submit entries, text WATSONS <Invoice no./ no. of entries> to 2600.

So, what are you waiting for? Start shopping at Watsons and The SM Store Beauty Section now and you might just drive home a brand new BMW 116i! For more info, log on to www.facebook/WatsonsPH or text HELP to 2600. With Watsons, there's Always More.

Watsons is Asia's leading health and beauty retailer, currently operating over 4,000 stores and more than 1,000 pharmacies in 12 Asian and European markets, including China (Mainland China, Hong Kong, Taiwan and Macau), Singapore, Thailand, Malaysia, the Philippines, Korea, Indonesia, Turkey and Ukraine.
Watsons continually sets the standards in the health, wellness and beauty market, providing personalised advice and counseling in health, beauty and personal care on top of its market-leading product range, making customers LOOK GOOD, FEEL GREAT every day. Since 2009, Watsons has been the No. 1 pharmacy/drugstore brand in Asia*. In Europe, Watsons is also the leading health and beauty retailer in Ukraine.
So ulitin ko lang ha!
You need to register and text! Don't forget to do that kasi sayang ang grasya!
Make sure na updated din kayo, baka winnur na kayo d nyo pa alam! hahaha! Ditey ang ganap!
Like their facebook page; https://www.facebook.com/WatsonsPH
Follow them on Twitter; @WatsonsPH , and on Instagram; @watsonsph
Will update you more soon!
Much love,
D