A Very Late Gothic Christmas
Hi! Your blog was introduced to me by a friend of mine who is too shy to have her name and picture posted BUT she's really inspired by you and I can totally see why. Your posts are like sunshine that makes us smile when we read. And I love how you encourage women to be confident of themselves. Which is why, I'm taking a chance on submitting my own Fierce photos from one of the most memorable Christmas Parties I've attended as of yet: the Viva Voce Gothic Christmas Party!
In this picture are our hot momma Ralphee with his pet spider, the zombie sweethearts Ivan & Aissa, and a Sweeney Todd extra-cast: me. xD

In this set of pictures are Mimi the Emo Asian, Sharon the Vampire, Gladys the Spider Girl, Elainne the Electric Woman/seductress, and Princess (a.k.a. Josh) the random-guy-to-pose-with.
And here's a group picture of us: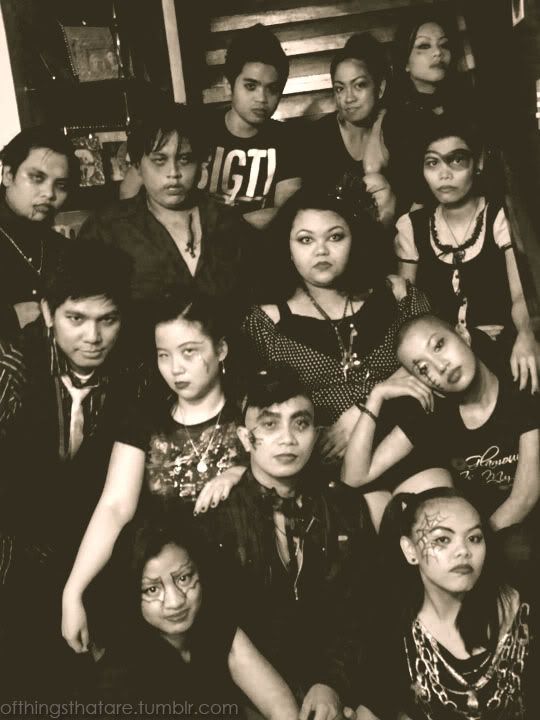 That's me at the center with the lovely and talented people of Viva Voce! We may look like the Addams Family, but really we're just a bunch of people who love to sing, make music, and role play. 😛
(note: All the photos were taken by the awesome Aissa. All photos except the photo of me as well as the group picture were post-processed by Aissa. All pictures, however, were put together by me. 😛 )
I hope this inspires people to do different-themed parties!
P.S. Hindi ako marunong magBekingese 🙁 but I think I'm learning sa kaka-basa ng posts mo. Really, THANK YOU for being an inspiration Ms. D!
P.P.S. You can post this on Christmas pa, haha! Or Halloween. Hindi po ako nagmamadali. 😛
hugs,
Ericka
D: kabowgera kayo lahat!GOW FOR GROUP PHOTOS! Eyyfort lahat! LOVET!
Much love,
D