We all wish for a bonggang house or kahit na ba room. Nasa dreamlist ko parin ang balur na may lawn and overlooking ganap. But since wala pa, parating work in progress ang bahay. Umiikot lang ata ang workers sa unit ko kasi parati akong may idea to change or what have you.
What I've learned from years of cutting and keeping dreambooks of interiors or making peg boards is that IT IS POSSIBLE to replicate looks without millions of dollars. Pagalingan lang humanap!
Bigyan ko kayo ng sample. I've been to Mandaue lately and i decided to replicate some of my fave interior decorators looks. Check nyo!
Barbary Barry
-She's known for her classic and clean designs. In short, mukhang mayaman! haha! Very french levels yung taste nitey! Her taste reminds me of my mom, kaya pala nung bagets ako hulaze na hulaze si mudak nung dinikitan ko ng lifesize stickies ng BACKSTREET BOYS yung wallpaper ko. EH gandang ganda kaya ako na paggising ko nakatitig si NICK CARTER! haha!
Sige look first look from her. Start with white walls. Tapos hanap kayo ng photo sa net ng atonement of Kiera or yung parang Marie Antoinette times. Paprint nyo and frame in white. Buy a rug na may pattern, tapos books and an old mirror frame (marami sa mga recto and cubao mga antique na mura) and arrange with books. Then check out the items from Mandaue that will complete the look. Promise madali lang sya.
If bet nyo naman toh, copy the gray/powder blue walls. Usually ganito na naman flooring sa mga condo so no need to change. Mix and match 2 types of sala set. I would get a gray sala set na plain mixed with the Mandaue sala set below (parang pinagpalit ko lang yung printed paandar ng peg). Arrange the center table! Magagamit nyo na ang coffee table books!

You don;t always have to stick with the exact colors. Mas important yung form to get the look. Look for items na pareho ang form. But if bet nyo na sakto, Mandaue customizes! So pwede nyo request yung colors!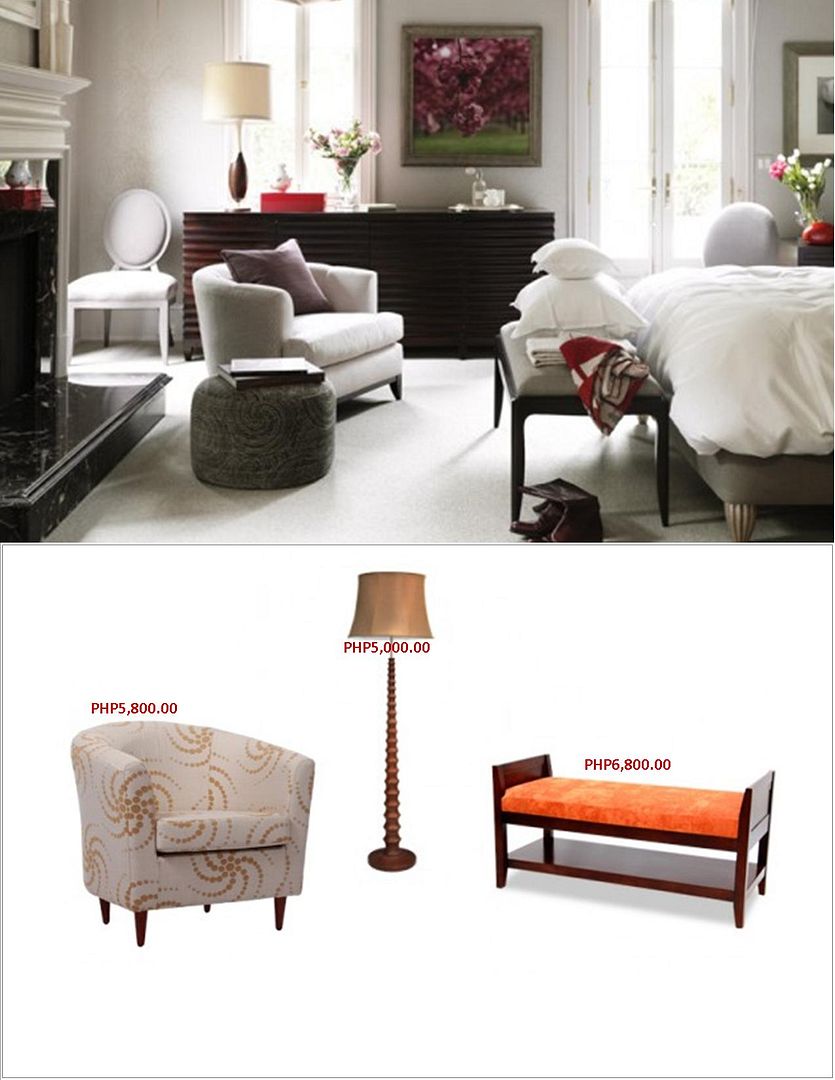 Every ghel or becky needs a classy dresser! fave ko mga dresser shots! Although mine is modern, may pagka mhin kasi ang balur ko. Masculine taste nga daw ako. But would love to see this. Parang princessa ang peg! The mandaue dresser below gives the same regal feel like the peg! Perfect toh parang maiimagine ko na yung 100 brush strokes sa buhok na dito nagaganap!

Jonathan Adler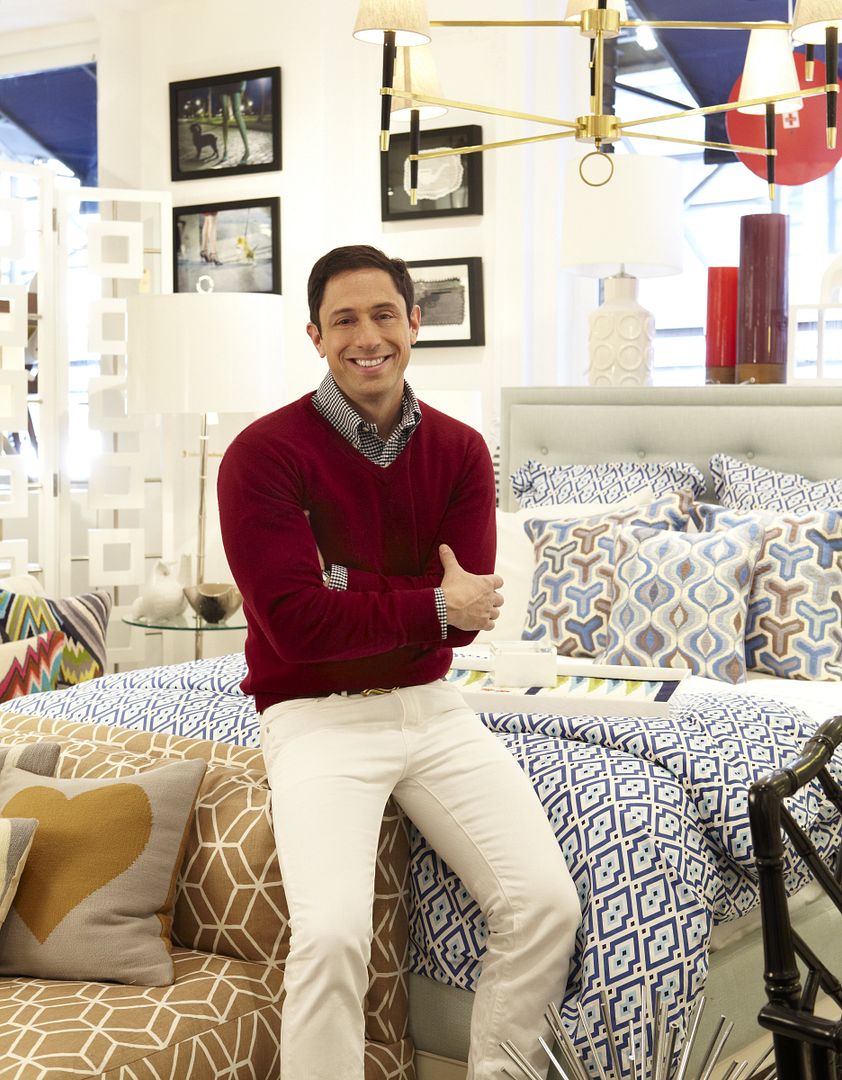 I love Jonthan Adler books! Nakakafresh how he is not scraed to mix colors and themes. I actually have all his books. Kaya nga parati papalit palit ang balur ko kasi ang hilig kong mangaya! haha!
Do not be scared of prints. Nakakabuhay ng room yan! But guilty ako sa takot sa print. Up to now, ottoman ko palang and throw pillows ang may print. But more than anything pay special attention to your accessories. Minsan yan talaga ang bumubuo ng room. Check the accessories of Mandaue. Very affordable!
I would change the upholstery of the chair below to a printed one for the top. Malapit na kayo sa pegaloo! Ang trick lang sa look na toh is the more frames, the better! Since masyado pa tayong bagets at wa pa anda masyado for real art. You can start by collecting from new artists! Malay nyo, treasure na pala sya!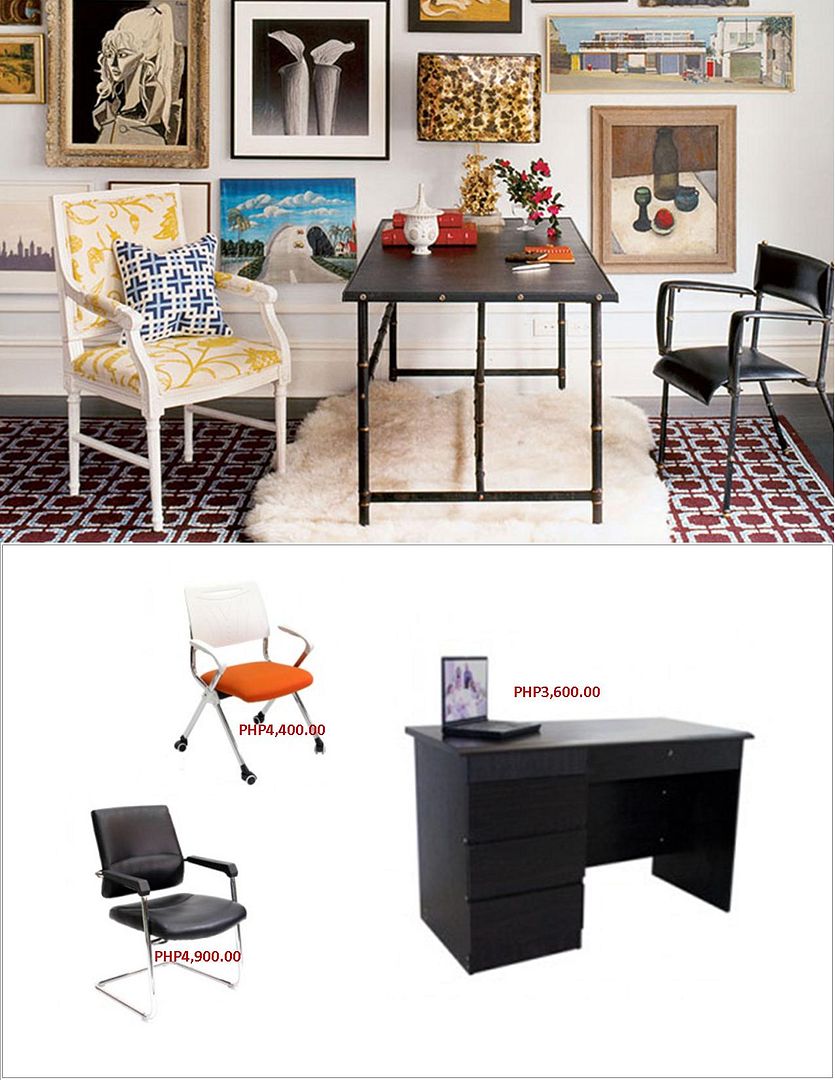 WHite can look bland, so haluan lagi ng big prints! One thing you have to consider is that "room labels" are only guides. Haha! I got my computer table in the dining section. So guide lang yan, don't limit yourself!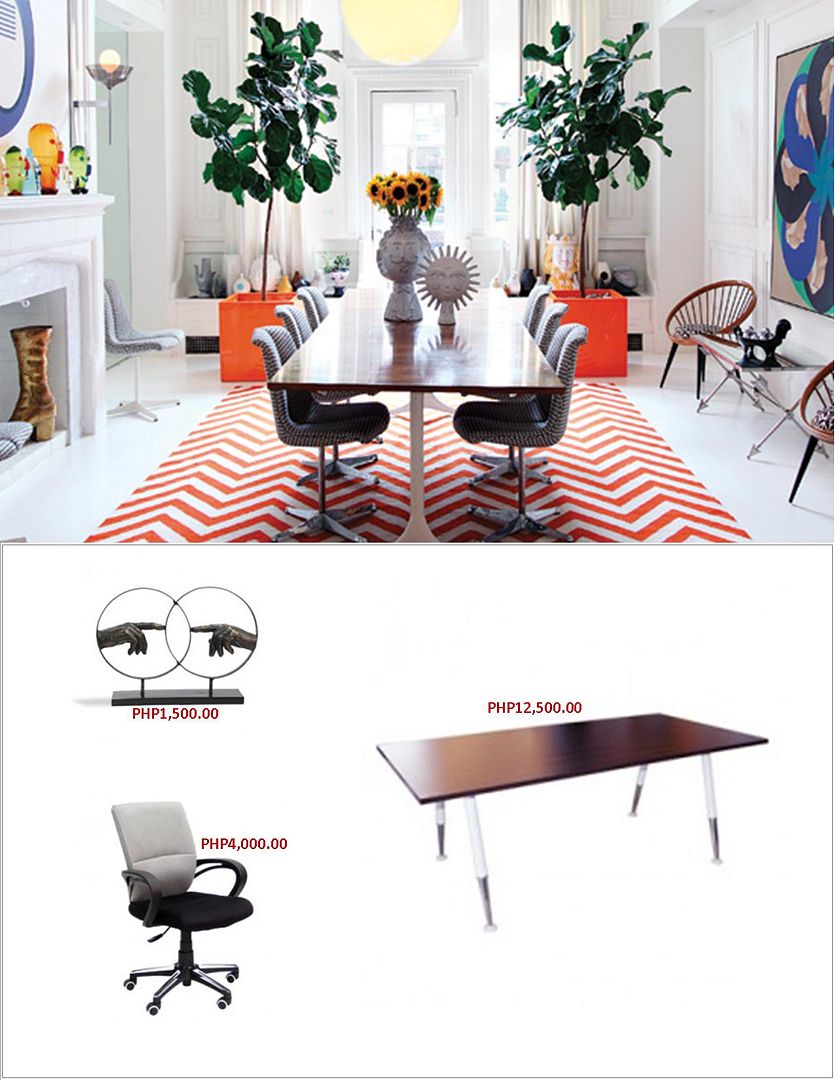 Para sa mahilig sa PINK! BARBIE KA! choz! Wag nyo naman gawing rainbow din. Pick certain palettes para hindi magmukhang rainbow brite ang balur. The use it throughout the space. Para talagang mag pop sya lalo. In my house, accessories lang nagbabago and upholstery sa sala. But parang naiiba yung look. This year SEA FOAM GREEN (SUSYAL NOH? choz!) ang theme ng accessories ko.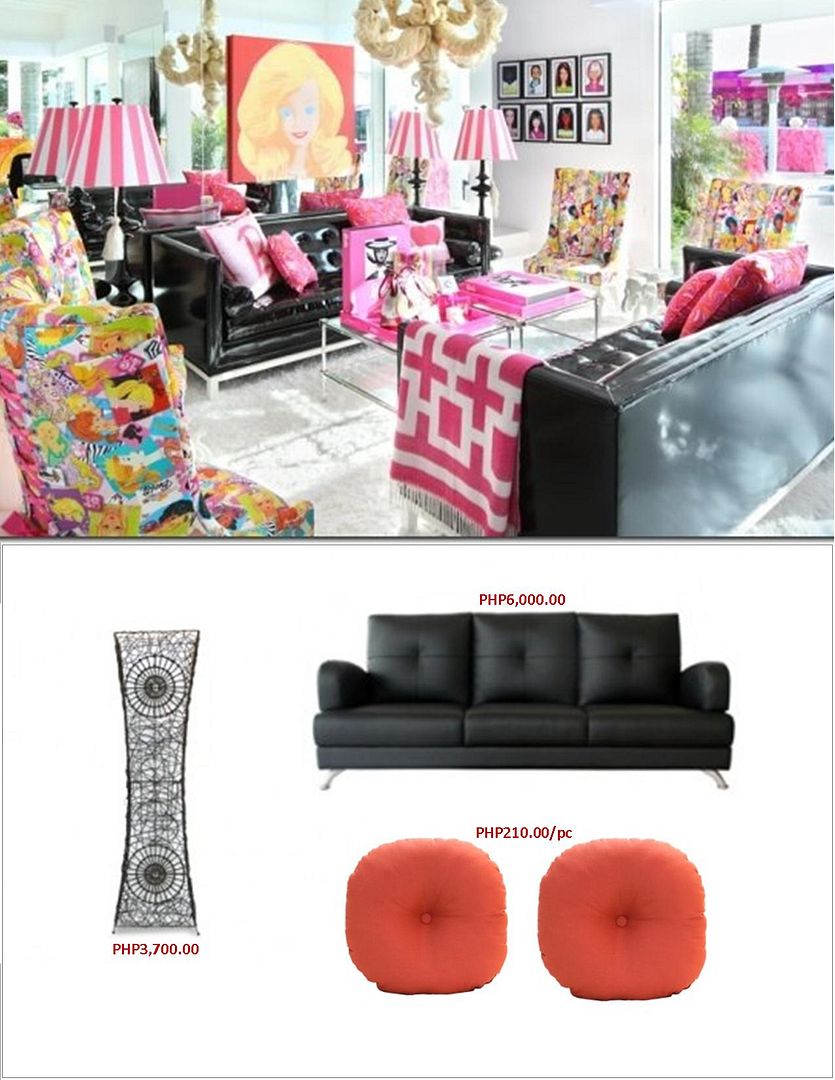 Speaking of green. Kitchens don't have to be boring. Actually, tambay kami ng kusina coz V cooks a lot. WIll work on this peg for next years look. Check the Mandaue board below, halos sakto! May DIY ka din. You can use old lampshades as lighting fixtures too! Pwede mo gawing DIY etong ganap na green shades dito.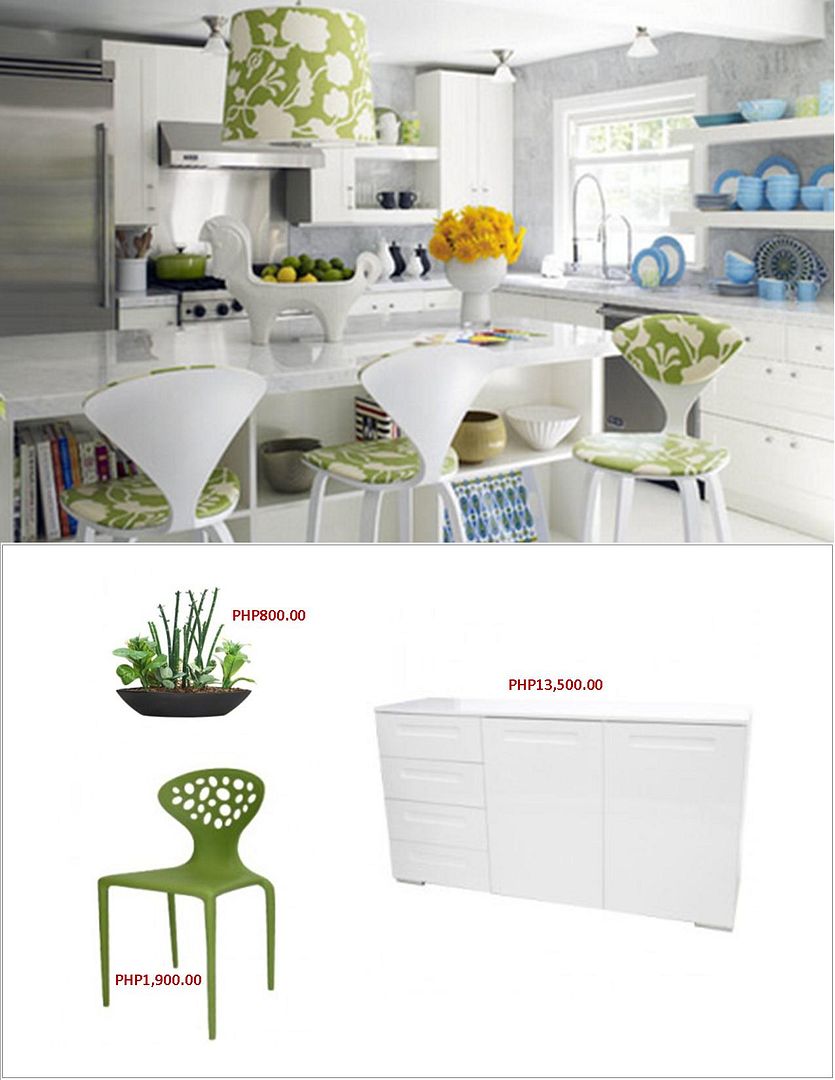 Kelly Wearstler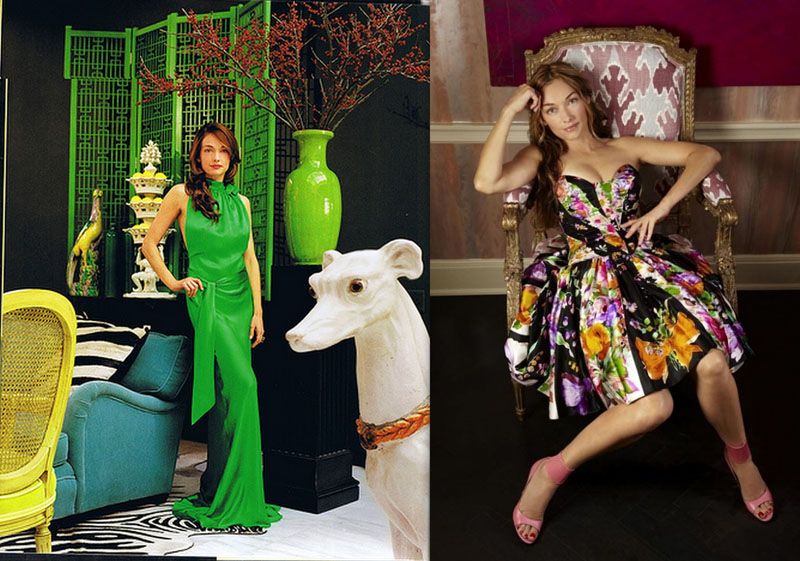 Who doesn't love this girl? Lahat na pinasok nya. Clothes, prints, interior and madami pa! I love her books! ETo ang tinatawag ko na hindi takot sa masikip. D uso sa kanya ang Zen look. Organized mess. Peg ko nga sya sa next renovation ko. When you see my house, very puno din sya. D kasi ako makuntento, like kahit sa tiangge, bazaar, talipapa, and especially in flea markets when i travel I always get small things I can display sa balur.
For this look, if you cannot find a white chandelier, wag kang matakot. KULAYAN MO. I did that before. Bongga naman lumabas! Hindi rin sya takot sa print on print on print! Look at the walls, carpet and chair!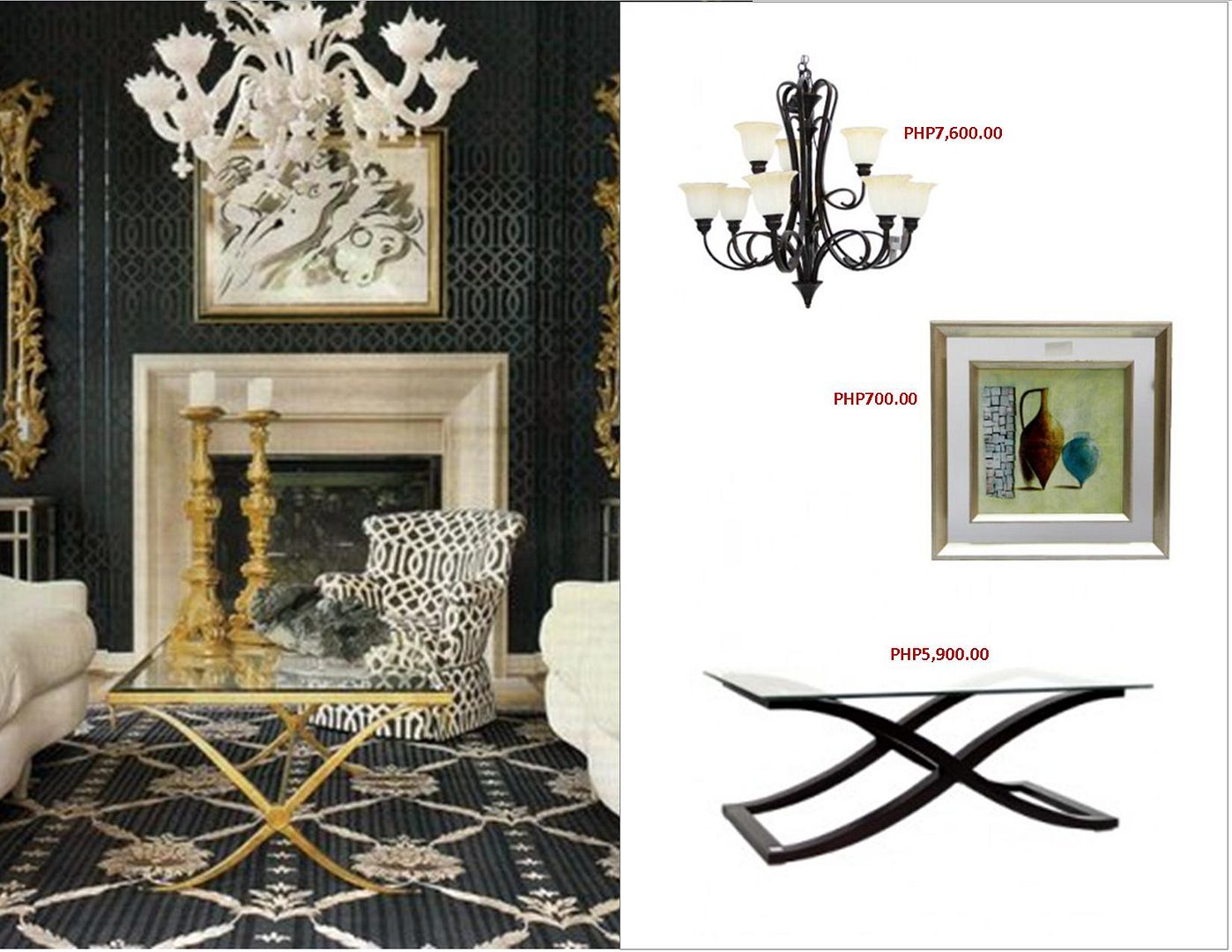 Softness si lola mo ditey! I love this room! Gusto ko yung may pa bubbles na ganap sa taas! remember another tip not all lighting fixtures have to work 🙂 Nakagora ako sa isang bahay before puno yung buong cieling ng vintage mixed with modern lighting fixtures. Ang cute! Para syang museum! Mandaue has those balls in green, you can opt to color or just leave it green to get this look. Try to find different sizes and hang in different layers!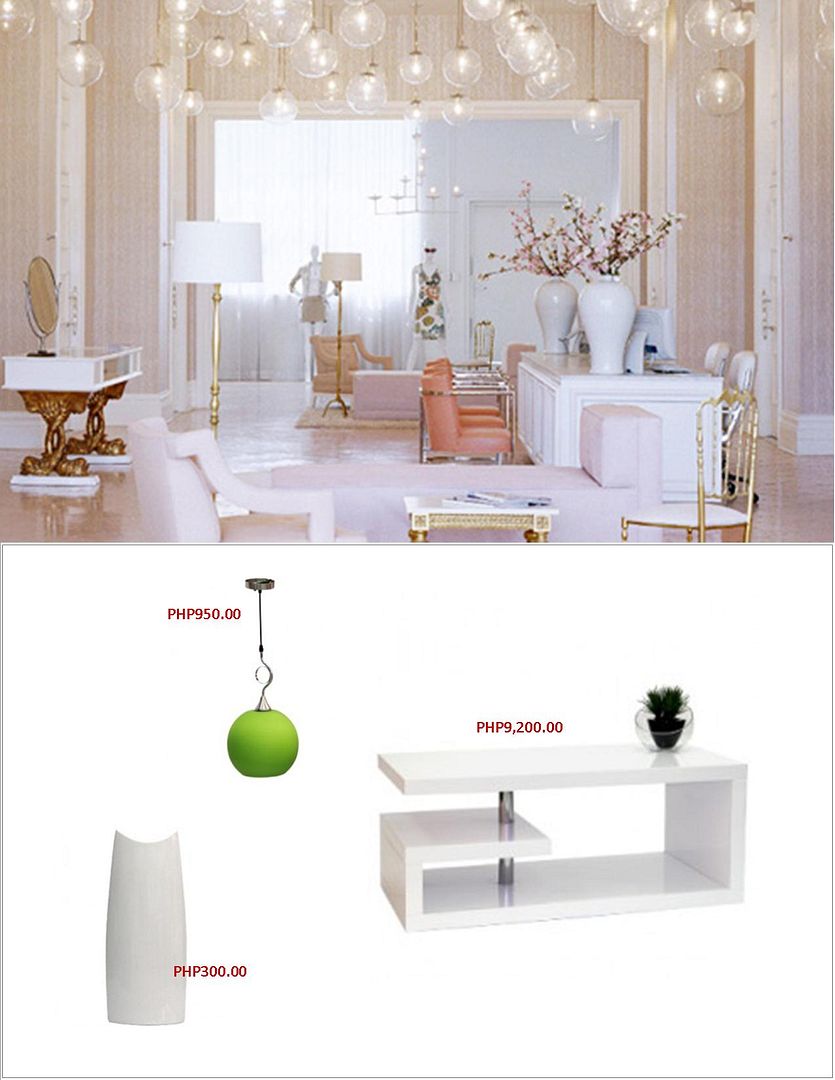 Kumaclassic with a twist! I love old furniture, try nyo mang salvage ng mga luma ni lola at lolo, then re finish and reupholster. Actually dahil waley ako masalvage sa grandma ko, i got the the extent of having some dining chairs sanded para magmukhang old. use classic shapes and furnitures like the sofa below. Then add modern prints. That way masmadaling magchange look everytime.

I love this room! Parang maganda parati gising mo dito!Keep your sleeping area clean and regal. Yung the more ganap sa sala or entertaining area. When i lived in a studio nilagyan ko talaga ng bookcase to divide my area before. I like my sleeping space clean.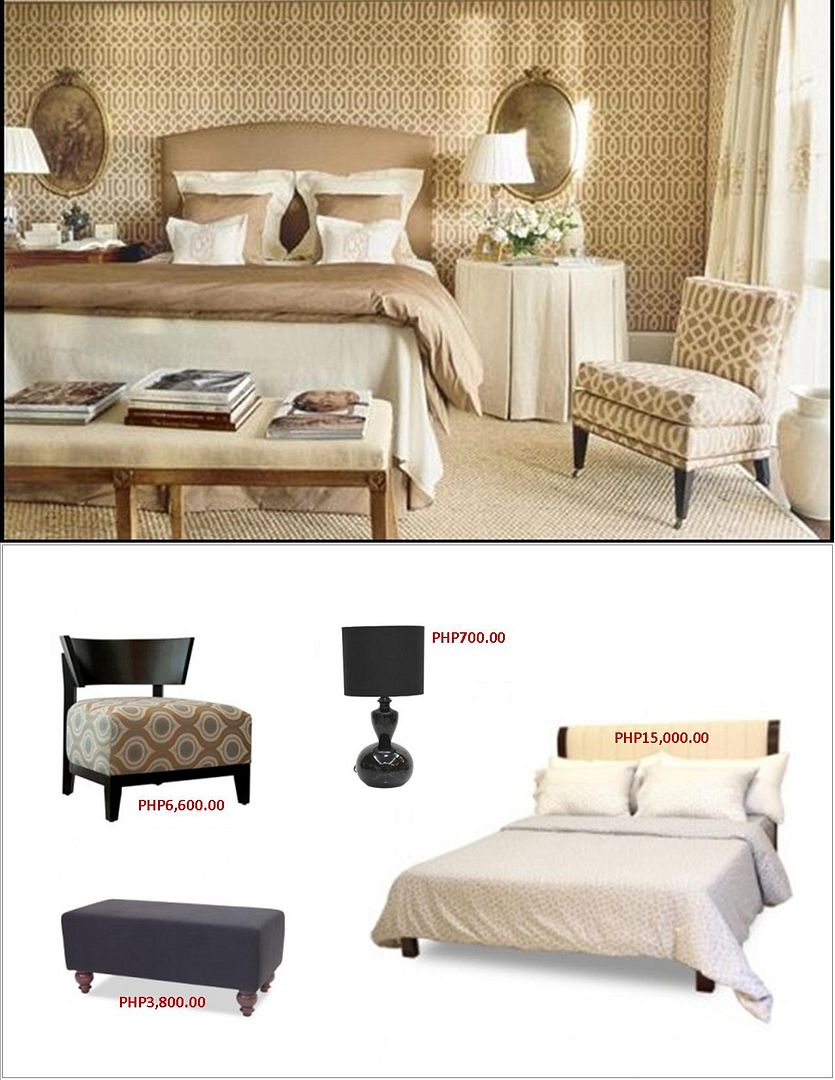 Lahat ng kanto may gamit talaga! haha! But it stuill looks nice, not makalat! Mix and match sala sets, patterns and designs! Check the Mandaue set you can mix below!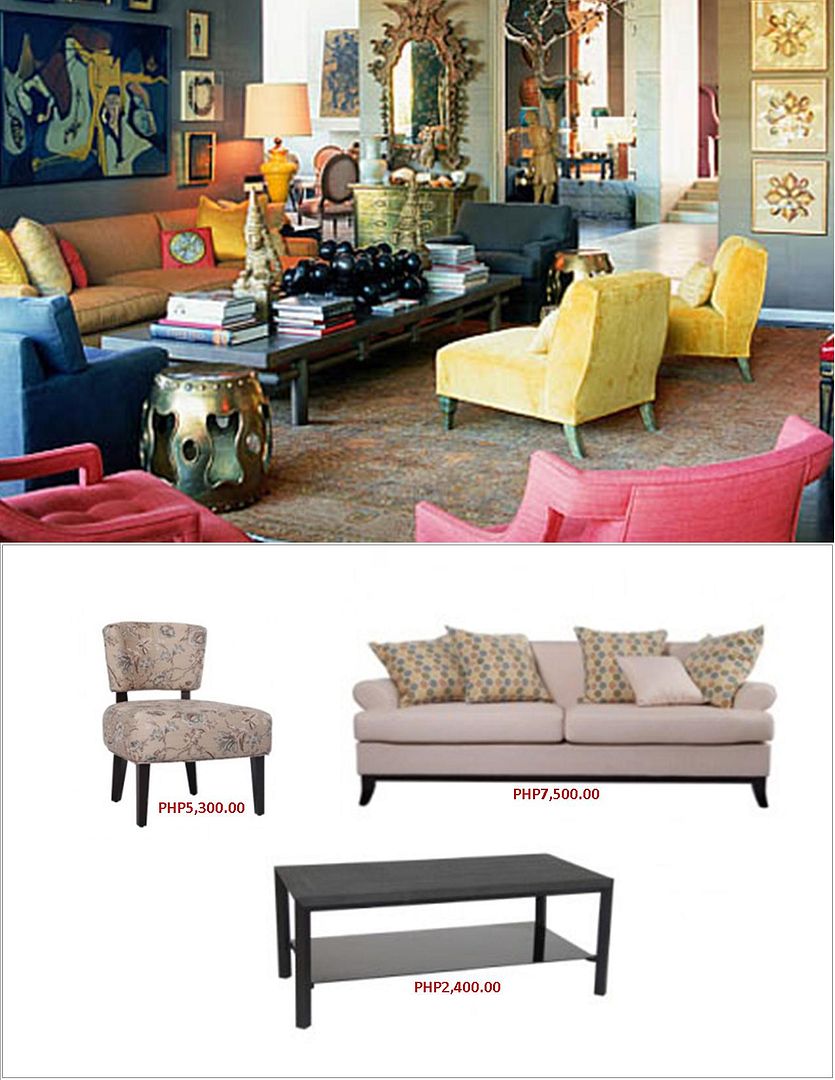 MILLION DOLLAR DECORATORS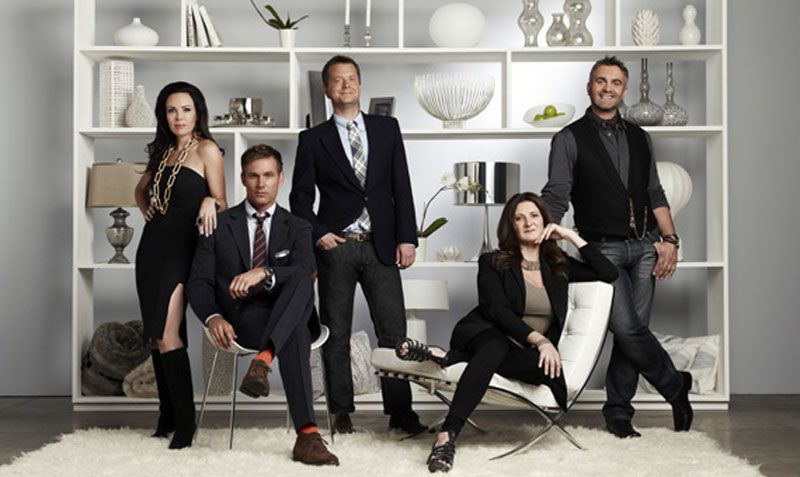 i Iove this show! Aliw to see how designers work with clients and mga stress drillon na deadlines! I put some works you can duplicate with Mandaue pieces below.
Jeffrey Alan Marks


Monotone ang peg. Yan ang old rich! haha! You can duplicate but for the stool, get one color lang para ma keep yung monotone look.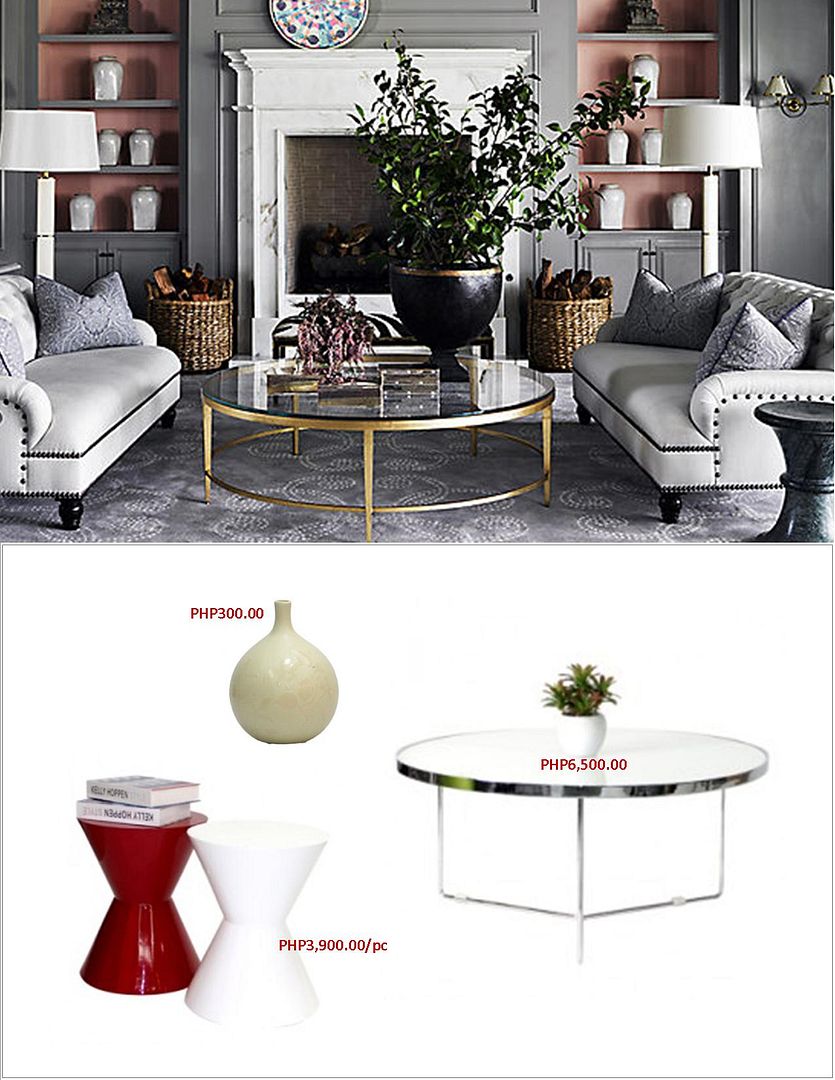 Kung bored ka na sa monotone but takot sa rainbow brite, do this trick.. One accent color/piece! Or you can opt for a painting like the one below!Madaling palitan yan kung shokot ka sa kulay!

 Kathryn Ireland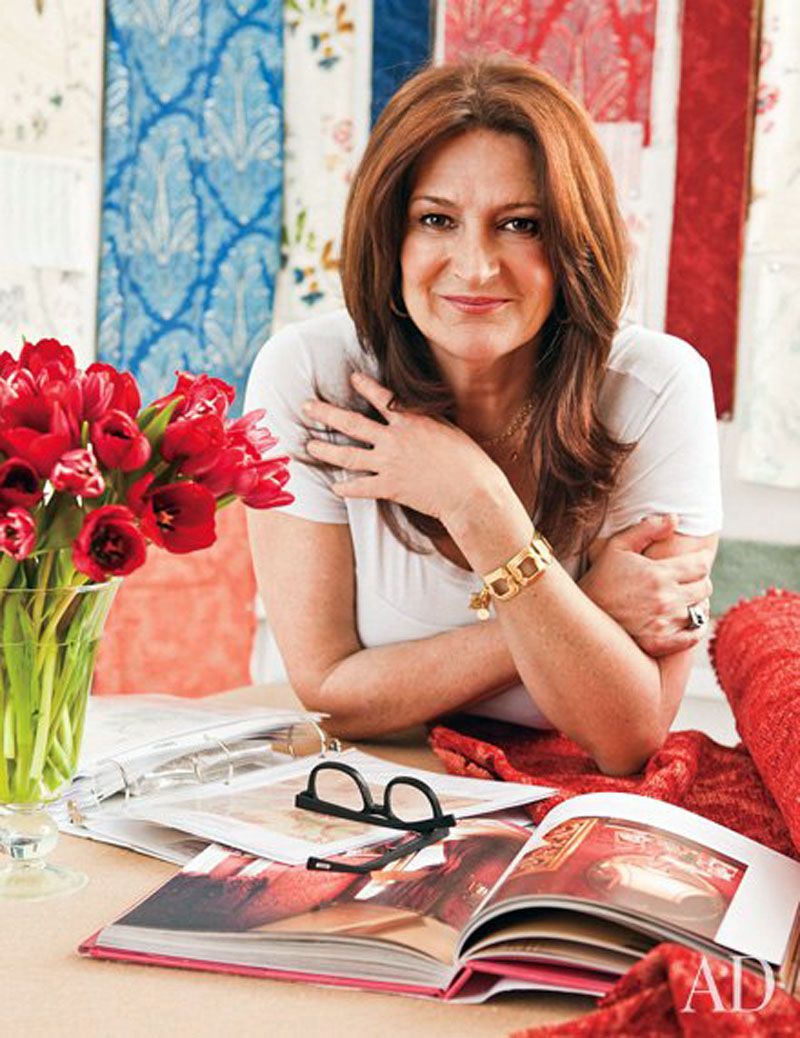 Boho chic ang peg niya! Very Olsen twins ganap. This is well suited sa mga Pinoy homes with veranda. Play with throw pillow colors! And utilize lawns, pangarap ko ang lawn! Check out mandaue madami din silang outdoor paandar!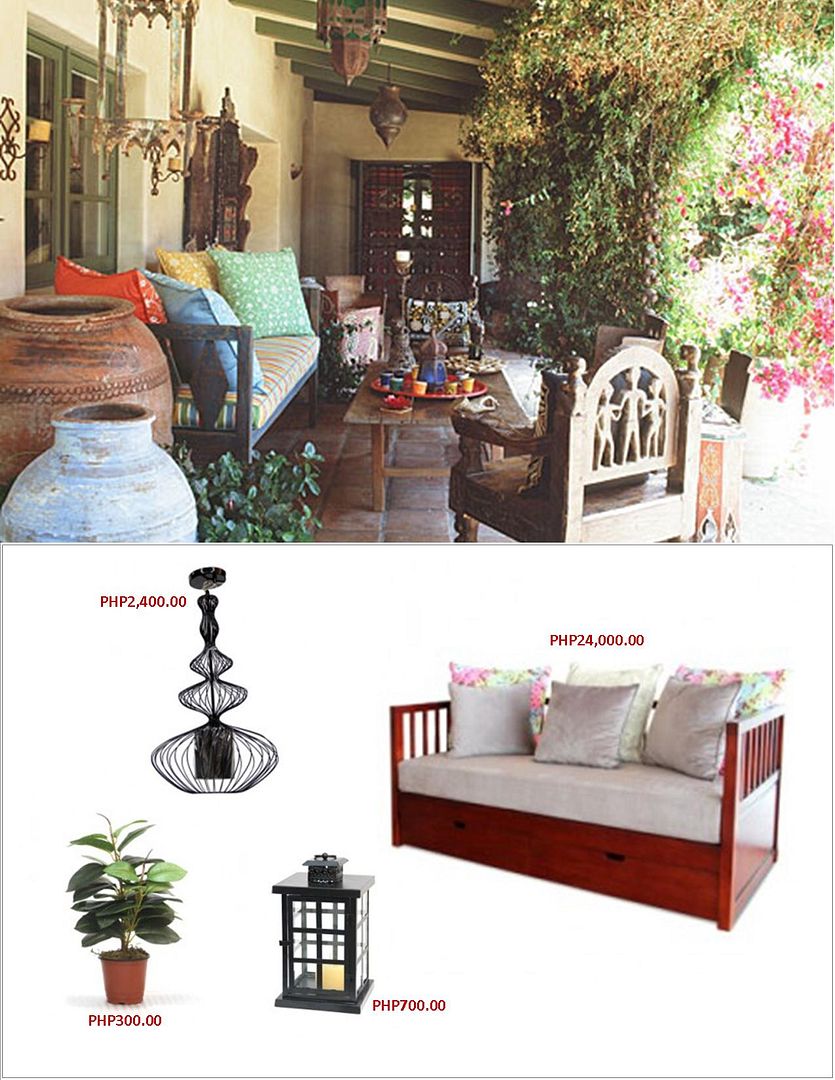 Sometimes kapos tayo sa budget, hindi naman needed to renovate to chnage the look. Get the plain furniture and spice it up with bedsheets and pillows with loud colors! Mandaue has a big line of bedsheets too. Mura so pwede talagang maghoard. I always tell my friends pagpinapagalitan ako abroad kasi ang hilig ko mamili ng sheets. Alam nyo ang bag at sapatos hindi nyo araw araw gamit. Ang kama tinutulugan nyo for 8 hours every day! So logical na dun ka maginvest. At masarap matulog d ba? Especially pag pagod, imagine sleeping in a really good bed (Don't worry will talk about foams in next post). Ang peg ko sa room parati should have that hotel feel. Yung gusto mo humilata. Invest in good sleeping paandars!

 Martyn Lawrence Bullard

I like black and white! But i like it more outdoor. I saw a villa in Italy na ganito ang paandar, so tumatak na sakin tong look. Indoor furnitures can actually be used outdoor, pa upholster nyo lang na pang all weather. Ask mandaue about it!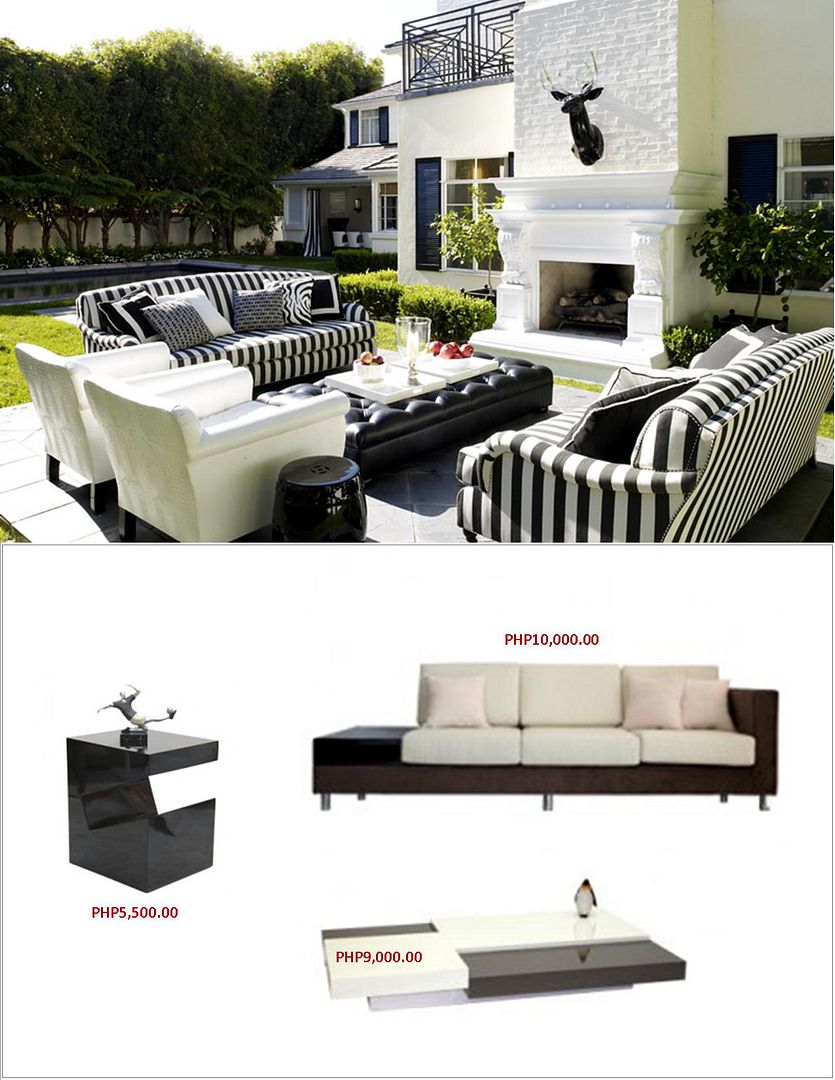 I always eat sa dining table. Actually sa bahay yun ang pinakagamit na area because dun kami tumatambay. Make it nice and trust me tatambay din kayo dun.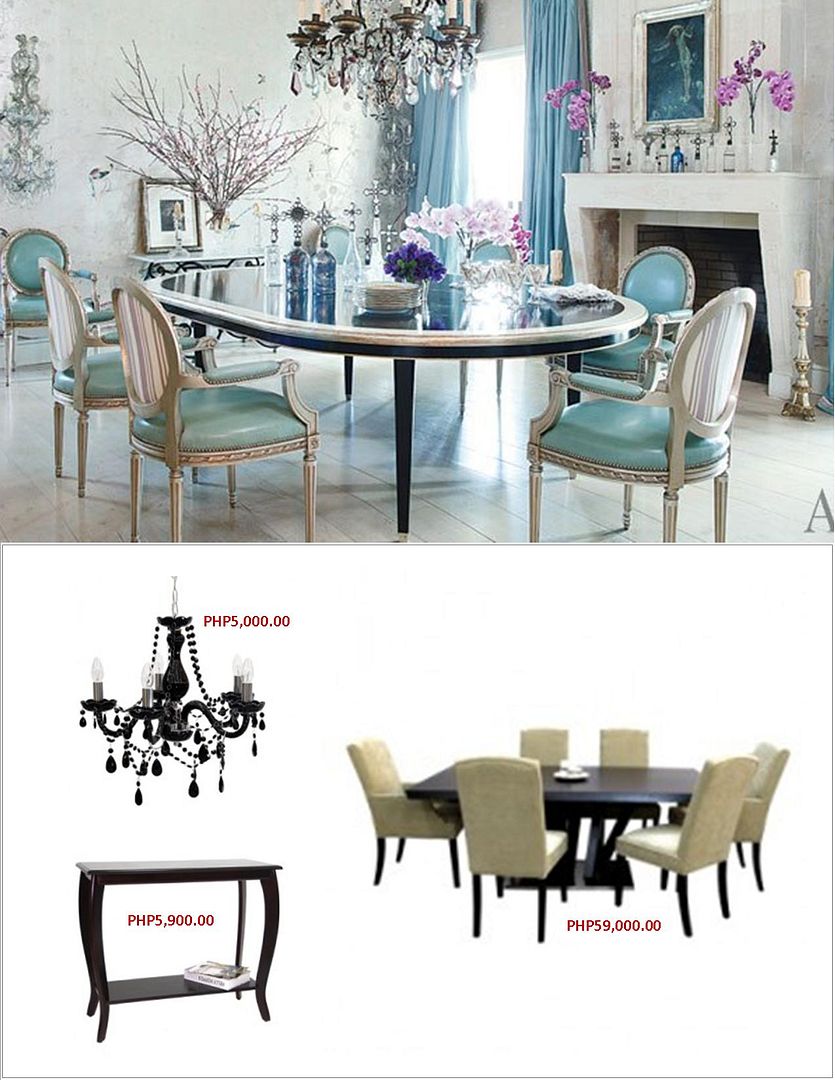 Mary McDonald
Burst of colors all the way!kahit small things pakak, but super nice is same tone.
Lahat tayo may hallway. Kaya utilize. Wag nyong gawing tambakan! Make use of vases and paintings, mirrors (to make it look big) to accessorize your hallways!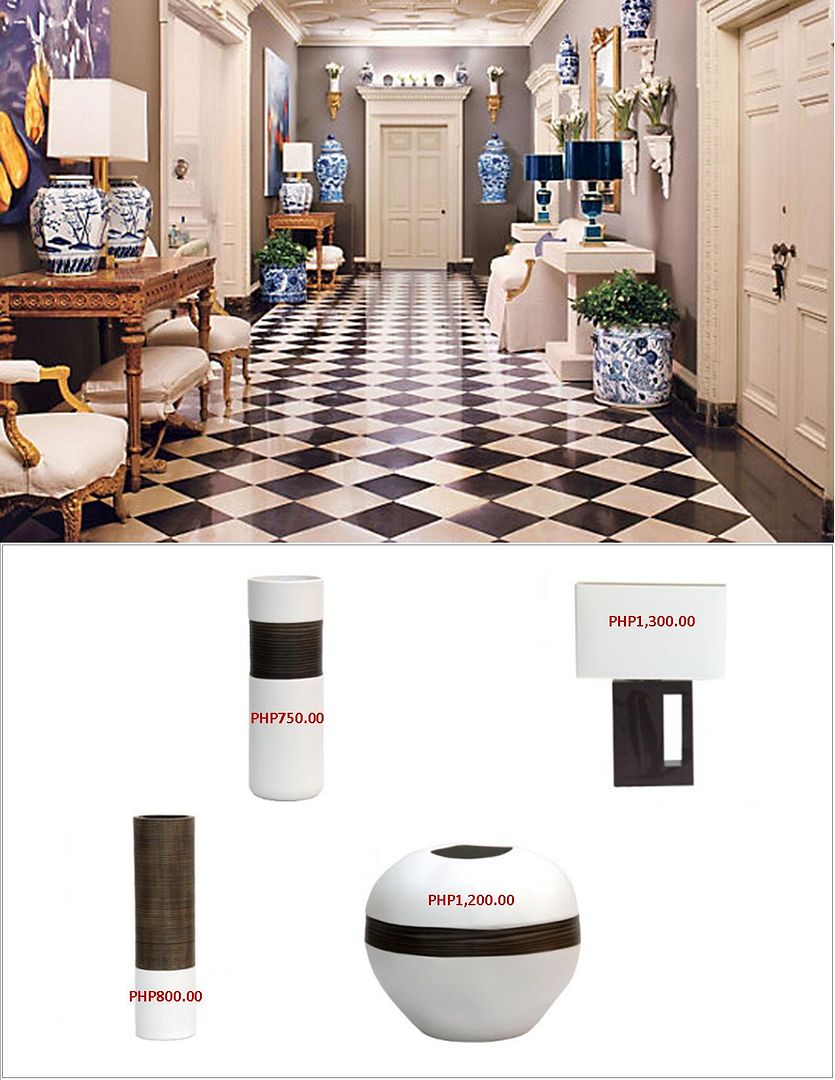 Nathan Turner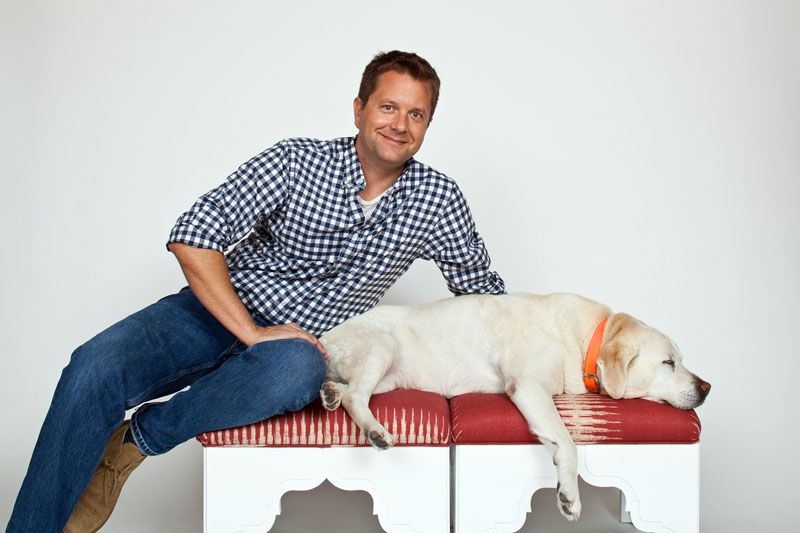 Eto relax lang, yung hindi ka matatakot itaas yung paa mo sa sala. I like comfy houses. And i love big sofas!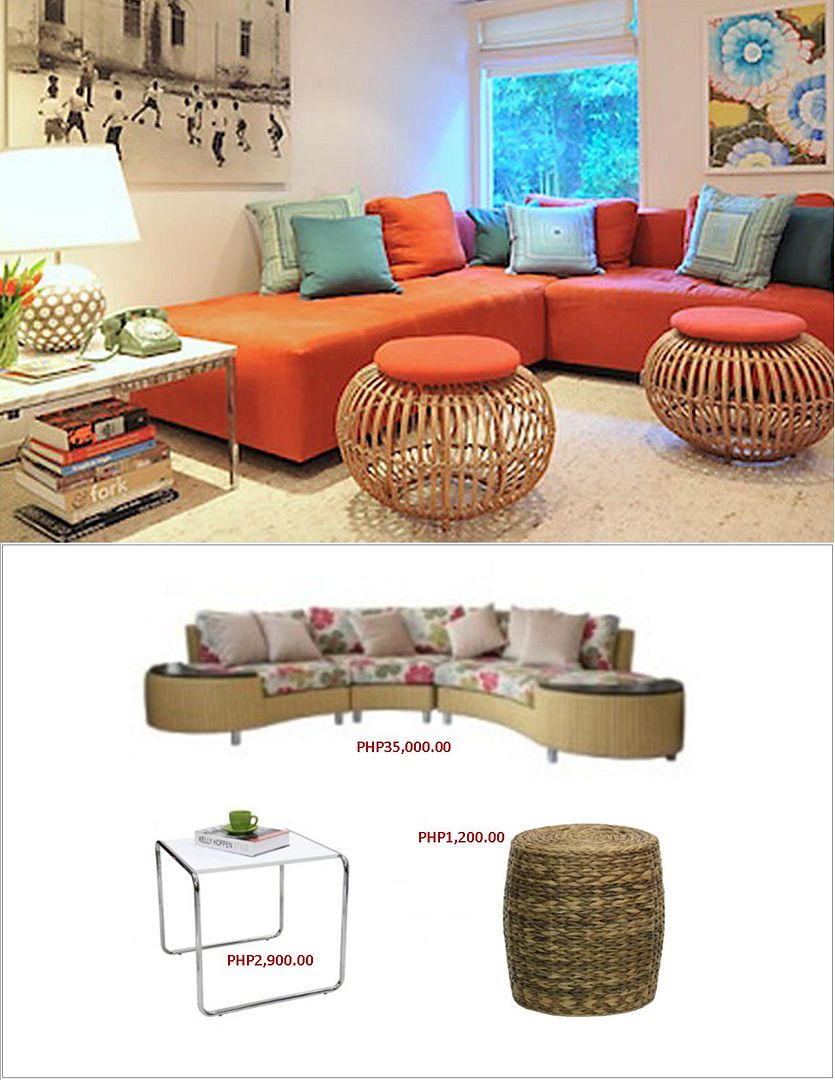 yellow is a nice color as accent. Nakakafresh!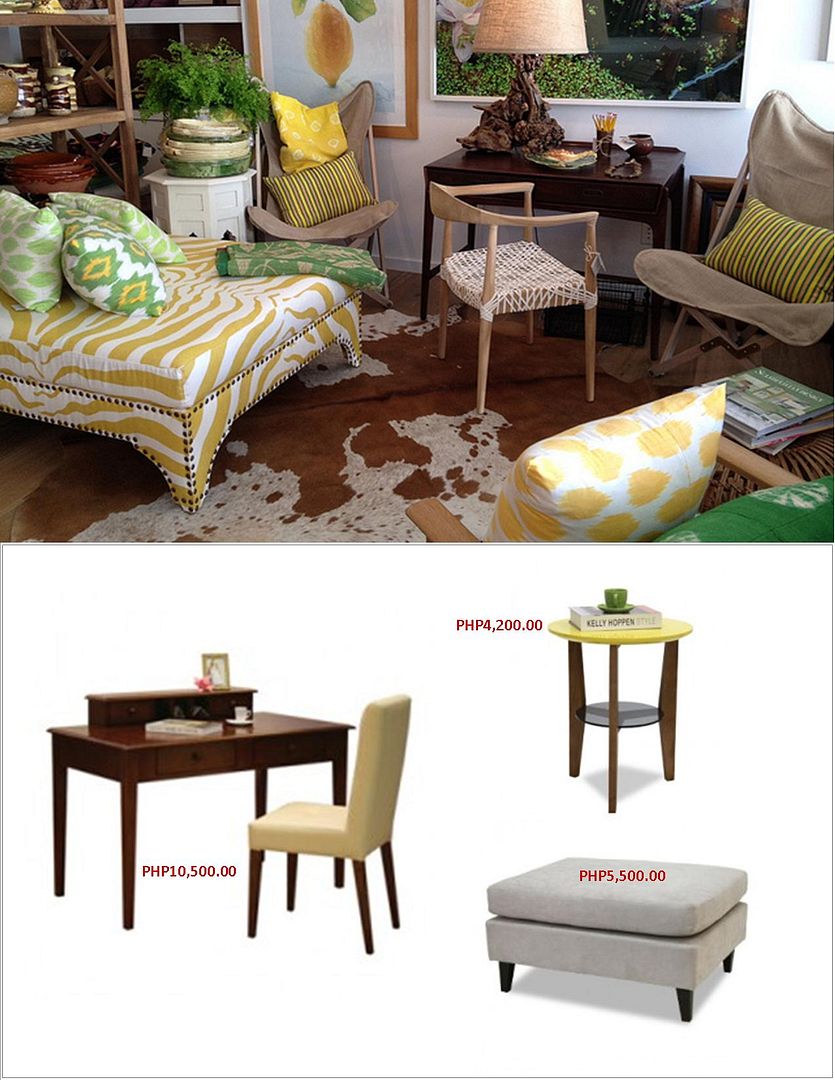 So gawa na nag peg, email me if you need help or head to mandaue. They have people who can assist you with your dream space!
Much love,
D